Christmas is a time for dressing up right, having fun, and giving, right? What better way to combine all three than forming a band to cut a charity single?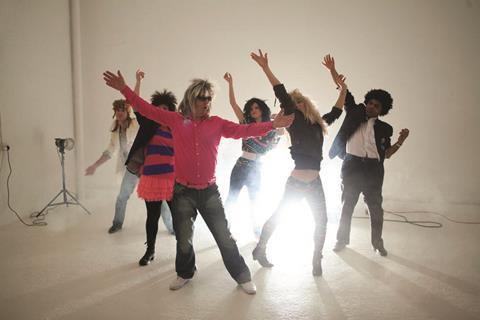 'We're going to need a lot more champagne," says Capita Symonds' Jonathan Goring. "This has all got a bit nerve-racking and I am still way too sober. In fact, where are the drugs? We may need some."
It's 2pm on a Monday in a tiny recording studio in west London, and five of the industry's best-known names have just listened to the song they're about to cover for charity. As the last lines of Starship's eighties classic, We Built This City, fade out Jonathan is the only one who has managed to form a coherent sentence so far
- albeit one demanding drugs (which we're pretty sure was a joke). The other four are sitting in horrified silence, hands over mouths and wide eyed.
Linda Morey Smith, who hasn't been feeling well and turned down a glass of champagne on arrival, is the first to lower her hands. She takes a deep breath, shuffles forward on the sofa and grabs the bottle from the table: "On second thoughts …" she says.
"Yes please, for me too," says Mark Whitby, thrusting his glass forward for a top-up. "Gosh. What have we let ourselves in for?" he asks. "I suppose the main problem here is the fact that none of us are sure we can sing."
And so it begins. Welcome to the recording of Make That's cover version of We Built This City.
Our band - made up of Jonathan Goring of Capita Symonds, Mark Whitby of Davies Maguire + Whitby, Hanif Kara of Adams Kara Taylor, Sadie Morgan of dRMM, Linda Morey Smith of Morey Smith - spent a day recording the vocals before getting dressed up in eighties outfits and wigs, made up with bright red lipstick - guy-liner for the boys, of course - and warmed up with a choreographer, to bring you one of the funniest music videos ever made.
If you're wondering why, well, that's fair enough. But the fact that it's for charity was apparently a good enough reason to make these brave chief executives and directors sign up and go all rock god. The song will be available to download online for a very reasonable fee and proceeds from the sales will go to two excellent causes, Over the Wall and Maggie's Centres. We have already raised £3,300 through sponsorship of the song, but we're hoping to make a lot more (for more information on the charities and how to download the song, see pages below).
Recording studio, 2pm
It's time. As we troop nervously into the recording studio, Hanif Kara lets slip that this is not the first time he's done this sort of thing. Turns out he used to play guitar in a punk band. What band? The Benders. The revelation provides a much needed bout of laughter - and Make That are ready to start recording.
It takes more than 10 attempts before we've got something close to what the director deems acceptable. "It's OK," he says reassuringly, from behind the glass on his side of the studio. "I can fade out people who sound bad or who make mistakes and make the others louder. Plus I can mix bits from all the attempts in so we have the best. "Boys, could you take a step back from the microphone for this next take, please?" Ouch.
After two hours and plenty of stumbling over one particular line, "The police have got a chokehold," we're done. But not before Sadie asks: "What a nightmare line. And such a stupid word. What is a chokehold anyway?" "Anyone who is into S&M would know that," replies Jonathan. His comment - one suspects not entirely thought through - is met by shocked looks.
Thankfully, there is no chance to go into any more detail as the taxis have arrived and it's time to head to our next location - a bigger studio space in Clapham where the singing stars will need to get dressed up
and do some dancing.
Dance studio, 4:30pm
The champagne buzz wears off a little as the cabs battle through rush-hour traffic and the band begins to look a little jaded: "I have new-found respect for pop stars," says Sadie. "This is really tiring." Thankfully, once we arrive at studio number two, the sight of a clothes rail full of eighties outfits, a smoke machine and the promise of pizza perk everyone up.
Mark, Jonathan and Hanif make a beeline for the wigs and sunglasses - a ginger mullet, a Rod Stewart do and an afro later and there can be no denying that these three have got into the spirit of things. Not to be outdone, the girls don leggings, leather and headbands and, after some over-zealous make-up application, the band is ready to go. "My 20-year-old would disown me," murmurs Linda, looking down at her neon pink ra-ra skirt, but it's too late to back out now …
Sadie and Linda prove that when it comes to dancing, there really is no comparison between the girls and the boys. Perfectly in time, plenty of eye contact into the camera and an awful lot of shimmying makes for some excellent segments to go into our music video. The boys stand in the wings, eating most of the pizza and looking on nervously - they're up next.
Hanif, in a fantastic Pulp Fiction-style afro, sunglasses and blazer with rolled-up sleeves, looks effortlessly cool as he boogies to camera through the smoke and Jonathan has the room in stitches as he performs his "newsreader" style section in a pair of giant gold aviators. It's going so well - until he attempts to throw his microphone in the air and catch it, but ends up smashing it on the floor.
Proper rock star behaviour …
Then it's Mark's turn. Not really in time, or in tune, he decides that volume is his only option. Bellowing his lyrics and attempting some air guitar isn't really working, so someone hands him a pair of drumsticks
- and the animal within is unleashed. Manic air drumming accompanied by much hopping and jumping around, almost in time with the music, is definitely more his comfort zone. He proves it by pulling off what Jonathan couldn't, as he tosses a drumstick in the air and catches it mid-twirl.
But it's "Shady" Sadie who steals the show. Oozing confidence, she even gets the boys to be her backing dancers as she wows the filmmaker and the choreographer with her moves. "She's so good," whispers one of the event organisers. "She actually looks like a real pop star." There you go, Sadie - a career change option if you ever need one.
Wrapping it up, 7:30pm
We're almost there. Just time to run through the routine once more with everyone dancing. Even better, a courier has just dropped off Make That's own rendition of the song from the vocal session. So we prepare to dance along to the new (but we're not necessarily claiming improved) version. Indeed, improved it is not. As it starts Sadie grimaces, but we all agree that considering no one is a professional singer - or even a talented karaoke singer - it's not that bad. And if it had been perfectly pitched and in tune - where would the amusement factor have been?
For what seems like the hundredth time, we sing and dance along to the song, and as the last line fades out - we're done. Eight pizzas, seven wigs, six hours, five bottles of booze, four sets of neon shirts, three pairs
of legwarmers, two recording studios and a hell of a lot of courage is all it took to bring Make That's cover version of We Built This City to life. Easy peasy …
The Charities
Over the Wall
Thousands of children are affected every year by serious and life-limiting illnesses. Many spend months, even years, in and out of hospital undergoing treatments that can be frightening and painful. Many endure isolation and miss out on normal childhood experiences.
Over the Wall's free activity camps help children rebuild their confidence and self- esteem by encouraging them to take part in a range of activities such as kayaking, riding, technology and media and a weekly talent show and disco. But the what the children remark on most is the number of new friends they make.

While the children are at camp, their parents can take a much-needed break, knowing they are having a fantastic time and being cared for 24/7. We also run camps that give siblings a break from the stresses of home life. Finally, Over the Wall runs an outreach programme in hospitals throughout the UK to give children confined to hospital wards a taste of camp life.
Maggie's Centres
One in three people in the UK will develop cancer in their lifetime and Maggie's Centres' programmes of support help people to manage the impact of a diagnosis of cancer and live with hope and determination.
Maggie's Centres are built alongside cancer hospitals and work hand-in-hand with the NHS to complement medical treatment. The centres create calm and uplifting spaces where anyone affected by any type of cancer can go for help.
When Maggie Keswick Jencks was diagnosed with metastatic breast cancer in 1993 she had a vision of a cancer caring centre, where anyone affected by cancer would be able to find the support they needed, free of charge, right by the hospital. The first Maggie's Centre was opened in 1996, the year after she died. There are now seven purpose-built Maggie's.
"Thank you so much to the members of Make That and all the staff of Building who have made this Christmas release possible."
Laura Lee, chief executive officer, Maggie's Cancer Caring Centres
Buy it! The video
You can download Make That's eighties-tastic music video for £1.99 NOW, at www.building.co.uk/makethat
By buying the hilarious footage you will be supporting two excellent causes - and we thank you in advance for your support.