In the first of a new series, Andrew Pryke, managing director of Bam Design, relates how he had the chance of a lifetime when – almost straight out of university – he was made project architect on James Stirling's No1 Poultry at Bank in the City of London. Now listed, it went through three public inquiries before work could begin. Then they came across hundreds of dead bodies …
I had just left university and was working at a small practice in Soho when I got a call out of the blue one weekend from someone claiming to be Michael Wilford, offering me a job.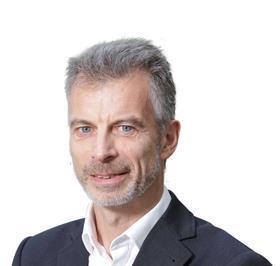 Of course I thought it was a wind-up and kept asking: "Who is this?" But eventually he convinced me it was really him, James Stirling's partner. He said he had spoken to my tutor and they needed someone to help on the Carlton Gardens competition they were just beginning.
I jumped at the chance and, a few days later, I arrived at the office, a five-storey Georgian terraced house on Fitzroy Square. There were about 25 of us and it was an unbelievable environment, more like an art gallery than an office. This was late 1988 but they did every drawing by hand – some of them were coloured by Jim himself – then framed and hung them on the walls.
You would hope to get one of these opportunities in your lifetime!
Perhaps I have romanticised it but it was like a 1930s architectural club. Jim would open a bottle of wine and tell us all these stories. You would find yourself rubbing shoulders with Frank Gehry and other eminent architects who would pop in if they were in London.
I started off working on Carlton Gardens, as well as competition entries for the Disney concert hall in LA and the Glyndebourne and Compton Verney opera houses. You would hope to get one of these opportunities in your lifetime!
All the competitions were done in the same way – by drawing, not by waiting for a spark of genius. Jim treated us almost like equals, nudging us. He would never sketch a design and say, "Draw it out". He would sit at your drawing board and sketch with you. Or, at the meetings we had two or three times a day in his office, he would look at your sketches and say, "I like this and I like that – how about putting them together?".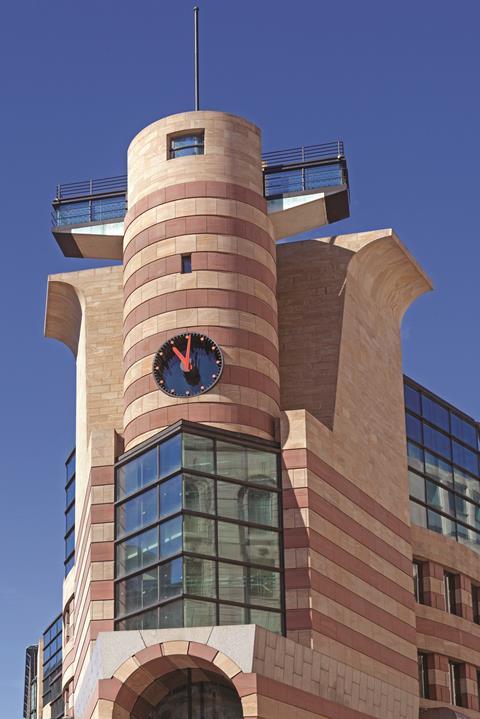 When the House of Lords finally gave the go-ahead to No1 Poultry after about 25 years in public inquiry, I was asked to lead it as project architect. My other project, the Lowry in Salford, had slowed down at just the right moment. I was given a team of eight people on the second floor of Fitzroy Square and told, "Off you go: deliver it".
We only had 1:200 architectural drawings – no engineering or anything else. We had a project team seconded from Davis Langdon and, incredibly, Laing, the chosen contractor, agreed to build it at a guaranteed maximum price. There was quite a difference between that and what the QSs costed it at. Laing were looking for key projects to enhance their brand, but it was one of three jobs that brought them down a few years later. Funnily enough it was O'Rourke, the piling contractors on Poultry, that later bought Laing for £1.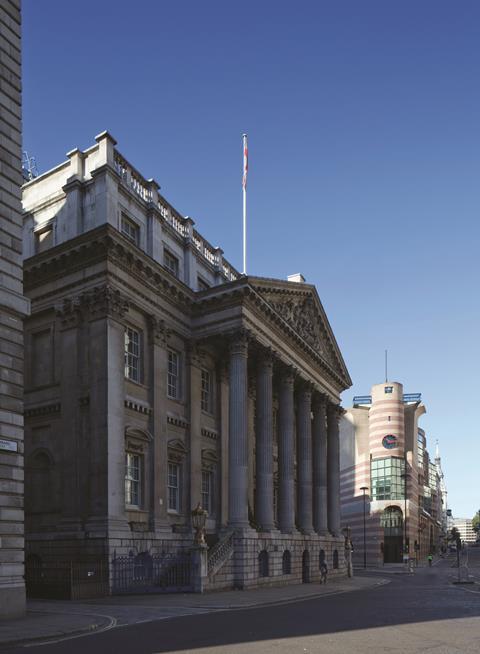 The job was done on a bespoke contract. It could have been quite daunting on the first project I was running after qualifying. Now, of course, I would think about all the things that could go horribly wrong, but when you are that young you just get on with it.
I had done quite a lot of contract law at university and I had some project management assistance from Arup so I wasn't completely on my own, but no one at Stirling Wilford had ever administered such a contract so I was really left to run the whole project on my own. That was quite something. It was one of the most prestigious projects in the City, so all eyes were on it.
Lord Palumbo had spent years assembling the triangular site opposite the Bank of England – eight listed buildings including the Mappin & Webb building. He initially appointed Mies van der Rohe in 1962, who designed a glass tower with a plaza in front. When that was thrown out in 1985 after a public inquiry, Palumbo appointed Stirling, but of course his proposals ended up at a public inquiry too, in 1988.
We had five years to make a material start on site, something opponents tried to take advantage of
In the end Nicholas Ridley, the environment secretary, approved it, saying it "might just be a masterpiece". Then we had five years to make a material start on site, something opponents tried to take advantage of by forcing a third inquiry into the closures of two of the roads running through the site (the third had to remain open throughout).
The south-west corner seemed most promising because there weren't any buildings there and we could get a small piling rig in. But there was the small matter of a plague pit on the site, so we had to exhume hundreds of bodies before managing to get some piles in just in time.
Laing's would not start demolition without a specific direction, so the first architectural instruction I ever wrote was to demolish all those listed buildings. They built it top-down, so we could carry on while 50 archaeologists worked underground surveying the Roman city. We needed miners to dig tunnels for them at the Bank apex because the space was so tight.
Jim died in 1992. Because the whole thing had dragged on for so long he had kept tinkering with the design. The last thing he told me was that he thought maybe it would be better all in beige. I agreed the stripes were a bit over-egged so was pushing for that but Tony Tugnet, one of the City planners along with Peter Rees, was dead against it, so we had to keep the stripes.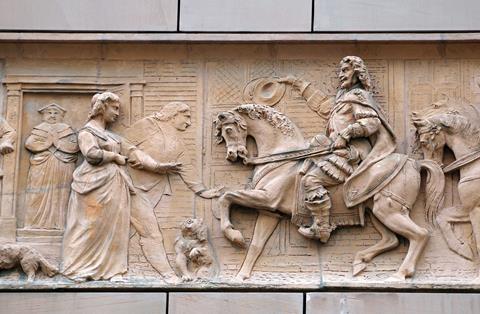 The client wanted a 120-year design life for the facade so we took a lot of trouble with the stone. I went to Australia and South Africa to review materials. We sourced the beige stone from Australia but the pink ended up coming from Gloucestershire. Not only was the English stone the most expensive but we also had numerous delays, which caused problems for the builders.
Laing were trying to find ways of reducing the price, which was going up and up. That is when we came up with the blue faience tiles instead of stone on the central drum. The coloured window frames were also one of our ideas, picking up on other Stirling schemes.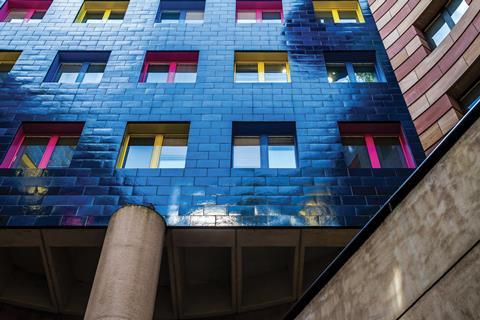 We thought we would have a bit of a play. I wasn't overly experienced at what you could and couldn't do so we just did it – and the planners agreed. Lord Palumbo gave us carte blanche to do whatever we wanted. I thought this was what every project was like.
If you start with a 1:200 scheme you still have a lot of designing to do. We took the triangle and circle of the plan and used them in so many details, from the ceiling tiles to the door handles and lift buttons. All on a maximum price contract.
The original plan was to reuse the Mappin & Webb clock on the prow, but it was too small so we had the idea of the see-through clock based on the Bulova Accutron Spaceview watch that Jim wore.
The whole thing was completed in 1998 and I moved on to work for John McAslan, but I had my leaving do at Coq d'Argent on the roof, which involved lots of champagne and some very happy memories. We had all gone through this struggle together, like Band of Brothers.
Now I look at it and think it is probably overly complex. It is heavy, "sophisticated" architecture with a capital A and very much of its time. But it is a City landmark and to have been involved in a bespoke piece of abstract architecture at the very start of my career was astonishing.
Andrew Pryke was speaking to Elizabeth Hopkirk