With party conference season upon us, here's a guide of key policy areas for the industry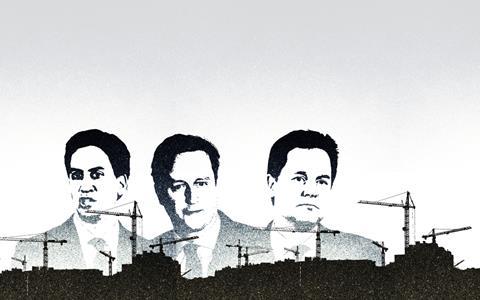 If the construction industry could speak to the government with a single voice - a controversial idea in itself - then it would probably be telling the coalition to bloody well get a move on. There is of course no shortage of warm words on prioritising infrastructure, housebuilding and green growth, but with construction output dropping like a stone, it is action that the construction sector is desperate to see.
Grand promises and empty rhetoric are likely to be all that is offered over the next few weeks, however. The annual autumn party conference season kicks off in earnest tomorrow with the Liberal Democrat conference in Brighton, followed by the Labour throng in Manchester and, finally, the Tory shindig in Birmingham. These events are about determining the future policy direction of the respective parties, not about ensuring the effective implementation of existing plans.
Nevertheless, this year's conference season comes at a vital point in the political cycle. With ever larger cracks appearing in the coalition facade, concerns are being raised that the UK could be entering an extended pre-election period, with the governing parties more interested in positioning than in actually running the country effectively. It does, however, provide an opportunity for construction to influence policy in a way rarely seen at the halfway point in the political term.
So what will be the industry's key demands over the next three weeks?
Repair and maintenance, Green Deal
It's not sexy, but after two years of the coalition talking (largely in vain) about getting infrastructure schemes moving, large parts of the industry are calling for a focus on repair and maintenance as the quickest way to boost construction output. Repair and maintenance is also favoured because the number of jobs created by £1bn of investment - over 30,000 - is more than double the amount created by infrastructure work.
In June the Confederation of British Industry called for ministers to fast-track existing spending allocated to repair and maintenance in order to bring forward construction work, giving an immediate boost to the economy. However, there are other options for the government to consider without spending up-front cash. First, councils have been given control of the money they raise from social housing rents, and could be freed up to borrow more on the back of that revenue to invest in upgrading social housing stock.
Second, any boost to the housing market, through freeing up mortgage lending, will also lead to increases in repair and maintenance spending because pre-and post- house sales is when the bulk of domestic repair work is done. Third, the government's Green Deal programme has the potential to significantly boost spend without government cash - but only if there are more sizable incentives in place for homeowners. However, prospects for such incentives are bleak, as following a mainstream media backlash, the government looks unlikely to introduce consequential improvements - the requirement for people to make energy efficiency improvements to their homes when building an extension - into building regulations. As Building revealed last week, this U-turn could mean that 2.2 million fewer Green Deal agreements - worth up to £10bn for the construction economy - are signed. As Noble Francis, economics director at the Construction Products Association, says: "The government must focus more on things that deliver on the ground and in the short term. The repair and maintenance of infrastructure and housing are levers the government can pull to give short term delivery of benefits."
Boosting repair and maintenance is unlikely to be the eye-catching conference message that most politicians are looking for, but there may be promises by politicians at the Labour conference linked to debates around social housing.
UK Guarantees / infrastructure spend
Although infrastructure is unlikely to provide an immediate fix for contractors' workloads, the sector is clearly a big focus for the construction industry. The government has outlined already its priority infrastructure projects through the National Infrastructure Plan, and has set about energy market reform designed to bring in big private sector investments in new power stations. But so far the results in terms of big projects - outside of the rail sector - have been limited. Richard Threlfall, head of infrastructure, building and construction at KPMG, says: "We've run out of appetite for good ideas. The ask is to please just do something."
This is particularly the case with the government's £40bn UK guarantees programme, designed to encourage private investment in infrastructure projects by underwriting certain risks with the UK balance sheet. This was launched in July after being mooted by the government since the end of last year, but as yet there is still no clear process for projects to access these guarantees, and no projects have so far benefitted from them.
Threlfall also calls for the immediate re-introduction of tax benefits for investment in infrastructure, which were previously known as the Industrial Buildings Allowance and abolished in 2009.
Infrastructure is one area where there is likely to be a lot said at the conferences, and where there is the potential for genuine progress to be unveiled.
Housing
Housing has become a huge political priority for all parties, given the sector's potential to stimulate economic growth relatively quickly through new build construction. Communities minister Eric Pickles' housing and growth announcement at the start of this month covered a lot of ground, promising reforms to planning and guarantees to underwrite the construction of social housing, but how all this will be implemented is unclear.
Jack Pringle, managing director at Pringle Brandon Perkins + Will, and head of the Construction Industry Council, says the stimulus effect of the announcement will be "mild." "There's a severe question of whether this will be anywhere near enough. For example, with the proposed relaxation of Section 106 promised, it seems the developer will have to prove his case somehow - that just sounds like more red tape."
Many developers are calling for more to the done to encourage private rented housing, beyond the recommendations in the Montague report into the sector, published in August. In particular calls for tax relief for investment in private rented housing are gaining traction. Chris Tinker, regeneration director at housebuilder Crest Nicholson, says: "We think the demand side of private rental could be stimulated, through the creation of tax-efficient structures to
invest in housing. Effectively it would create a whole market of people who could be purchasers."
Housing is always a big battleground at conferences, with social housing a huge topic at the Labour conference in particular. However, with this month's announcement on housing and growth still being digested, there is likely to be much talk but not much new from the coalition parties. There is a possibility of finding out much more about Labour's intentions in the area.
PFI
Last week Treasury chief secretary Danny Alexander said the conclusion of the government's ongoing review of PFI will report in the "autumn" - though he refused to be drawn on a more specific timeframe. The use of PFI, which until 2010 had funded in excess of £8bn of projects a year, has been drastically curtailed by the government due to both a drying up of project finance linked to the euro-crisis, and the political decision to question PFI's role in public projects.
Former Treasury minister Lord Sassoon launched the review of PFI in December last year because of concerns over the cost, value for money, and relative inflexibility of PFI contracts, saying that existing schemes in the PFI pipeline would be unaffected. However, Building understands the procurement of £2bn of PFI schools under the Priority Schools Building Programme has been delayed because of uncertainty over the way forward. The UK Contractor's Group called for an "early" announcement on the future of PFI in its open letter to new construction and infrastructure ministers Michael Fallon and Paul Deighton following this month's reshuffle.
The chances of anything specific being revealed at the conferences on the future of PFI is low, despite Fallon's admission to Building last week that he recognised it was an "important issue" for the industry. He said: "The government is reforming PFI to ensure that it secures better long-term value for money for the taxpayer, while making sure we retain the benefits that successful PFI can deliver." However, the subject is not a vote winner for any of the party's core voters, so politicians of all parties will most likely attempt to get through the week without mentioning the topic.
School building
The Labour government's single biggest capital spending commitment was the £55bn Building Schools for the Future programme. Since its abolition in 2010, the industry has been waiting for its smaller replacement, the £2.4bn Priority Schools Building Programme, to come on stream. However, it has been beset by delays, with the PFI elements not now likely to be procured until the new year, following the publication of the PFI review. KPMG's Threlfall says: "Priority Schools is the key one. They need to just get out there and procure it."
It is one area where progress could be made at conference, as the first of the directly procured schools are due to come to the market in October.
Aviation capacity
While not an area likely to prompt immediate recovery in construction workloads, the government's aviation strategy is becoming an increasing focus, and source of frustration, for the industry. This is not just because of the size of the potential prize if the government decides to build an entirely new airport in the Thames Estuary - rumoured to be anything between £20bn and £50bn. It is also because of the perceived impact that the government's "dithering" over whether to expand Heathrow will have on the confidence of foreign companies investing in the UK.
Steve Hindley, chair of contractor Midas Group and the CBI Construction Council, says: "Politicians can't imagine what this kind of behaviour does to business confidence. By putting this off they've essentially just made a whole lot of business people say 'let's not invest'. It's actually much more damaging than [poor levels of] bank lending."
With Sir Howard Davies appointed to chair an independent Commission on airport capacity, politicians will be able to deflect the major questions over this issue at conference. The industry should look for any sign of an emerging cross-party consensus, as this is the only way such a major decision is likely
to be delivered.

PARTY CONFERENCES: WHO'S DOING WHAT WHEN
Conservatives
Venue: Birmingham ICC
When: 7-10 October
Key moments: Chancellor George Osborne and transport secretary Patrick McLoughlin will speak at the same event from 11am on Monday 8 October, with communities secretary Eric Pickles speaking at 2.30pm the same day. Prime minister David Cameron will speak on Wednesday at 11.15am.
Who to watch: Education secretary Michael Gove may announce tenders for the first schools in the Priority Schools Building Programme. It will be the first conference in post for the new housing minister, Mark Prisk, construction minister Michael Fallon, planning minister and Nick Boles.
Best events: The reshuffle means it is still far from clear which ministers are speaking at which events. However, the Homes for Britain Alliance, a consortium of charities, housing associations and housebuilding groups, is set to launch on the Monday night of the conference with CBI director general John Cridland. The Infrastructure Alliance of construction and engineering lobby groups is hosting an event on avoiding the infrastructure crunch on the same evening.
More conference details click here
Liberal Democrats
Venue: Brighton Centre, Brighton
When: 22-26 September
Key moments: Business secretary Vince Cable, rumoured as potential challenger to Nick Clegg's leadership of the party, has a history of springing surprises at the conference, and will be speaking at lunchtime on Monday 24 September. Treasury chief secretary Danny Alexander has the same
slot the next day, with deputy prime minister Nick Clegg speaking on Wednesday at 2.30pm.
Who to watch: Cable and communities department junior minister Don Foster are the only Lib Dem MPs who hold significant construction briefs. Cable has form in looking at housing policy to boost growth, and housebuilders want to see Foster's approach on Building Regulations. Alexander, by virtue of holding the purse strings, is the most influential Lib Dem to the industry.
Best events: Danny Alexander is speaking at the Infrastructure Alliance's 23 September fringe event. Lib Dem, Lord Matthew Taylor of Goss Moor, author of a 2008 rural housing review, is speaking with Crest Nicholson's Chris Tinker at an event on the same night organised by the Town and Country Planning Association.
More conference details click here
Labour
Venue: Manchester Central
When: 30 September - 4 October
Key moments: The conference is likely to follow the same broad agenda as last year, with the shadow chancellor Ed Balls to speak on the Monday 1 October, and party leader Ed Miliband likely to speak on the following day.
Who to watch: Last year Balls made the biggest announcement of the week, calling for a "new era of housebuilding" funded by a bank bonus tax. Expect initiatives on housing and infrastructure to feature prominently in speeches by both Miliband and Balls.
Best events: Shadow transport minister John Woodcock is speaking at an Infrastructure Alliance event on 2 October with Nick Baveystock, Institution of Civil Engineers director general. Housing minister Jack Dromey is speaking at a number of events, including sitting alongside the National Housing Federation and Home Builders' Federation on securing Britain's housing needs
on Monday 1 October.