With a no-deal Brexit suddenly a real possibility, what are firms doing to prepare themselves and mitigate the risks? We review the results of our reader survey and ask industry leaders what advice they would give to anyone who hasn't yet begun to plan for the worst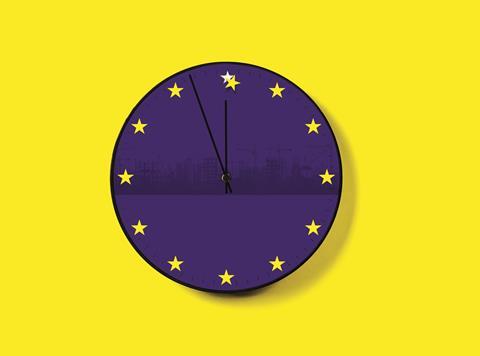 In the midst of the parliamentary chaos over Brexit in the run-up to Christmas, the government quietly made a small but highly symbolic move. As it ramped up preparations for crashing out without a deal – publicising plans to spend £2bn and put troops on reserve – technical documents on the prospect of a no-deal Brexit were subtly edited to remove the word "unlikely".
A no-deal Brexit is an outcome, remember, that the Bank of England has warned could wipe 8% off the UK's GDP this year – a bigger hit than the financial crisis – potentially taking 30% off house prices. Business groups, including the CBI and British Chambers of Commerce, have teamed up to express their horror at the increased risk of a no-deal exit, while ministers have threatened to resign their posts if it's allowed to happen.
Next week, with the rescheduled vote on prime minister Theresa May's exit deal, parliament may find a way to walk back from this precipice. Of course, ratifying a withdrawal agreement of any kind will include a transition agreement – meaning the current regulations continue unchanged for at least this year and the next. But while the possibility of a chaotic no-deal remains, UK construction firms are having to make decisions here and now about how to prepare themselves.
For construction, a no-deal Brexit raises the prospect of delays and cost increases as projects struggle to get vital EU materials and workers to UK building sites, threatening the timing and viability of projects and potentially bringing huge legal liabilities. Reports have emerged of contractors stockpiling vital materials and introducing "Brexit clauses" into contracts.
In the week before Christmas, Building asked over 400 of its readers – contractors, consultants, developers and housebuilders – what they were doing, if anything, to ready their businesses for the worst-case scenario, and how they would respond if it happened. So, how ready is the industry?
Increasing activity
The survey results corroborate anecdotal evidence suggesting that some firms at least are making significant efforts to prepare, with several key risks identified. Jonathan White, head of construction at consultant KMPG, says: "Some are definitely doing a lot, and some are behind." Nearly 15% of respondents said their firms were "very prepared" for a no-deal exit, with about half claiming to be either "very" or "somewhat" prepared. Nearly one in four respondents said their firms were making use of "Brexit" clauses where relevant on contracts, in order to apportion any financial fallout from a no-deal exit. Moreover, just short of 5% were working on projects that had stockpiled materials to protect themselves from the impact of a no-deal exit.
Will Waller, head of market intelligence at consultant Arcadis, says his experience is that about half of firms have thought through the implications of Brexit, and just over half of those have taken some concrete steps to mitigate possible impacts.
Waller says there are clear actions businesses can take to help them prepare, while KPMG's White is offering an app-based tool to assess the likely post-Brexit status of any foreign staff.
Waller says: "Activity has definitely increased in this area in the last six months. There's now a decent proportion who are not only thinking about this issue but acting on what they've discovered." Respondents to Building's survey said their businesses were spending anything up to £5m on simply preparing themselves for the various eventualities.
That action is being taken is unsurprising, particularly in light of the recent experience in the US. There, a significant change in trade terms – namely president Donald Trump's imposition of swingeing import tariffs on Chinese steel, aluminium and ceramics – has had a big impact. Here, according to the managing director of Turner & Townsend's (T&T) US business, John Robbins, overall construction costs are already up by 5%-10%, with some projects spending hundreds of thousands of dollars to make up for project delays caused by materials being held in customs.
There are, however, a very large number of firms that, from the evidence, appear to be doing little if anything at all about the threat of Brexit. More than two-fifths of survey respondents (44%) describe their businesses as "not very" or "not at all" prepared for a no-deal exit in general.
However, even larger proportions admit to having taken no specific actions. More than 55% said they had not engaged in any scenario planning to test the impact of no deal, and around half (49%) said they did not have any strategies ready in the event of that happening. Strikingly, more than half (57%) of respondents who said they work in the EU have no plan to ensure they are still able to work there following a no-deal Brexit.
Key risks
A no-deal Brexit would carry significant risks to construction companies and individual projects, in several key areas:
Construction materials: Around 15% of products used in UK construction are imported from the EU. In the event of no deal, products may face lengthy border checks and additional customs duties. It is also likely that where importers are facing major delays at ports, perishable goods such as food and medicines will be prioritised above construction products. Products may therefore cost more and be severely delayed.
Legal: If unforeseen costs do arise on a significant number of projects consequent on Brexit, then clients, contractors and subcontractors will need to establish who bears the costs. Lawyers say this could result in a rash of law suits.
Workforce: In the event of no deal, the 7% of the construction workforce who are EU nationals will have no technical right to work in the UK, and though the government has made clear that it will not seek to expel them, keeping them may require significant and complex paperwork for their employers. Unskilled labourers looking to move from the EU to work in the UK are not likely to be granted a visa, under the immigration strategy announced prior to Christmas.
Currency: The value of sterling is predicted by many economists to fall further in the event of no deal being agreed, meaning that products and services sourced from abroad may rise in cost significantly.
Economy and viability: With economists predicting a severe economic shock to the UK from a no-deal exit, there is the potential for clients to review or pause projects while the extent of the shock is assessed. Cost increases stemming from the risks outlined above may also make schemes unviable, particularly where demand is less certain.
Underestimating no-deal risk
Sarah McMonagle, director of external affairs for the Federation of Master Builders, which represents small and medium-sized building firms, says its members are particularly unlikely to have had time to address the challenge of Brexit, even though they may bear the brunt of materials shortages as suppliers attempt to keep their biggest customers happy. "I can almost guarantee our members have not been preparing for a no-deal," she says. "They live month to month. The bigger firms might be able to stockpile, but there's very little SMEs can do."
Cenkos analyst Kevin Cammack says the situation is similar among most housebuilders, which typically do not have sites large enough to stockpile materials. "I don't think there's been enough attention paid to contingency planning," he says. "Big projects are fine, but the housebuilder is reliant on the bricks coming in just in time. If there's suddenly a three-month delay to parts, or you can't get blocks, what are you going to do?"
In part this lack of preparation is a reflection of the general assumption that the government will not allow a no-deal exit to happen. However, recent events have led the government's former chief negotiator with the EU, Sir Ivan Rogers, to warn that businesses have "seriously underpriced" the no-deal risk, "because we are dealing with a political generation which […] is frankly cavalier about precipitating events they could not then control".
Reflecting this, Gleeds chair Richard Steer says he is not aware of any projects where efforts are being made to stockpile or pre-deliver items. "The view has been that at the end of the day some kind of fudge will be found and there won't be a cliff edge. But I think planning will have to start with a bit more alacrity now," he says.
Action has also been limited by the lack of clarity as to what the effect of a no-deal exit would be, and therefore what mitigating steps could be taken. Vince Clancy, chief executive of T&T, says: "On most major projects we've had an impact assessment done, and we've come up with a method statement with the contractor about how we might progress. But you can't do much more than wait and see how it plays out."
What should you do now?
Will Waller, head of market intelligence at consultant Arcadis, says businesses need to start by assessing their exposure to Brexit-related risks. This includes working out your reliance on EU nationals and EU products and materials, not just in your own business but throughout your supply chain. It also requires you to think about exposure to currency fluctuations.
On projects and programmes, it means assessing the level of dependence upon timely delivery of EU-derived materials, and who holds the risk for that – using "Brexit clauses" where necessary.
Businesses should also stress-test the financial robustness of the supply chain to ensure it can withstand Brexit shocks, and form contingency plans, including cash reserves if necessary, to deal with disruptions and increased costs.
"Having a plan in place is the important point," says Waller. "It's prudent to take steps now. Know your exposure, consider stockpiling where necessary, and have some contingency ready if the worst does happen. We may already be close to the point where it's too late to do anything about it."
Concrete steps
Nevertheless, where big risks have been identified, more concrete steps are possible. Availability of skills and labour, and the impact of Brexit on client confidence and investment decisions, are the principal medium-term risks of Brexit. But the industry's biggest short-term concern is around potential disruption in the supply of materials to sites, which could cause big delays to current build programmes, triggering costly damages. Contractors and developers including Quintain, Wates and cladding specialist Stanmore have all been reported as stockpiling material or pre-buying to mitigate against potential border delays or cost increases, and one in 20 of our survey respondents claim to be regularly stockpiling.
However, this action requires both cash up front and space to store materials, at a time when many contractors are under significant financial stress. The vast majority of survey respondents (77%) are therefore not stockpiling, while a similar proportion (72%) have either "not extensively" or "not all" developed strategies to overcome supply problems in the wake of a no-deal exit – despite the fact that most are anticipating problems. "This is a delicate balance and a really difficult equation," says Arcadis' Waller. "This is requiring money at a time when the industry needs to be spending on innovation."
Similarly, only about one-quarter (26%) of respondents have prepared contingency funds, as Arcadis is advising firms should. T&T's Clancy says: "This is happening at an unfortunate time, as a number of contractor balance sheets are stretched. It just means any costs will get pushed down the supply chain."
Brexit clauses
Given this dynamic, it is perhaps not surprising that many people are reporting the use of "Brexit" clauses designed to indemnify parties against costs stemming from the EU exit. Typically contractors will hold the risk for time delays, materials costs and tariff and legislation changes in contracts, and then seek to pass this down to their suppliers. However, Brexit creates potentially much bigger risks in these areas, given the possibility of tariffs, delays, currency fluctuations and shortages, and some are trying to use contracts to shed this risk where they can, or pass it back up the supply chain. Of survey respondents, 6% said they were requiring Brexit clauses in all new contracts, and around one in five (19%) were including clauses where relevant.
However, it is by no means clear that these attempts to pass on risk will be successful. Jonathan Hart, construction partner at law firm Pinsent Masons, says: "We've seen some really stupid drafting flying around, with words to the effect that 'you will be responsible for any price rises related in any way to Brexit' with no terms defined." While Hart says his team attempts to get such clauses struck out where possible, discussion of these risks is "coming up the agenda" and contributing to difficulties concluding contracts. Contractors are also reviewing existing contracts to work out their exposure on current jobs.
Arcadis' Waller says the industry will cope best with Brexit if it works together to jointly overcome any challenges and delays projects face. "Industry collaboration will be key," he says. However, the financial stresses and contract forms used mean that parties are just as likely to end up fighting to apportion liability instead. Pinsent Mason's Hart says: "One can see these Brexit clauses giving rise to a raft of disputes. Without government help, industry could end up on a project-by-project basis each trying to scrap for their own piece, as Brexit is only going to put the industry under more financial stress."
Good preparation is probably the only way to avoid this scenario.