With the impact of the pandemic expected to last for years, retailers and shoppers will be adjusting to changes long after covid has been contained. Continuing our series on rethinking design in the wake of the pandemic, Debika Ray reports on what we can expect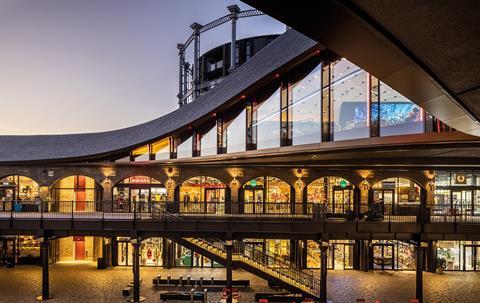 Rethinking design series: Retail
It has become a cliché to say that the covid-19 pandemic has exposed underlying weaknesses in our economic model and accelerated existing changes in the way we live, but this is undoubtedly the case for retail. Bricks and mortar shops were already scrambling to redefine themselves in the face of e-commerce, striving to provide a physical experience that websites cannot replace. But in 2020, as non-essential shops were shuttered and most people confined to their homes, trade online rocketed even further.
While the likes of Amazon experienced record sales, established department store names such as Debenhams, the Arcadia Group, which owns a host of fashion brands such as Top Shop, and Intu, owner of Lakeside shopping centre in Essex and the Trafford Centre in Manchester, collapsed.
The rolling-out of covid-19 vaccines offers the prospect of a slow return to normality, but retailers will still be forced to confront the reality of a post-pandemic world and ask themselves which of last year's momentous changes to our lives and habits are permanent and which will dissipate?
For how long will people be reluctant to venture back to crowded places? Is online shopping now overwhelmingly the norm? Has the locus of everyday life shifted forever away from city centres, as businesses and workers embrace the benefits of working from home? And what will become of the vacant spaces that crop up as more businesses become unviable?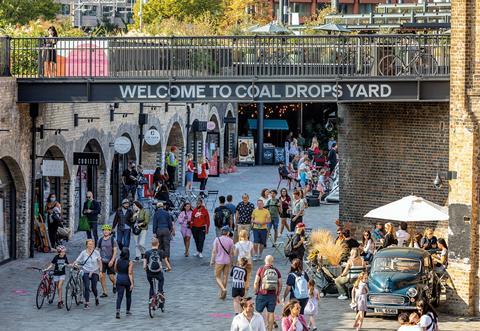 In our new reality, the landscape of retail could look very different, and so too cities – for so long centred around commerce and the high street – may be reshaped. Some of that has happened already: as the lockdown eased in London for a while last year, Coal Drops Yard and the sprawling King's Cross area was well placed to take advantage of our sudden enthusiasm for outdoor street life.
"People came to enjoy the large amount of outdoor space and there was a rush of operators saying they wanted more outdoor seating – which we could do without having to take over streets or pavements," says James Rayner, retail lead at Argent. Further work is now being done to remove traffic and improve access, while adding planting, artworks, lighting, heating and shelter.
Nick Edwards, chair of landscape architecture at BDP, who worked on plans to facilitate social distancing in central London on Regent Street over the festive period, says the long-term result of the pandemic might be a more people-friendly public realm around places where we congregate to shop, eat and socialise.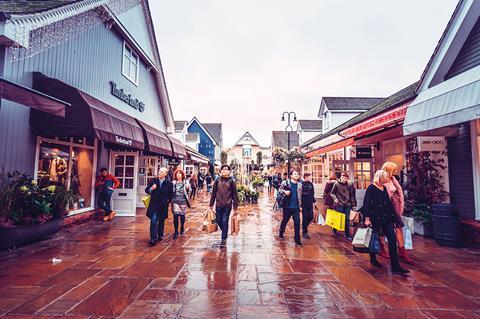 "Many of our footways are too tight to facilitate social interaction," he says. "A beneficial legacy might be the way in which more people might be able to walk side by side, strike a conversation, congregate or spend a little time.
"Additional advantages in widening pavements will be that carriageways will be less visually dominant and easier to cross, there will be more space for buildings to physically and visually engage with the public and, by reducing the width from one footway to another, there will be greater eye contact between people and activities on either side of our streets."
Flexibility
Of course, we all hope that this coronavirus will not control our lives forever. Martyn Evans, creative director at developer U+I, does not think viral transmission itself will or should reshape our cities or retail interiors. "Forget about the pandemic," he says. "It will end and, even if there is another one, the real issue is what it has revealed about our living patterns and desires."
When it comes to retail, he says, it has become apparent that we no longer have a tangible need to gather around shopping hubs, which is a central question that councils, developers and businesses will need to address if they are to rescue ailing high streets and shopping centres. Amid the gloom, he sees an opportunity, but only with a more flexible approach to rental, rather than the current tendency towards 10- to 15-year leases.
Evans recalls how, in the 1990s, he helped the Truman Brewery in east London attract innovative tenants to a "dead zone" by offering empty units in exchange for a percentage of their income. "We need to think about better sharing risk between landlords and retailers," he says.
He points to Appear Here, an online platform that matches empty units with brands, which is offering a range of ready-to-use spaces on short-term contracts to encourage experimental occupants and keep an area's retail offering fresh.
Flexibility of use also may become more common with, for example, units having different purposes at different times of the day.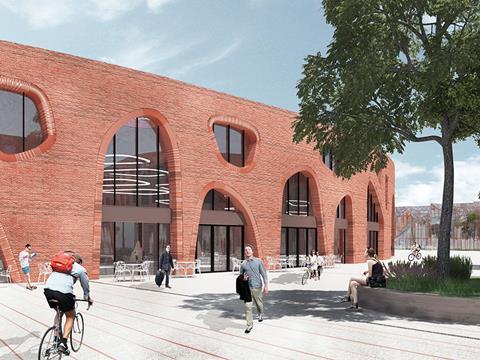 Friedrich Ludewig, director of architecture practice Acme, says councils have a major role to play, notably when it comes to high business rates that discourage creative reuse and in the proactive management of high streets, for example by clustering active tenants together and finding alternative uses for vacant stretches.
"When you don't have active ground floors, it's bad for neighbourhoods," he says. "We need to find other ways to activate that space and widen our definition of what they can do."
Ludewig is dubious about the decision by John Lewis, which is making 45% of its flagship store on London's Oxford Street into offices, to do this on its top floors rather than the back of the building, which faces a public square, as it misses the opportunity to give the new offices a ground-floor presence.
He is not overly concerned that department stores may no longer be the anchor of town centres, as he believes many of these are located in buildings that can easily be converted for other uses – for example, in Düsseldorf, Acme is inserting a mix of office and residential space into an existing, high-ceilinged concrete structure owned by German department store landlord Signa. More residential space in the centre of cities might help boost the fortunes of retailers, replacing office-going customers who may never return in the same numbers as before.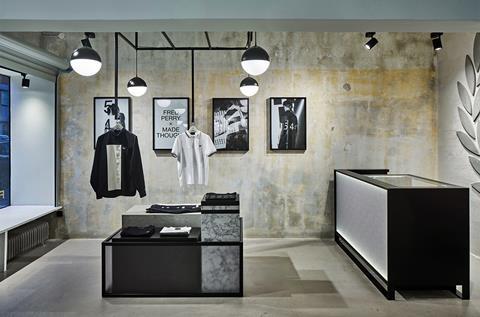 Beyond incidental footfall, drawing people back to shops en masse will rely on them offering what online portals cannot. Amr Assaad, director at Buckley Gray Yeoman, who oversees the firm's retail work, says the shift that was already happening before the pandemic of stores acting less as places to pick up purchases and more as a "physical homepage", for customers to learn about a brand, will be cemented.
He uses his firm's work on a store for Fred Perry in Paris as an example: "There's a huge focus on storytelling and interactive displays, and less on stock and changing rooms." Smaller, more nimble brands with unique offerings will be best placed to do this. Other retailers will inevitably fail, and the space they leave behind will need to find a new purpose. In May, Next reportedly plans to take over ground-floor spaces formerly occupied by Debenhams to roll out a new beauty hall concept – betting that people will be attracted by activities that cannot be done on a computer or over the phone.
Even before the pandemic, Debenhams was talking to co-working space provider WeWork about taking over space in its stores, which may become increasingly common as a more flexible model of office-working becomes the norm. In LA, the shopping centre Platform has redefined itself in the pandemic as a "contactless drive-through" for collecting online deliveries – space for this "last-mile" distribution could also become increasingly needed.
Malls and retail parks
It is less clear what will become of retail parks and large malls on the outskirts of town. "If I were an out-of-town landlord I would be worried because I think when people come out of lockdown, they will be hungry for town centres," says David Rudlin, director of design consultancy Urbed and chair of the Academy of Urbanism at Manchester University.
Acme's Ludewig points out that a lot of these retail parks are "basically tin sheds with no sense of place", so are unlikely to be suitable for reuse in their current form. But they are also usually well connected, with plenty of parking and excellent infrastructure. There may be opportunities to convert these sites into residential neighbourhoods or use them as warehouse and distribution centres to fulfil the growing online shopping demand.
If I were an out-of-town landlord I would be worried because I think when people come out of lockdown, they will be hungry for town centres

David Rudlin, Urbed
BGY's Assaad thinks shopping malls could be repurposed to serve and enhance their local community. "Malls could become more centred around public services and activities. Instead of local councils being based in one city-centre building, we could think about them occupying parts of shopping centres or vacated department stores, creating the opportunity for civic engagement," he says.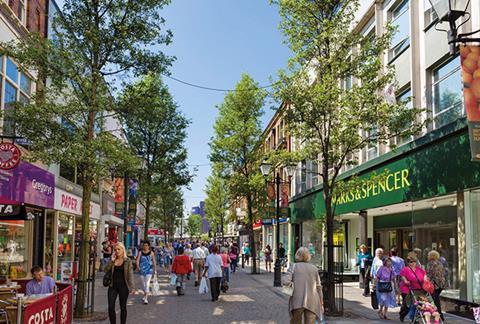 One tentative retail success story has been the local high street. Before the pandemic, shopping was concentrated in the big city centres, but now anywhere reliant on office workers or tourists is deserted, while suburban centres have been sustained by the vast number of people working from home. Ludewig says this offers quality independent shops, with which people feel a personal relationship, the chance to thrive – especially if working from home, or in local co-working spaces, remains part of our culture.
The past 10 months have also seen a related spate of high-street pedestrianisation and low-traffic neighbourhoods in London. Rudlin cautions that, while this strategy may work for affluent areas, leading to more outdoor seating and the spillover of shops onto the street, it will be less effective for those that rely on drivers passing through and stopping to shop.
He is more positive about the broader notion of high streets populated less by big retailers and more by independent shops and leisure activity – pointing to Doncaster as a city that has already had some success in this effort.
In Paris, Sorbonne professor and adviser to the mayor Carlos Moreno has proposed a concept called the 15-minute city, which is rapidly gaining popularity. The idea is that, if working from home becomes a permanent part of our culture, we will benefit from having all the amenities we need within a 15-minute walk.
It remains to be seen whether the shift to this more local way of life becomes permanent – but it is clear that it will depend at least partly on how retail responds to these extraordinary times.