Construction and property industry experts shared their views on the potential of smart buildings and how these opportunities might be realised. Jonathan Owen reports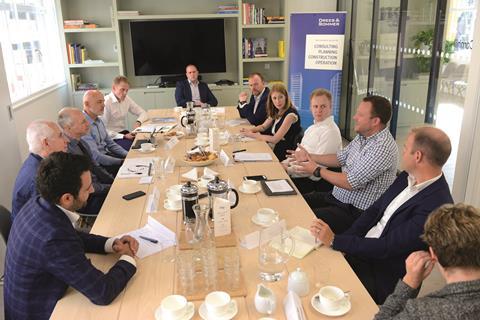 Technological advances are changing the way in which we not only live, but work. And in the case of the working environment, smart buildings offer a whole host of features that can save time and money.
Meeting room booking systems operated through your smartphone are just one example. Others range from face recognition and automated ventilation to energy saving systems.
Yet for all the theoretical benefits that technology offers, there are significant challenges in translating theory into practice – whether it is the additional investment needed, assessing demand from prospective tenants, and treading the line between having a useful function and tech for its own sake.
Construction consultancy Drees & Sommer UK hosted a roundtable in London with Building last month to address these issues.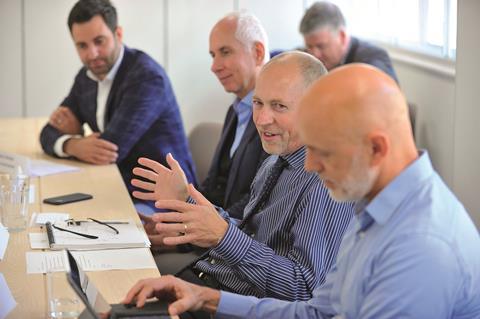 During a lively debate, construction and property industry experts shared their views on the potential of smart buildings and how it might be realised.
When it comes to intelligent workspaces, nothing is as simple as it may appear. Take the business of trying to agree on what a smart building actually is. Thomas Lane, Building's group technical editor, and chair of the event, posed the question of how do you define a smart building?
It was greeted with silence before nervous laughter around the table.
Marco Abdallah, head of engineering, Drees & Sommer, took the plunge and said how many clients see it as being a structure "loaded with technologies" in what is likened to a "complex spaceship".
Being smart is all about the bottom line, he said. "For us buildings either become smart when we are able to create a value, a benefit, for the landlord, the building owner, and of course also the user."
The smartness of a building is "related to the level of benefit, how well we can combine different technologies, how well we can generate data and what we can do with that data for the user – and that makes a building really smart – it's not the quantity of sensors," he said.
Sometimes people are the problem, according to Sonny Masero, managing director, Galos: "In buildings today you already have complex building systems like building management systems (BMS); they are already misunderstood and underresourced." Technology has to be resourced properly, with processes that people can understand and implement, he argued.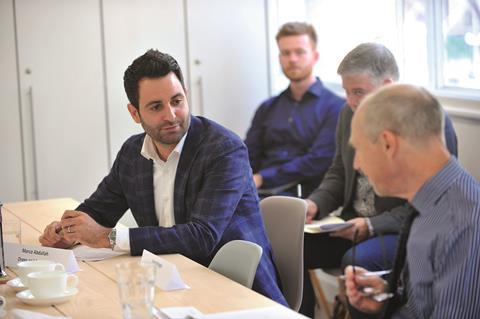 Truly smart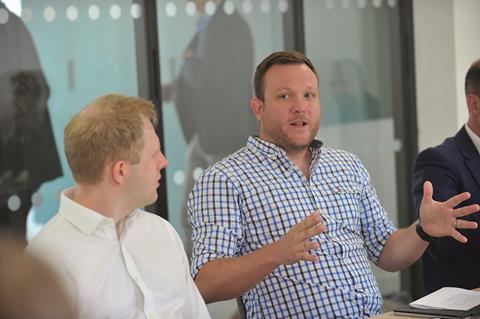 Chris Coath, director for energy and asset management at NG Bailey, said that it is how people use the data that is already collected by BMS systems, rather than the actual tech itself, is what makes a building "truly smart."
And Vanessa Butz, founder of District Technologies, proposed that people should treat the technologies in the core of modern buildings separately to how people actually use the buildings on a daily basis. "The best examples of a smart building in the future will connect both of those in a seamless integration."
There need to be common data standards and an open source framework of how to build a smart building, she added.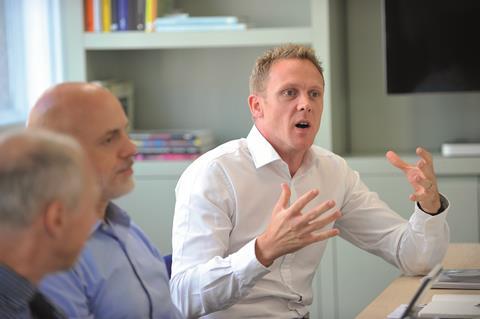 Responding to this point, James Wanless, associate MEP services, Alinea, commented how one of his firm's commercial clients is developing such an operating system, with "a standard specification on how they want their technology to be implemented into their building."
This will create a platform that can be shaped to their requirements, he said.
Wanless claimed that some developers he has spoken to believe that smart functionality "has no impact on the 'letability' of the building".
The issue of what clients – and their tenants – want from their buildings is key, according to James Brogan, principal and chief information officer, Kohn Pedersen Fox Associates.
And Butz described how she used to consult on a building where you could control the individual light of your desk but this involved clicking a number of times to get to that point. "Why are we reinventing the light switch when it works perfectly well? That's not smart for me," she said.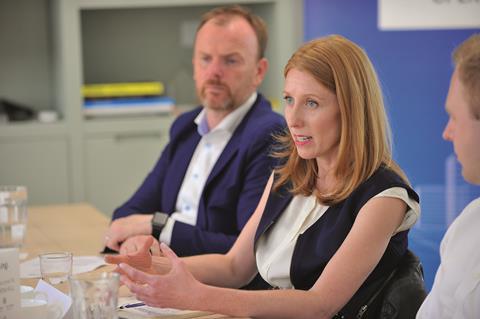 Promoting sustainability
A major benefit of smart buildings is the role they can play in reducing waste and promoting sustainability, by helping us "only to use our resources when we need them, to the extent that we need them," according to Kerri Henderson, senior associate at Gensler.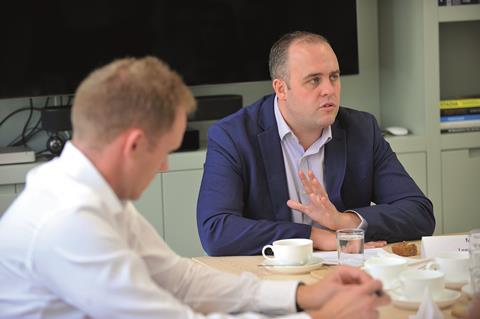 But Mark Tyson, head of occupier engagement and service delivery, Legal & General Investment Management, said: "The whole smart building thing is a complete waste of time, it's a dead end."
He cited the example of car manufacturer Henry Ford, who said that if he had asked people what they wanted you'd have had a horse with wheels on it.
Not only do occupiers in their buildings not know what they want, but there is "a vacuum between the people that design the building and the people that operate the building and a complete fear factor at actually engaging with the people that use it," he claimed.
In the case of Legal and General, the firm is taking a new approach focused on increasing the performance of buildings that it rents out and enhancing the experience of those who work in them.
By taking care of the basics, such as air quality, light, noise and temperature, market economics will mean that you can raise your rent accordingly, he said.
It is about providing a service for people and "the problem with the smart building industry is that it's become all very engineering-led". The technology should be seen as an enabler rather than an end in itself.
This point was echoed by Abdallah, who described how Drees & Sommers' work on Cube Berlin in Germany's capital city has looked at which functions and services the occupants of the building would be prepared to pay a premium for.
"We found that there are only a handful of components where the user is really interested and the landlord or owner is able to generate money, a new form of income beside the rent on it."
He gave the example of being able to rent out parking spaces. "If that income is worth the investment in the technology then it's a smart feature and if it's not paying back it's not smart, it's just a waste of money and technology."
Tyson commented that people get "too caught up in the fabric of the building and not how the space is being used."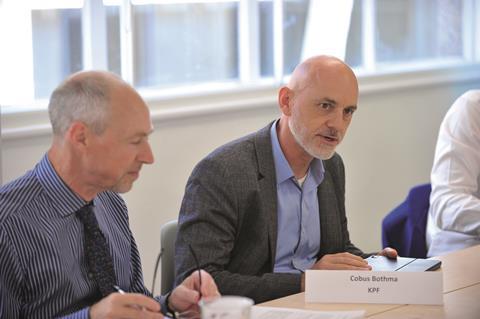 Smart building study: Cube Berlin
This state-of-the-art smart building in the heart of Berlin is due to be completed at the end of this year. It has been designed by 3XN Architects for property company CM Immo, which has invested around €100m to create one of Europe's smartest buildings.
Drees & Sommer is responsible for the integrated digitisation of Cube Berlin and technical planning services.
An AI system acts as the building's "brain", which communicates across different systems and enables features such as automatically switching off heating, lighting and ventilation for parts of the building that are not in use. Or, if a meeting room is crowded, the building's ventilation system will feed in more oxygen.
The level of technology in the building is reflected by the sheer number of sensors it has – some 3,750.
This network allows features such as indoor navigation, tracking of people and objects, and access control using facial recognition.
People will be able to interact with the building by using an app. Among other things, it will guide them to the best location to work in based on their personal preferences, where their colleagues are and energy efficiency.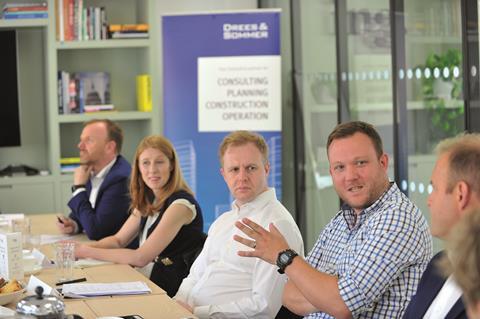 How smart is your building?
And James Worthington, partner at Charles Russell Speechlys, remarked: "In its broadest sense, a virtually smart building is a building where you collect data, which all buildings do to an extent; the question is how much of that does your building do and how smart is it?"
There is being smart, and there is being clever – which is where a new generation of office buildings, such as Cube Berlin and the Ship in Cologne, Germany, come in. They are among the latest examples of next generation properties designed with an AI platform that effectively acts as the brain of the building (see box). Participants agreed that having smart-enabled buildings where future technology could be added at a later date is an issue, and that buildings should be smart from the start rather than adding tech as an afterthought.
In terms of making smart systems work, and talking to each other, collaboration between M&E and BMS engineers is vital, Tyson commented.
He cited an example when these engineers had been brought together. "The performance has gone absolutely through the roof because you've taken the complexity out of it and you've given them a process they all understand."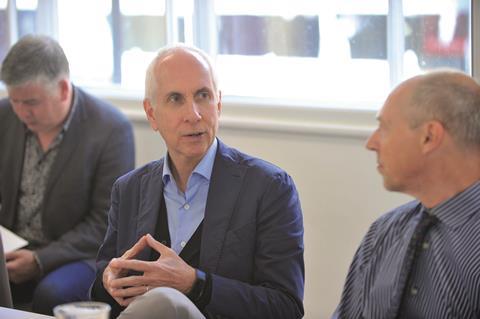 There are many tools to help adapt working conditions to individuals' needs, Tyson argues: "There is enough science coming out of universities now to say by the type of job you do, by your age type, the conditions that are optimal for you to work in. Now, we would see that in the UK as being intrusive but actually it's quite logical."
But Worthington countered this, saying people have different comfort levels and want to be able to have the ability to choose for themselves.
And Wanless commented: "People are going to want spaces that are going to make them their most productive and be the most efficient in what they do in their day-to-day jobs and the fact that then there's the technology available to give them choice and impact on their environment is what's driving this market."
Playing devil's advocate, he said: "Why should a company tell me what the perfect light level is based on my age, what I do, and how I deliver a job? I should have the ability to adapt the lighting to suit how I personally think I would use it."
Issues around data and cybersecurity were also raised, with Henderson saying that there needs to be transparency, with people having the right to "opt out of being tracked or being able to wipe their data".
And Tyson said that stronger data standards are needed, citing how having a hacker close down a building would be the "worst-case scenario".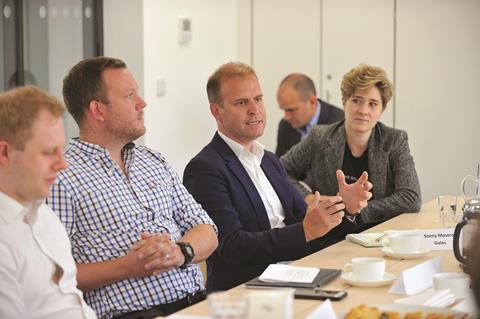 Future-proofing buildings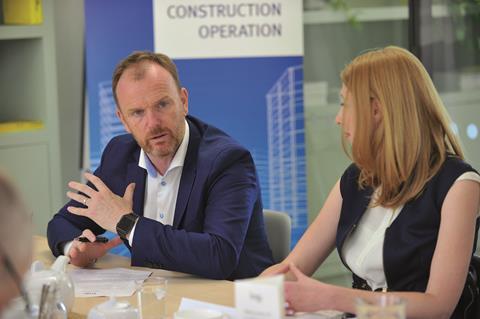 Phil Ratcliffe, managing director, Drees & Sommer, commented: "We are a very segmented supply chain and every segment is a fissure which can be forced apart so I think that's one of the dangers."
In the face of continual changes in tech, smart buildings need to be future-proofed so that they can be upgraded in line with technological advances. Change should be driven by demand rather than tech, Abdallah argued. "A building should have less technology as possible and as much as necessary," he said.
The key is to create a "digital-ready building" that can adopt new technology, because: "The problem we face is that while we design a building there is already new technology coming on the market and when we have finished the building what we have considered at the beginning of our project is already outdated."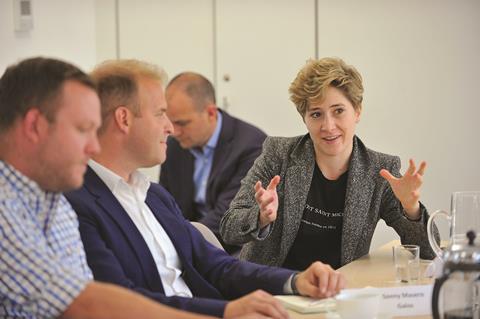 Round the table:
Chair: Thomas Lane, group technical editor, Building
Cobus Bothma, director of applied research, Kohn Pedersen Fox Associates
Chris Coath, director of energy and asset management, NG Bailey
James Brogan, principal and chief information officer, Kohn Pedersen Fox Associates
James Wanless, associate MEP services, Alinea
James Worthington, partner, Charles Russell Speechlys
Kerri Henderson, senior associate, Gensler
Marco Abdallah, head of engineering, Drees & Sommer
Mark Tyson, head of occupier engagement and service delivery, Legal & General Investment Management
Phil Ratcliffe, managing director, Drees & Sommer
Sonny Masero, managing director, Galos
Vanessa Butz, founder, District Technologies