How can the UK deliver the volume of new homes required without sacrificing wellbeing or environmental performance? Robin Brylewski and Adam Mactavish of Currie & Brown consider how this conundrum can be made easier through cost-effective options for making new homes greener and healthier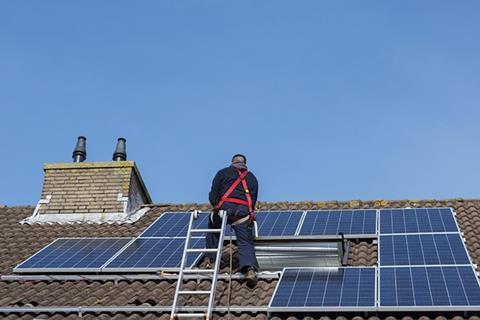 01 / Introduction
Almost exactly a year ago, the government set an aspiration to build 1 million new homes by 2020. During 2015 only around 142,000 homes were completed, so the scale of the planned increase is dramatic, particularly against a backdrop of current product and skills shortages.
Many parts of the industry are evolving rapidly to respond to new market opportunities and demands. The burgeoning private rented sector (PRS), for example, has the potential to deliver more homes more quickly than for-sale housing, and funders' long-term interest in such development means that a focus on reducing running costs and maintenance, while increasing the longevity of the site, becomes integral to the business model.
However, SME developers, who are also crucial to the delivery of new homes in the numbers proposed, have often been overlooked and have not received the support that they needed: this part of the industry has declined markedly from providing about two-thirds of new homes in the late 1980s to about 30% in 2014.
Meeting housing goals will require a raft of measures to ensure that all parts of the industry fully play their part in increasing delivery, ranging from large housebuilders and housing associations to PRS developers and SMEs.
02 / Quality and quantity
In the push to increase output, it is important that the quality of new homes doesn't suffer. The wave of deregulation seen either side of last year's general election would have given some people cause for concern.
Even so, it is important to remember that a new home, if built correctly, will typically be far more cost-effective and energy-efficient to own as well as being more secure (thanks to the new Part Q) than those built previously.
When Saint-Gobain asked 3,000 homeowners and renters to list the most important features that they would want in their ideal home (see Table 1), it is interesting that the top three responses related to security, running costs and the absence of damp or condensation.
These are all topics that should be reasonably well addressed by homes built to current regulations.
Table 1: Features of the 'ideal' home
| Rank | Features | Relative importance* |
| --- | --- | --- |
| 1 | A home where I feel safe and secure | 11.50% |
| 2 | A home that I can afford to run and maintain | 10.50% |
| 3 | A home environment with no condensation, dampness or mould | 7.10% |
| 4 | An area that has low or no crime | 4.70% |
| 5 | A home that has off-street parking/garage | 4.40% |
| 6 | A home that helps you relax and unwind | 4.40% |
| 7 | A home where I have views of nature and greenery | 4.20% |
| 8 | A home that is energy-efficient with low utility bills | 4.20% |
| 9 | A home that's warm indoors without the need for excessive heating in the winter | 4.00% |
| 10 | A home with plenty of natural light, no need to turn lights on during the day | 3.50% |
* Assessed on a MaxDiff basis – a trade-off analysis whereby the sum of the ratings for all options (not all shown) totals 100%
Research by Saint-Gobain, published in World Green Building Council, 2016 Health and Wellbeing in Homes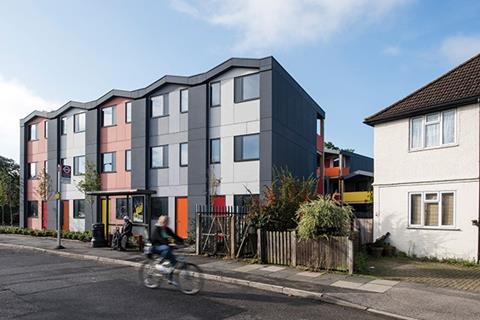 Looking further down the list of priorities, however, the range of topics expands considerably, with desire for natural light, greenery, and space to relax and unwind figuring strongly. Of the homeowners surveyed by Saint-Gobain around 30% stated that they would be prepared to pay more for a home that didn't compromise their health and wellbeing.
So while the provision of homes is still a priority, it would be a mistake to assume that the design and quality of these properties is of less importance.
In fact, given that the coming years may see the construction of living spaces for up to 4 million people, it is essential that we provide quality homes and create places that will retain their value in the future.
03 / Standards and targets
The lack of clear, trusted branding covering the quality of a new home has been a problem in the past: while the Code for Sustainable Homes addressed a wide range of performance measures, it was not particularly accessible to a typical homebuyer.
BRE's new Home Quality Mark, a successor to the Code, is more focused on the homebuyer and provides useful standards and a method for assessing quality in new homes. Other solutions include the Home Performance Label, which provides a method for presenting key information about a home including floor area, storage area, estimated running and maintenance costs, broadband speed and daylight levels. These initiatives are, however, voluntary and it is too early to see whether they will be adopted widely.
More recently a major report by the World Green Building Council on health and wellbeing in homes (available at www.betterplacesforpeople.org) presents a broad set of building and community level priorities for new-build and retrofit projects, including light, air quality, noise, moisture, thermal environment, function and adaptability, green spaces, interactions and supporting a healthy lifestyle. The analysis includes extensive research on the impact of each topic on human wellbeing, together with design solutions.
04 / Delivery of healthy, efficient homes
For developers, the introduction of new performance goals such as "healthy homes" may trigger visions of profit or even viability disappearing. However, there is much that can be achieved at little or no cost – for example, using products containing low levels of volatile organic compounds and thereby improving air quality, or specifying calming colour schemes in bedrooms. Other considerations, such as access to green space or reductions in sources of external noise, can be more difficult to achieve, but through effective design and good use of communal facilities, solutions can be turned into distinctive design features, adding to the quality of the development.
Although their scope is different, there are substantial areas of overlap between healthy and efficient homes in that both require a close focus on ventilation, materials selection, fabric and joint detailing and window design. While there is complementarity between these goals, there is also a risk that homes built to achieve high standards of energy efficiency, if incorrectly detailed or specified, can give rise to problems of poor air quality, due to inappropriately specified or installed ventilation systems, or even condensation problems resulting from poorly designed joint details and the resulting cold bridging.
Our work with the Zero Carbon Hub for the CITB looked specifically at how builders can cost-effectively meet and exceed current energy standards, so that the resulting homes are comfortable, energy-efficient, well-ventilated and have low running costs. This forms part of a wider suite of practical publications (available at www.zerocarbonhub.org/guidance) covering all aspects of the design and construction of energy-efficient homes.
Key recommendations were to:
ensure the project team has the skills and experience to identify and deliver an efficient solution. Investing in the training of key individuals and seeking expert guidance on energy analysis (rather than simply a modelling service) will help to optimise performance
develop a coherent solution that the site team can deliver in practice. For example, check the buildability of the joint details, avoid introducing multiple new technologies at once and don't set an airtightness target that is too ambitious compared to past performance
keep the building envelope as simple and compact as possible. This improves thermal performance and dramatically reduces the complexity of joint detailing
maximise the performance of thermal bridges: 20-30% of heat can be lost via this route and poor details can undermine an otherwise efficient envelope
keep services as simple as possible and ensure that they can be accessed and maintained. If photovoltaics are used, aim to use it efficiently by installing 1kWp or more
ensure that details are clear and that the importance of using the right specifications is communicated to site teams
thoroughly commission the home and provide training to new residents, particularly for any unusual or new technologies.
None of the above are groundbreaking insights, but they are not yet standard practice. Surveys of about 200 homes as part of the Zero Carbon Hub's work on the gap between design and as-built performance showed that the average discrepancy between design-stage and an SAP assessment was 26%, largely a result of unbuildable details and communication breakdowns.
05 / Conclusion
Meeting our housing targets is an enormous challenge and will require output levels that have not been seen since the 1980s. Achieving this while also delivering efficient, healthy and high quality homes requires a focus on the fundamentals of good design and construction practice, together with policies that make space for both for-sale and rented business models and organisations of all sizes.