Contractors have long been the dirty boys of the building industry and at the back of the field in the race towards net zero. But things are changing on construction sites, and some of the biggest polluters are taking significant steps to reduce their carbon footprint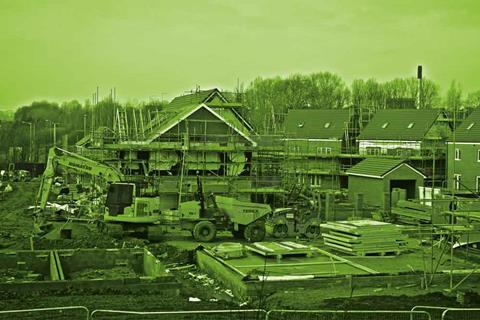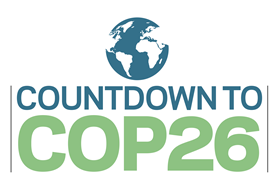 Last year sales of petrol and diesel cars slumped by 39% and 55% respectively while sales of electric cars leapt by 185% to take 6.6% of the market, up from 1.6% in 2019. This transformation is being driven by a combination of the ban on the sale of new petrol and diesel cars from 2030 and a bigger choice of electric cars with better range.
A similar revolution is brewing on construction sites. Developers and public sector clients have set themselves ambitious targets to deliver net zero buildings, and main contractors are having to follow suit. Sir Robert McAlpine, for example, has set itself a target to be net zero in terms of the energy use it directly controls by 2025, and Mace is doing the same.
These ambitions are being given a push by the banning of the use of red diesel on construction sites from April next year. Red diesel has a duty rate of 11p a litre compared with 57p a litre for white diesel, which must be used in road vehicles.
"For me it is one of the government's first tax reforms in support of the net zero carbon commitment," says Simon Richards, Sir Robert McAlpine's head of sustainability. He adds that this is accelerating the move away from fossil fuels on site as the industry does not want to foot the additional tax bill. But how significant are the emissions from the construction process and what are the options for reducing these?
We now require approval in advance for any diesel plant used on site. It can only be used where electric or hybrid alternatives are not available

Patrick Smith, Mace
The whole life carbon footprint of a building includes the emissions from making and transporting the materials used to build it and construction emissions, which are known as up‑front emissions. Whole life carbon also includes operational, maintenance and refurbishment emissions and finally those generated at the end of the building's life from demolition and disposal.
The new London Plan requires developers to submit a whole life carbon calculation at planning stage. Engineering consultant Hoare Lea calculated this last August for Barking and Dagenham council development company Be First for a 219-unit residential scheme called Padnall Lake in Romford.
Construction emissions were calculated to be 2% of the whole life carbon footprint for a standard scheme, rising to 3% for the same scheme with a low energy heating system as operational emissions make up a large percentage of lifetime emissions. Construction contributed 8% of up-front carbon, a figure that is likely to rise as the embodied carbon impact of materials reduces.
Construction emissions come from a number of sources including power for site accommodation, emissions from site operations including demolition, piling and construction, and emissions from transporting materials and waste to and from site. There are also the emissions from permanent offices.
Richards says the emissions from Sir Robert McAlpine's red diesel usage are on a par with company electricity use. The carbon impact of electricity use comes down in line with the growth of renewable energy and green tariffs are available, making this aspect of emissions reduction relatively easy. Reducing emissions from diesel-powered equipment is more challenging, however.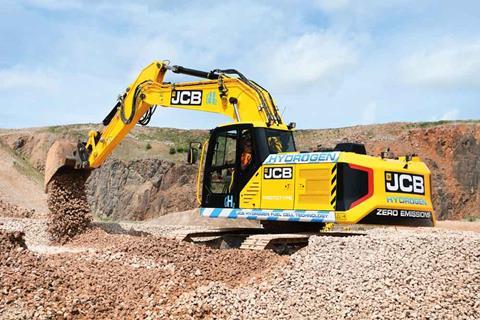 Emissions from site accommodation varies depending on whether this is connected to the grid or needs to be powered with diesel generators. In common with most main contractors, Sir Robert McAlpine rents office space for project team staff in urban locations such as London which can be connected to a green tariff.
Some sites, especially those in rural areas, rely on site cabins for staff accommodation. "In terms of site accommodation that is actually on site, we always strive to connect to the grid as soon as possible," says Anna Kennedy, Richards' colleague on Sir Robert McAlpine's sustainability team.
"Sometimes it is impossible because the infrastructure needs to be changed as part of our scope of works." She adds that noise and pollutants from generators are an issue as well as carbon emissions.
McAlpine has trialled biofuel made from waste vegetable oil to power generators as an alternifative to diesel. In addition to lowering carbon dioxide as it is made from a waste product, biodiesel is claimed to be a cleaner fuel, reducing the impact on air quality. The generators have been used to charge a battery during the day which is used to power the site at night, thus reducing the impact on neighbours.
The supply chain plays a central role in reducing construction emissions, as specialist contractors are largely responsible for the equipment to do the work. Mace wants site operations to be net zero by the end of next year, so has changed its standard contract with specialists to promote electric- or hybrid-powered equipment.
"We now require approval in advance for any diesel plant use on site; it can only be used where electric or hybrid alternatives are not available," explains Patrick Smith, senior sustainability manager for Mace. "We are being practical and not expecting it be electric or hybrid only overnight."
McAlpine's Richards agrees that main contractors have a responsibility to set out what they require from specialists but thinks the tier ones should agree on common standards. "We should come up with a united voice for the supply chain as to what we think we need to do to reduce carbon emissions," he says. "In doing that there will be more confidence in the supply chain to change their business models."
We should come up with a united voice for the supply chain as to what we think we need to do to reduce carbon emissions

Simon Richards, Sir Robert McAlpine
One specialist that is making strides in this area is Keltbray. It has its own carbon reduction targets and is also responding to the needs of main contractors.
"Part of our strategy is to support clients in achieving their own net zero ambitions," says Kiro Tamer, group energy manager for Keltbray. "They can only do so much – if they are the brains then we are the arms on the project."
Keltbray focuses on demolition and early stage construction, which are particularly carbon intensive operations. Tamer says main contractors are keen to get rid of generators but the challenge facing Keltbray, which is working on projects at a very early stage, is that it often cannot connect to substations for power because this has been disconnected. Getting an electricity network operator to set up a temporary supply can take 12 weeks.
By raising awareness of the issue, the application for a temporary building supply can be made in advance of work starting on site. "We are getting a lot better at this – at tender stage we are approaching the client and asking what infrastructure is available," says Tamer. "If we can utilise this, we can save you x amount of carbon on your project."
Mace recently signed a deal with AFC Energy to trial hydrogen-powered generators on its sites. These produce power using a fuel cell, are silent in operation and generate no emissions.
"If you go to any plant hire company, they will have mostly diesel models. Some of them might have hybrid generators but they haven't invested in hydrogen generators yet," says Smith.
"This is why we have set up the partnership with AFC – to show there is a demand – and work with them to ensure that they are safe to use and have the right set up on site." Mace will start trialling the generators next year and feed back lessons learned to AFC.
Sir Robert McAlpine and Keltbray have both dabbled with hydrogen-powered equipment. The former has used it for site security lighting and the latter for small fuel cells used to power tool chargers and air quality monitoring equipment on rail projects at night.
This eliminates the need to run diesel-powered generators at night, which are hugely oversized for the very small out-of-hours electrical loads. Keltbray has moved towards using two generator sets on site – a big one for daytime use and a smaller one for night-time loads.
A big challenge other than the availability of hydrogen-powered equipment is the environmental impact of its manufacture and storage issues. "The general problem is a lot of the hydrogen that we have used is supplied by BOC and is brown hydrogen," says Tamer.
Brown hydrogen is produced using steam reformation of natural gas, although BOC says it is working on facilities in Scotland that produce hydrogen using electrolysis with the power supplied by wind turbines. Bottled hydrogen, which is readily available, is fine for low-powered applications, but high-power applications will need storage tanks. None of the contractors spoken to have got to this stage yet.
In terms of emissions from plant, the big challenge is the early construction stages. Small electric excavators are available from companies including JCB, Komatsu and Volvo and are fine for the lighter duties associated with later stage construction work but don't have enough power for demolition, cut and fill and piling work.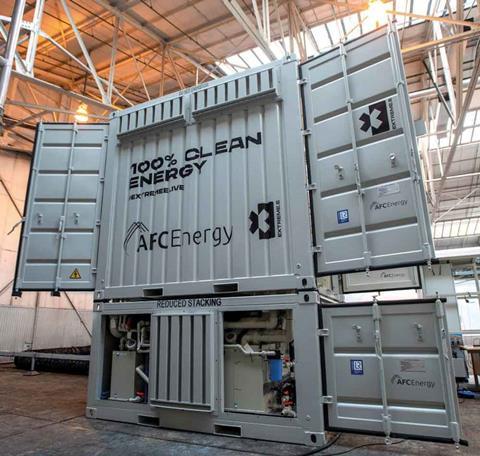 This is the preserve of large excavators, piling rigs and concrete pumps which are all diesel-powered. A large excavator can use 50 litres of diesel an hour, and fuel bills will nearly double once the red diesel ban kicks in.
Hybrid excavators are available. These are diesel-powered and recover energy as the machine's arm slows down, reducing fuel consumption. Mace has trialled a 20-tonne hybrid excavator and says the feedback from users has been excellent. But these still rely on diesel power.
JCB has developed the industry's first 20-tonne excavator powered by a hydrogen fuel cell, which it is currently being trialled. Until machines like this are more widely available, the industry will have to continue relying on diesel.
Smith and Tamer say that biodiesel could be an interim solution. Tamer is sceptical about biodiesel, with some justification as Keltbray has carried out a trial in association with Imperial College to explore the claimed benefits. This was used in old and new machines.
Tamer says: "We found there was a 30% reduction in emissions and a 10%-15% increase in efficiency with the old machines, but with new machines we found there was no benefit whatsoever."
He puts this down to the sophisticated engine management systems of new machines, which adjust a range of engine parameters so these run at maximum efficiency. Keltbray is currently making what Tamer describes as "quite a large investment" in new equipment, with state-of-the-art engines that will be more efficient than old plant. Ultimately Tamer says these can be converted to run on hydrogen, but storage is an issue yet to be resolved. Hydrogen has a very low volumetric energy density so needs to be compressed to very high pressures to store an appreciable amount. It is also highly flammable, which has major implications for health and safety on a construction site.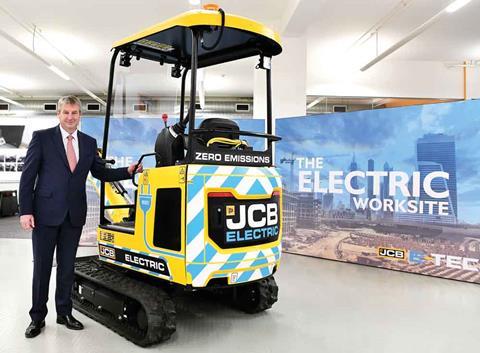 Keltbray is tackling driver behaviour to reduce fuel use, describing idling engines as a "huge problem". Drivers may be waiting for a tipper truck to turn up on site so they can load it up, but they don't turn off the engine. Particularly if the weather is very cold or very hot, they want the air conditioning on.
"A lot of it is human engagement and making the drivers aware of their environmental impact," says Tamer. He cites a fuel saving tournament that Keltbray ran last year where the lorry drivers who saved the most fuel won a £250 voucher. "We saved 60,000 litres of fuel for £750 worth of vouchers," says Tamer.
Attention has turned to making sure that site workers are using equipment in the most efficient mode and analysing how quickly the work needs to be done. Tamer says there is no point using a machine on full power when it could be done a little more slowly using less fuel, particularly if this has no impact on the programme.
As the growth in electric cars shows, road vehicles are further ahead than site-based equipment. Diesel-powered road vehicles are subject to much tougher emissions regulations and older vehicles cannot be used in central London without attracting a daily charge.
Keltbray is already trialling electric vans and has fitted charging points at all its fixed locations. Electric lorries are now available, and Tamer says Keltbray will "definitely be trialling" a 22-tonne electric Scania tipper truck when this enters the market next year. Given the twin pressures of net zero and tax increases, it should not be too long before site-based plant starts catching up with its road-based brethren.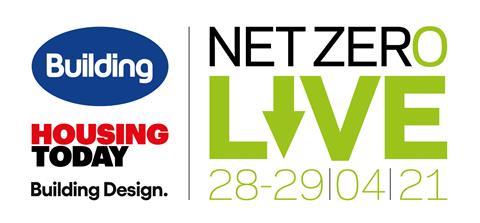 Interested in net zero? Join us on 28 and 29 April for high-level keynotes and interactive panel discussions as we hear from the experts in the industry on a series of issues relating to net zero. Click here for more information
The drive for green machines
1

Currently reading

The drive for green machines

2