With sterling devalued but growth prospects strong, UK firms have rarely been more tempting to overseas buyers, as the recent takeover approach for Atkins may show. So could current market conditions signal a buying frenzy? Joey Gardiner weighs up the chances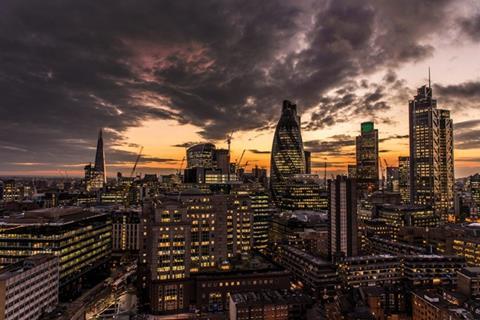 On 20 April, the board of Atkins agreed to accept a £2.1bn cash offer from Canadian engineer SNC Lavalin, in a deal which, if it goes ahead, promises to create a 53,000-strong global business and see yet another of the most historic names in UK construction fall into foreign ownership. While the deal has shocked the market, in many ways it should not be a big surprise. Not only does the proposed purchase fit into the ongoing trend for international consolidation among the world's biggest engineers – for whom size is a key asset in serving global clients – but also the time for would-be overseas acquirers to act is most definitely now.
Only this week UK engineering consultancy Waterman Group became the subject of a takeover bid by Japan-based CTI Engineering. The offer, which at 140p a share values Waterman at £44m, has been publicised as "a clear sign" that the Japanese bidder views the UK as a place to do business with strategic importance for international markets.
Ever since the vote to leave the EU last June prompted a big devaluation of sterling, analysts have been predicting a wave of foreign takeovers. UK firms are currently, quite simply, far cheaper to buy than they were before the Brexit poll. Sterling has lost 11% of its value against the euro, 14% against the dollar and 10% against the Chinese yuan, meaning purchasers can make their money go further. In March, KPMG predicted that a weakened sterling meant North American and Asian firms would continue to circle as UK companies were "a target for hungry investors".
However, most buyers have much more than just exchange rates on their mind, and the uncertainties of Brexit mean there are also reasons to be cautious about investing in the UK. Meanwhile, prime minister Theresa May has publicly set her face against foreign firms buying up important UK businesses. So, is the Atkins deal really likely to be the first of many, and if so, what other UK businesses could become the next targets? Or is the whole Brexit proposition just too off-putting?
Logic
For Graham Robinson, director of the team producing the annual Global Construction Perspectives report on worldwide construction markets, the logic for overseas purchases of UK firms is now stronger than it's ever been. But the driver for this is not, he says, primarily the exchange rate having cut the price of UK businesses.
"The logic is two-fold," he says. "Firstly, the UK economy and the UK infrastructure sector remains a stand-out market in relation to the rest of Europe, and but also there is the ability to access UK firms' strength and depth in international markets." Robinson's report predicts that between now and 2030 UK infrastructure investment will grow four times as fast as in France and three times as fast as in Germany, and he says he knows of discussions ongoing for future mergers. "The exchange rate isn't the driver – it's the sugar on top," he says.
There's been a lot of talk about potential acquisitions of contractors by Chinese firms

Steve Beechey, Wates
Richard Steer, chairman at consultant Gleeds, says the Atkins deal is an example of a pre-existing logic being strengthened by the exchange rate position. "Yes, deals are being made sweeter by the exchange rate, but this is about the [takeover] phenomenon within engineers."
There are other reasons, too, to be sceptical of the prevailing view that the fall in sterling makes buyouts of UK firms more likely. As Jan Crosby, KPMG's head of built environment M&A, points out, a weaker UK currency will also make UK-generated profits worth less to the acquiring firm, meaning it's only really worthwhile taking advantage of if you think the fall in value of the currency will be temporary. "And in that case," says Crosby "you're essentially playing the currency markets and you might as well do that in other ways."
Thus, if there is a big leap in overseas acquisitions it will be as much to do with market fundamentals as currency fluctuations. And here the UK has both challenges as well as strengths. While initial fears of a big Brexit slowdown have receded, there are still concerns that leaving the EU with no deal or a bad deal will reduce growth. In addition, the benefit of buying a company in the UK to give a firm a foothold in the EU, which may have been attractive to some potential acquirers, has disappeared post-Brexit. KPMG's Crosby says: "There is more volatility risk at the moment in the UK. Any buyers have got to get comfortable with that – but it's the same everywhere." This could be a reason why the much-predicted tsunami of deals, Atkins and Waterman aside, has yet to appear. Steve Beechey, group strategy director at contractor Wates, says: "There's been a lot of talk about potential acquisitions of contractors by Chinese firms – but we've not seen any action."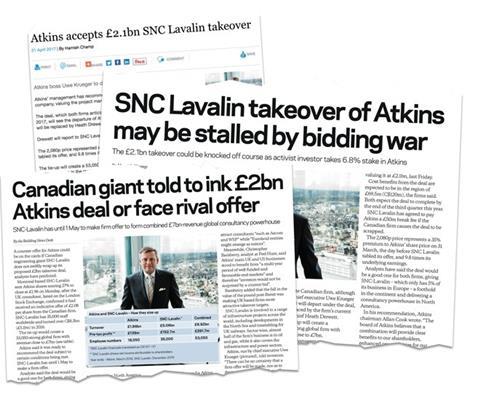 Action
However, despite this lack of action thus far, most analysts agree the prospects for overseas firms swooping in are stronger than for some time. For many, the most obvious part of the industry for further takeovers is UK consultants – an area where the landscape has already changed beyond recognition in the last 10 years as engineers, project managers and QSs have fallen into foreign ownership. Names that have been bought include Halcrow, Scott Wilson, Hyder, WSP, Davis Langdon, EC Harris and Sweett Group, with Atkins now set to become the latest. "It's where the action is," says Cenkos analyst Kevin Cammack. "If the cost of buying them drops by 15% you'll look again."
While the pace of purchases has fallen after a rash of deals around 2010-12, the difficulty now for acquirers is in finding businesses of requisite scale that are willing to sell. However, engineers such as Mott Macdonald, Arup and Buro Happold all remain significant independent businesses with international revenue streams that could be attractive to overseas purchasers. "They're all major targets," says Robinson "I suspect all have had the rule run over them in the last year."
Every time these takeovers happen we lose all sorts of specific skills in the UK

Hanif Kara, AKTII
However, if the logic of expansion is tried and tested for international engineering firms, some maintain the jury is out on whether also attempting to integrate cost and project management in mega multidisciplinary firms is a route to success. Global Construction Perspectives' Robinson maintains that independent consultants like Turner & Townsend, Gleeds and Gardiner & Theobald are likely to be attractive. However, Gleeds' Steer rejects the notion. "It's hard to point to where acquisition of a QS has succeeded. I think it's slowly starting to appear that, with QSs, independence from the design team is valued."
If any acquisition were to happen, the buyer would have to get over the hurdle of persuading the existing owners to sell, which is made trickier by the fact most UK consultants – with the exception of Atkins – are partnerships or employee-owned. "The ownerships structures make it really difficult," says Stephen Rawlinson, analyst at sector adviser Applied Value. "Though not impossible. It's another factor." Ultimately, however, "there is always a price at which the majority of owners are prepared to throw in the towel," says Cenkos' Cammack.
Who could be the targets?
Consultants – top five UK independents by chartered staff numbers
Atkins
4,260
Mott Macdonald
3,349
Arup
1,656
Turner & Townsend
1,532
Gleeds
630
Contractors – top five UK independents by turnover

Balfour Beatty
£8.4bn
Carillion
£4.6bn
Interserve
£3.6bn
Kier
£3.3bn
Laing O'Rourke
£3.1bn

Contractors
In addition to consultants, contractors are seen as potentially attractive to overseas buyers, while housebuilders and building materials firms are less favourable bets. For building materials companies this is partly because the future of the sector is clouded by fears over post-EU import and export tariffs, but also because the majority are already in overseas ownership. Interest in buying up housebuilders is tempered by the fact those wanting to invest in the housing market have so many options to do so – be it by buying sites themselves, as Chinese developer Country Garden is doing; buying up completed homes; or by investing in property funds. All of which avoid paying the premium needed to take over an existing business.
The UK could become a significantly more difficult market for overseas firms to operate in

Kevin Cammack, Cenkos
The rationale for any outsider buying UK contractors – which do not, in general, work overseas – would be to gain access to work on the UK's proposed pipeline of major infrastructure work. Robinson says Chinese builders, of which the largest few have annual revenues of more than $100bn (£77.1bn), are a particularly likely source. "It may take a while but it is an acquisitive nation and the UK is a target," he says.
Ironically, Cammack says the fact the UK is cutting itself out of the EU market could even be a draw, because European businesses will no longer have an automatic right to bid for UK work. "In theory, the UK could become a significantly more difficult market for overseas firms to operate in, which means you could see more contractors being bought in order to gain a foothold."
Targets
For many Balfour Beatty remains the most obvious target, with its recent troubles starting to be put behind it, a lucrative portfolio of PPP projects to rely on, and much of its revenue in dollars. "It's the biggest asset in the sector," says Rawlinson. "A buyer could afford to pay a premium at the current price." But contractor deals could be unlikely while such uncertainty remains around the sourcing of labour after exit from the EU. "I don't think anything will be done until there is a clearer view on the negotiation of Brexit terms," says Cammack.
That caution notwithstanding there are some that are worried what a rash of further deals might mean for the UK. Hanif Kara, partner in engineer AKTII, says: "I hear about a number of practices being approached, and my fear is this will erode further the position of British engineering. Every time these takeovers happen we lose all sorts of specific skills in the UK. In 10 years there may be no more UK firms left to buy."
Echoing these fears, UK prime minister May hinted shortly after arriving at Downing Street that she would institute a tougher "national interest" test for foreign takeovers of UK businesses. Current rules mean the government can only intervene in takeovers with the potential to damage financial stability, national security or media plurality. However, no subsequent policy has been forthcoming, and the Department for Business, Energy and Industrial Strategy has said the revisions it is working on will only relate to "critical national infrastructure." Cenkos' Cammack says: "All UK governments have been complicit in allowing UK business to be not sufficiently protected and sold too cheaply."
Thus there seems little prospect of the government stepping in to prevent any future deals. But while more deals are on the cards, it also seems unlikely we are about to be buried under an exchange rate-driven deals landslide. "Yes, deals are on a upward trend," says KPMG's Crosby. "But is it exponential? No. Not yet."
SNC Lavalin Atkins acquisition
The £2.1bn all-cash deal would see the creation of a 53,000-strong civil engineering and design giant, headquartered in Montreal, Canada, turning over almost £7bn. SNC Lavalin has said the merger will result in a "fully integrated professional services and project management company" which includes capital investment, consulting, design, engineering, construction, and operations and maintenance among its services. The £5bn-turnover Canadian engineering business has said it will review the future of the Atkins, Faithful + Gould and Acuity brands as part of the merger.
SNC Lavalin and Atkins have said they expect the deal will have completed by the end of Q3 this year.