For now at least, Theresa May bestrides the political scene, dismantling David Cameron's legacy and introducing policy changes in housing and infrastructure as part of an ideological lurch to the centre ground. David Blackman looks at what she's done so far and what we can expect in the months ahead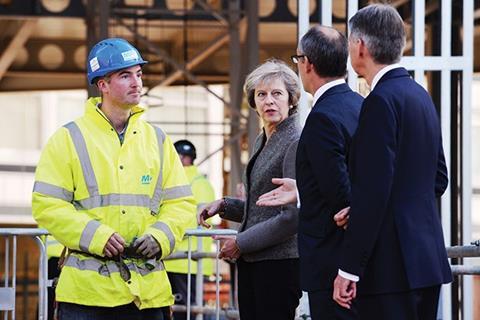 There was little doubt who was singing most lustily at the end of this year's political party conference season. Theresa May's extended honeymoon in her new role as prime minister shows no sign of waning. A poll last month showed an eye-watering 71% gap in the favourability ratings between May and her Labour opposite number Jeremy Corbyn. And the first post-conference poll, carried out by ICM for the Guardian this week, shows that the Tories have increased their lead over Labour to 17%, the second highest lead they have recorded since 1992.
Following Labour's leftward lurch over the last year, the Conservatives have spied an opportunity to reclaim the prized political centre ground, which they have been struggling to win back since the New Labour era.
This political land grab has included a commitment by May to use the state to intervene in the economy, a concept that has been largely anathema for both Labour and Tory-led governments since Margaret Thatcher's day.
Two of the areas that look set to benefit from this shift in ideology are housing and infrastructure, but how will the Tories go about translating this new approach into policy – and will the government be up to delivering its promises in a context of economic stringency and pre-Brexit uncertainty?
Housing
Housing is a cornerstone of May's political mission to woo back those millions of mainly lower- and middle-income voters who have deserted the Conservatives for first Labour and subsequently UKIP since the early 1990s.
It's even clearer than before the party conference season that housing is right at the top of the party political agenda

John Slaughter, HBF
May's keynote speech at the Conservative Party conference last week included an explicit commitment to use "the power of government to step in and repair the dysfunctional housing market". Two days before, her chancellor of the exchequer Philip Hammond had flagged up unaffordable housing as one of the "big challenges" that the government needed to tackle.
May's focus on the issue reflects how housing has risen in importance as a subject in recent years, says John Slaughter, director of external affairs at the Home Builders Federation. "It's even clearer than before the party conference season that housing is right at the top of the party political agenda."
Reflecting this change in the zeitgeist, Slaughter feels that party conference delegates are a lot less hostile about new housing than they would have been a few years ago. And up on the party conference podium, Slaughter can't remember housing getting as much focus as it did in the keynote speech this year by Sajid Javid, the recently appointed communities secretary. "In its tone and content, he set out doing something on housing as a national moral challenge."
Infrastructure
It's not just housebuilders that look set to benefit from the May regime's approach. The new prime minister's political ascendancy, which has more to do with Labour's current weakness than the government's slender House of Commons majority, means that she is well placed to make big calls on potentially controversial infrastructure projects.
May's last-minute decision to pause the go-ahead button on the Hinkley nuclear plant prompted dismay. But she appears willing now to spend her political capital on pressing ahead with a string of projects that have been stymied by Whitehall's decision-making process.
In her speech, the PM pledged to "take big, sometimes even controversial, decisions" about the UK's infrastructure, confirming that the government remained committed to the High Speed 2 rail line. Her statement will also have buoyed confidence that the government will finally grant approval for the third runway at Heathrow.
Hammond backed up May, stating that the government would support "careful, targeted public investment in high-value infrastructure".
The chancellor also "recommitted" the government to the National Infrastructure Commission, which was set up by Osborne to plan and vet projects. The status of the NIC has been in doubt since the publication of the Neighbourhood Planning Bill, which surprised many with its failure to put the commission on a statutory footing. Hammond's statement in his speech that the NIC is "at the very heart of our plans to renew and expand Britain's infrastructure" will have calmed these concerns but not entirely scotched them.
The government's moves on housing and infrastructure also need to be seen in the context of the government's decision to abandon Osborne's commitment to balance the books by 2019. This relaxation of the fiscal framework gives the chancellor some extra leeway for long-term investment, perhaps by exploiting current historically low levels of interest rates, as many of Osborne's critics had urged him to do for years.
Policy
In terms of specific policy meat, the key announcement was £5bn worth of support for housebuilding announced by Javid. The £5bn is divided into two pots: a £3bn Home Building and a £2bn Accelerated Construction Initiative.
The details of the Home Building Fund, which is designed to deliver around 25,000 homes during the current parliament, are set out in a prospectus that was issued last week.
The £3bn fund will provide support for smaller housebuilders, many of which report a continuing struggle to access development finance. The initiative is designed to help out SME developers which, according to Slaughter, struggle to borrow more than two-thirds of the cash they need on a loan-to-value basis. This includes working capital, let alone project finance costs. Instead of a standardised approach to financing applications, the Homes and Communities Agency will be assessing bids on a case-by-case basis, essentially acting like an old-fashioned bank manager.
Andrew Dixon, head of policy at the Federation of Master Builders, says this kind of flexibility will be key to ensuring that the new scheme works, recalling how previous funding schemes proved hard for smaller builders to navigate. "If we can get those details right, it will have an impact."
The problem now is that much of what Labour has done politically outweighs any ideas they put across

Jeremy Blackburn, RICS
There was more encouragement for SME builders in the Accelerated Construction Initiative. This aims to make available the government's spare public land holdings for small builders who will be encouraged to use off-site housing methods.
Instead of selling off large chunks of land to the highest bidder, which is usually the most lucrative option for the public sector, ministries and agencies will instead break them up to create smaller parcels of land that can be brought forward by smaller builders.
Both initiatives represent a continuation of existing policy trends rather than fresh departures, says Jeremy Blackburn, head of UK policy at the Royal Institution of Chartered Surveyors: "It's a reinforcement of direction which is good. The last thing we want is to have everything changed at every Autumn Statement."
Slaughter says that both initiatives are "welcome but not the end of the story", arguing that there needs to be an effort to fix the wider business finance environment that is holding back the development of SME builders.
Challenges
There will be a better sense of the May government's housing priorities when the housing white paper is published around the time of Hammond's late-November Autumn Statement
However while the political outlook appears rosy for May, her government faces acute challenges. Not all areas of government spending will benefit from the easing of the purse strings announced by Hammond, who has made it clear that the existing spending squeeze on day-to-day spending will continue. This is bad news for local government, which faces the loss of the bulk of its central government grants by 2020.
Planning has been hit harder than any other part of local government since austerity bit back in 2010. The government's recently appointed housing minister, Gavin Barwell, has hinted that existing restrictions on planning application fee levels will be relaxed. While developers may be expected to resist higher fees, in practice many are willing to pay more if they get a better service.
"We are moving towards a situation of varying fees with measures in place to make sure that that money is channelled into improving services as it should be," says Dixon.
But even continuing austerity will be dwarfed by the tensions that will be generated by the process of withdrawing from the EU.
The furore surrounding home secretary Amber Rudd's proposal to make companies draw up lists of their foreign workers illustrates the pitfalls Brexit presents. Construction companies will be heartily relieved that they won't have to monitor the nationality of their workforces following Rudd's hasty withdrawal of the policy.
She may bestride the political scene like a modern-day colossus now, but for May, this year's party conference season could be as good as it gets.
Labour on housing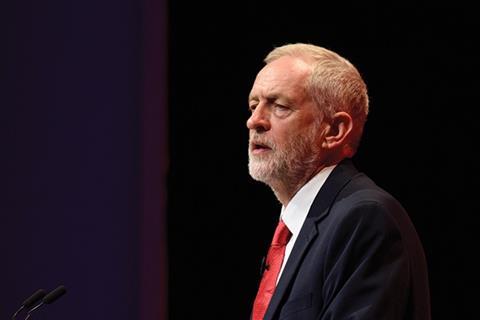 Of course, housing wasn't at the forefront of delegates' minds at last month's annual Labour Party conference. But for those able to tear themselves away from the navel gazing that has obsessed the party since Jeremy Corbyn's election as leader last year, it didn't rank far behind.
The party conference fringe programme was alive with meetings about housing, which is also one of the relatively few topics that Corbyn and his mutinous backbench MPs see eye to eye on.
The Labour leader, fresh from his re-election, said council homes would make up half of the million new homes that a Labour government would build, restoring municipal provision to levels last seen in the pre-Thatcher era.
Corbyn said that one of the ways to boost council housing would be to remove the "artificial" borrowing cap that prevents councils from being allowed to borrow against their housing assets. By doing this, he said, local authorities could build an extra 12,000 homes a year.
Corbyn's announcement will have been music to the ears of John Healey, who returned to the party's front bench last weekend as shadow housing minister. Healey is a strong advocate of relaxing these borrowing curbs, but the Treasury is less keen on the idea, according to the FMB's Andrew Dixon.
And while Corbyn and his team want to see a revival of council housing, many local authorities are likely to prefer a wider mix of tenures, says Dixon. "They are not talking about just traditional council housing."
The HBF's John Slaughter agrees: "There might be tension between what councils themselves want and what the Labour leadership wants."
Corbyn also announced that housing would benefit from Labour's proposed £500bn National Investment Bank, alongside energy and railways projects. Dixon says: "This would be positive in terms of general housing investment if applied in the right way because a lot of housing schemes depend on infrastructure."
As housing looks set to remain central in the political battleground in the run-up to next month's Autumn Statement, Healey is preparing to unveil the review into widening home ownership that he has asked Taylor Wimpey chief executive Peter Redfern to carry out for Labour. Redfern spoke about the headline findings at a Labour event last month.
However, for as long as the party languishes in the polls, any contribution it makes on housing policy looks set to remain largely academic, says RICS' Jeremy Blackburn, who detected a more anti-private sector tone at this year's conference than in the past. "The problem now is that much of what they've done politically outweighs any ideas they put across."