Everybody right across the construction industry is worried about what is happening in Ukraine, from a humanitarian point of view to the challenges of firms trying to navigate their way through the impact on their cost base
A month ago, I would have been a lot more confident." The chief executive of Keller, Michael Speakman, is talking about the outlook for the rest of this year.
He may as well have been speaking for everybody, to be honest. With the Omicron variant of covid-19 on the wane, some consensus that materials peaks and troughs had finally plateaued and the general sense that normality was returning, industry optimism was on the up.
Then, on 24 February, Russia did exactly what it had said it would not do: it invaded Ukraine. The days and weeks since have suddenly made people feel rather nostalgic for covid-19 given that Russia's president, Vladimir Putin, had – just a few days into the conflict – suggested using nuclear weapons was not a red-line issue for him.
"It is beyond belief that something like that [the war] is happening in this day and age," says Balfour Beatty chief executive Leo Quinn.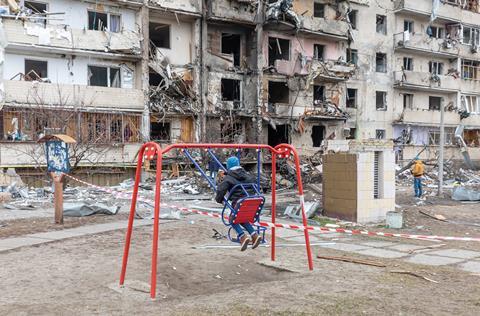 Everybody from the top to the bottom of the industry is worried about what might happen, from a humanitarian viewpoint to the challenges of construction companies trying to navigate their way through the impact on their cost base.
Normally a growing economy is something to cheer, but UK plc's stronger than expected recovery in January from the impact of the Omicron variant is already feeling like it belongs to a different age. Output in construction reached its highest level since September 2019 but, ahead of next week's spring statement, chancellor Rishi Sunak is warning about more uncertainty and the dark clouds of inflation have got considerably darker since the war began.
"Russia's invasion of Ukraine has increased the risk of a recession in the UK by exacerbating the already acute inflationary squeeze on consumers and businesses and derailing the supply of critical commodities to many sectors of the economy," the British Chambers of Commerce warned.
Already some firms in construction have been dealing with the direct impact of the war, with several working in Russia shutting up shop. Aecom said it is closing its offices in St Petersburg, where Putin was born, and in the capital, Moscow. It said the cost of pulling out of the country, where it had been employing 350 people, would be around $50m.
A day later Turner & Townsend, which has been in Russia for close to 20 years, said it was also pulling the plug on a business where it employed 22 people. Several architects, too, including Foster + Partners, David Chipperfield and John McAslan have stopped working there.
Gleeds, which had a 15-strong office in Kyiv, has had to suspend work there while its country director, Colin Ross, was forced to leave the capital, driving all the way to Brussels before catching the Eurostar to the UK. He is now in Manchester. But, for the vast majority of the industry, the impact is an indirect one.
The price of fuel will be a global impact. We will be looking to pass that on to our clients

Michael Speakman, chief executive, Keller
Keller works in more than 100 countries around the world, although Ukraine and Russia are two where it does not. The firm had a couple of staff in Kyiv, Ukraine's capital, but they have been moved to the relatively safety of the west – although that part of the country is now being targeted by Russian bombs as well.
Speakman says the main impact of the war will be on the cost of putting diesel into its machines. "The price of fuel will be a global impact. We will be looking to pass that on to our clients."
Balfour Beatty's Quinn adds: "Anything oil-based will go up. Inflation is one of the big worries at the moment. It is moving so rapidly.
"There are not too many people in the industry who remember the inflation of the 1970s, but we have to take a responsible approach to hyperinflation. Companies can absorb 1% or 2% but – when it's 10%, 20%, 30% – that is beyond reasonable."
It is a point that has been seized upon by Scape chief executive Mark Robinson, who says: "The inflationary pressures created here in the UK will be difficult to manage, particularly for SMEs that may be tied into fixed-priced contracts. It's here where major contractors need to support their supply chain with constant dialogue and a pragmatic approach to fair payment."
Quinn also says that bigger firms have to make sure that their supply chain is looked after. "Hyperinflation is not readily absorbable by a small company," he says.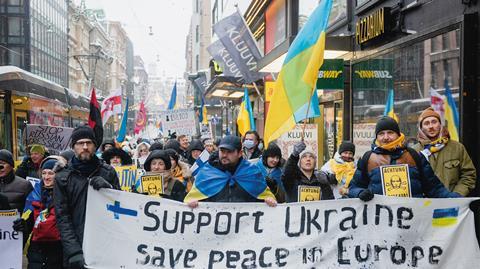 Costain does not work in Ukraine or Russia either but its chief executive, Alex Vaughan, says the war means the price of materials such as concrete and steel will rise too. He says that in future firms will need to design out materials with higher costs, adding he is not planning to take a hardline stance with clients about passing on rising project costs caused by increased energy prices.
"We're sitting down more collaboratively and working out how we're going to deliver best-value solutions, how we change the delivery and phasing. We need to drive innovation and new ideas to unlock savings elsewhere."
> Also read: Output rises but Ukraine conflict clouds optimism
> Richard Steer: We have been working in Ukraine for years. I never imagined events as appalling as these
As Vaughan suggests, what the Ukraine war does share with covid is its capacity to test the strength of relationships. In the early weeks of the pandemic, much of the talk was about making sure the industry came together and did not gang up and pressurise smaller firms into folding.
Equally, the same is true of the war. Brick manufacturer Forterra has told customers that more price increases are coming their way from the beginning of next month. It had already introduced hikes of 16.5% at the end of last year but says it will be making further double-digit increases on 1 April. That means the cost of its bricks will have gone up by a quarter in a little over three months.
I would hope the situation underscores the importance of the construction sector collaborating and abandoning any beggar-thy-neighbour attitudes

Bill Barton, director, Barton Legal
The increased price of oil and gas is likely to affect the costs of production, while transportation will get more expensive too. Shipping rates have already increased but military action could curtail ship movements in the Black Sea, a key transit point for dry bulk exports. Closed airspaces around Europe and North America makes freighting product more difficult.
Bill Barton, director of Leeds firm Barton Legal, says: "I would hope that the situation underscores the importance of the construction sector collaborating and abandoning any beggar-thy-neighbour attitudes. Ultimately, we have a choice.
"We can seek to share the pain of price increases, discuss issues in advance, openly and with a view to acknowledging their existence and impact. Or we carry on seeking the lowest price, leaving risk with the weakest party and then seek to extract ourselves at the end, perhaps withholding yet further payment."
While Russia, Ukraine and Belarus accounted for just 1.25% of building products imported into the UK last year, the Construction Leadership Council has warned that some product components could be exposed to inflation through raw materials price increases such as aluminium, copper, bitumen and pig-iron and iron ore used in the manufacture of steel. And Arcadis has warned that a shortage of semi-conductor chips is the next major headache that hard-pressed contractors and consultants will have to deal with.
Demand for the chips was first prompted by the covid-19 pandemic as consumers and businesses started buying new laptops and servers to cater for staff working remotely and children being home-schooled. But the situation has been exacerbated by the Russian invasion of Ukraine, with the latter being the world's biggest supplier of neon gas which is key to the chip‑making process.
The firm's global research manager, Agnieszka Krzyzaniak, says: "Make no mistake, the current semi-conductors shortage is already showing signs of impact on the construction sector."
After two years of covid – and before that the hiatus caused by Brexit – the industry was finally looking forward to the return of some sort of normality. "Material cost inflation had largely gone away," says Dan Fryer, a partner at London QS Exigere. "How long will the major firms be able to absorb the cost inflation?"
That inflation was having an impact on firms was already broadly conceded before the war began. In an interview with Building last December, Morgan Sindall chief executive John Morgan predicted that the biggest problem to be facing firms this year would be inflation: "Inflation is the issue. You might win a job on a two-stage tender and then, nine months later, it's 20% more."
Announcing improved half-year results earlier this month, Kier said that revenue from its construction arm was down a quarter in the six months to December 2021 to £681m. The firm's chief executive, Andrew Davies, says: "Headwinds are causing reappraisals of business cases, which is causing some delays on getting our jobs going. Clients need to go back and get approvals in the wake of increased costs."
He admits: "From a business point of view, Ukraine is not going to make [inflation] any better; it will make it worse."
But Davies says that firms will have learnt from the experiences of the past few years, especially the lessons learnt during the global coronavirus pandemic. "The impact [of Ukraine] is going to be an extension of what we have been doing the past two years. In that sense, it's business as usual."