Vu.City wants to transform the way developers, planners and contractors work, saving time, money and conflict. Their tool? Virtual reality that shows every detail of a city – even those that don't exist yet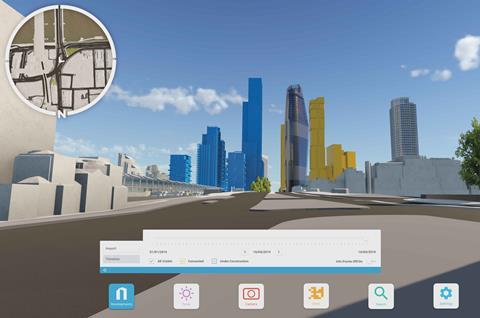 On a cloudy summer morning four people are standing near each other outside Liverpool Street station. Pedestrians dawdle past them, and the number 86 bus to Stratford crawls north up Bishopsgate.
The quartet work together: one is an architect, another a planning consultant, another a city planning officer, and the fourth a project manager.
They zigzag around the pavement, gazing upwards at the cityscape, turning their heads to look at the glass-and-steel details of the newly completed 22 Bishopsgate.
From certain angles, they can just make out the virtual facade of their proposed building. If they wanted, they could select that non-existent building, and see its outline in red through the existing buildings in the foreground.
Furnished with virtual reality headsets, the men are exploring a version of Bishopsgate that only exists on a program called Vu.City – although details of this world are to within 15cm of the real thing.
At the click of a button, they can also view the city as it will appear after other consented schemes are built – 1 Undershaft and the Diamond now join the tangled cluster of skyscrapers. They could also fly, if they wanted to, or enter a dark winter day. As it happens the quartet, too, is merely a convenient fiction. The characters were dreamt up for a Vu.City promotional video, but portray exactly how teams can use the program, which was launched to the private sector in June.
The team behind it says it will be useful to everyone from developers and architects to planning consultants and contractors. The program, which can also be simply used on a PC or iPad, resembles a turbo-charged Google Maps. It is laced with different data sets and possibilities, from adjustable meteorology, to emissions data, protected views, listed buildings, feeds from London's live traffic cameras and even crime data.
The platform now has the entirety of London – some 1,680km2 – mapped to the same accuracy with which it captured Bishopsgate. And the firm has also covered Manchester, Birmingham, Belfast, Brighton, Oxford, Berlin, Paris and Manhattan in New York, with a handful of other cities also on their way. But why should firms shell out £5,000 per city council or per individual user, per year, to use the program? Will it lead to better design outcomes? And could it be the start of futuristic smart cities?
Jason said: 'You have a model, we have an idea about how you can interrogate and use that model using interactive game-engine software'

Gordon Ingram, Vu.City
Wide-angle
"We started noticing that with the models we were creating, you can't just look at the site you are developing," says Gordon Ingram, a chartered building surveyor and, co-founder of Vu.City. The 50-strong consultancy he founded, Gordon Ingram Associates (GIA), specialises in rights to light and how to use natural light effectively. In 2014, it created a model of part of London, running to about 80km2. "You have to look at the neighbouring buildings so you can understand the wider impacts," Ingram says.
GIA and Vu.City are co-located in London's Waterloo, at a vast subterranean office with tall ceilings and clusters of desks filled with people and monitors. Just off from this cavern lies a boardroom, where Ingram is sitting at the head of a long, oval table.
He recalls Vu.City's conception in 2015, when another company approached GIA hoping to buy the model. "Jason effectively knocked on my door, and said: 'I have an idea. You have a model, we have an idea about how you can interrogate and use that model using interactive game-engine software'," he says.
Jason Hawthorne, a graphic designer by background, is the managing director of proptech firm Wagstaffs. "The work we had been doing for clients was on a localised level of putting their scheme in context of their surroundings, so you could do the visual analysis of verified views," he says. "And we realised if we could do the modelling, much of it could be done far quicker."
Rather than the sell the model, GIA agreed to work with Wagstaffs – and the duo approached property firm Savills to become a minority shareholder. This was done partially because of Savills' reach and ability to promote the software, given their 600 offices in 60 different countries, but also to give the joint venture some cash with which to finish modelling London.
The modelling works uses photogrammetry, or the science of making measurements from photographs. An aeroplane equipped with a high-resolution camera flies over London, recording what is beneath. By flying parallel, overlapping flight paths, information about the cityscape is recorded from different angles, which together can then be used to create an outline model. The whole of London, says Ingram, could be done in just two or three days of flying if the weather is generous. But unlike other 3D mapping services, including Google Maps, the actual buildings are then digitally recreated precisely by Vu.City staff, so that the entire landscape – including terrain and the canopies of nine million trees in London alone – are shown within 15cm of their actual position.
"We realised that if you wanted to use this as we wanted to, through the planning process, you need to be very accurate," says Hawthorne. "And you can't get accuracy by any other way than by doing what we're doing."
Creating Vu.City has not been cheap. The owners confirm the program's cost has been in the millions and say the upkeep costs are also "a lot". The firm has a team updating the model, as buildings with planning permission are added to the model in yellow, while schemes under construction are in blue until they are completed.
Colouring london: all the capital's buildings in an app
Vu.City has won Innovate UK funding to use its model in conjunction with a scheme by UCL Bartlett. Colouring London is a crowdfunded project centred on collecting and displaying information about every building in London, using data from Historic England, Ordnance Survey and the Greater London Authority. Information will include details about age, use, size, designation status and rebuild history. Now Vu.City, which won funding for the project in March, will create a mobile app free for anybody to download and access the information: YOUR.VU.CITY.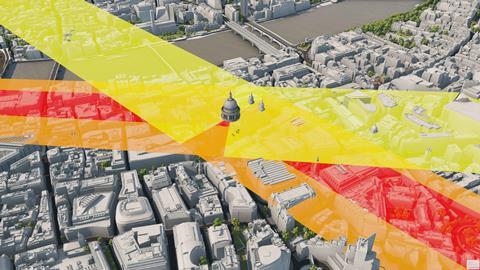 A powerful lens
"To be honest, [developers] find ways not to share information with us," says Franceso Bernabei, a senior urban design and conservation officer at the London Borough of Hackney. "This tool is particularly powerful because it integrates with BIM, which is the standard for work on any scheme."
After Vu.City officially launched in 2017, when London was already fully mapped out, the firm approached borough councils and offered them use of their product. Many accepted, and now 25 of London's 35 boroughs pay £5,000 per year for as much access to the platform as they like.
"You can extract lots of useful information about height, fabric, and potential shadowing from the model," Bernabei continues, explaining that all planning applications in Hackney must come with a BIM file. "We can plug in a Revit or SketchUp file and we can assess the impact on views, protected views and overshadowing."
Vu.City also allows planners to assess a building next to other schemes which have been consented to, but have not yet been built – which Hackney says it has previously never had a means of doing. And as well as scrutinising the suitability of planning applications, officers can also proactively look into how best to use space.
"It's beneficial to unlock the value of sites – it is an objective of the council to deliver affordable homes and affordable space to work," says Bernabei. Officers have also used Vu.City to show developers broadly what they can expect to see for a specific site – both in pre-application meetings and in the local action plan. And as well as improving the outcome of planning decisions, officers at Hackney also say the technology has a more baseline impact.
"It saves us time," says project manager Andrew Amoah at Hackney.
"When we are out doing some of these visuals, sometimes we go to external consultants, but this gives us the opportunity to do all that in-house, without having to pay money to someone else."
Multi-focal
Vu.City claims it can also save a lot of time and money for developers. "The design and access statement for the Walkie Talkie showed they did 60 [surveyed] views for it, which would cost you the best part of £200,000," says Hawthorne.
"And more than half of them were red lines, proving you could not see the building, or you could barely see the building."
Proving the implications of a scheme on a skyline could be much easier in the future. And the advantage of working with local authorities, and giving them a discount rate to use the platform, before launching for the private sector is that Vu.City now has some valuable public sector backing.
"It's very useful when applicants are paying to use this tool, and they come in with not only the static views," says Hackney's Bernabei. In Westminster, a planning scheme has now been accepted in which no traditional photographs and survey measurements were carried out – the planning officers were satisfied to use Vu.City instead.
The platform currently has 460 subscribers, with 80 daily active users, but Hawthorne says the number is increasing. And as well as marketing to planning consultants, developers and architects, Vu.City has also started speaking to contractors.
"There is a lot [of work to do] around being a considerate contractor," says Hawthorne, "Hoarding lines, rerouting traffic, showing people the phasing and what is going to happen, the impact of noise, acoustic fencing, and routing for haulage for big lorries coming offsite."
Vu.City is also aware of the potential their platform could have in other sectors. "We're in the real estate world at the moment," says Hawthorne. "But the different verticals that present themselves are numerous." The company has spoken to advertisers, telecoms company and even London's Metropolitan Police. "Definitely the plan is to broaden the scope of who can use the model."
Price list
For local authorities: £5,000 per year, for as much access from as many devices as needed.
For companies: £5,000 per city, per user, per year. The platform can also be accessed for a shorter amount of time, with a one-month subscription costing £585 per city, per user
The bigger picture
Like many creators of tech platforms, the creators of Vu.City also think their invention can do social good. "You may have read articles recently about the breakdown of trust between communities, local authorities and developers," says Ingram. "Local authorities are very much aware that when you have a series of 2D plans and sections, you can't really get a flavour of that particular proposal.
"When schemes are submitted, the opportunity for locals is to be able to comment and understand the 3D image – that aspect of a picture speaks 1,000 words," he adds. "People should have a better understanding, and our aim is hoping to get more collaboration and involvement."