An augmented reality app for choosing boilers, BIM objects for roofing, and a platform that enables visualisation of how a project changes over time are among this week's featured products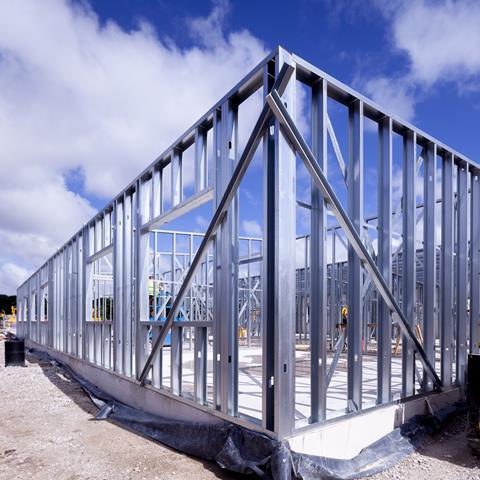 Structural steel engineering
Structural steel engineer Metsec used its BIM capabilities to provide detailed plans and costings for Palmerston School. Based in Liverpool, the school provides special education to students from 11 to 19 years old. The new school boasts a sports and dining hall, a hydrotherapy pool, sensory learning spaces and outdoor sports facilities. The company says that its engagement in the project from the early stages allowed it to provide flexible solutions to enable completion of the building's intricate design, which included a complex duct system for the school's server room.
Metsec
Movers and Makers
BIM software developer Vectorworks has announced the formation of a new office in the UK. The company has recently acquired Design Software Solutions, long-time reseller of Vectorworks software. The company plans to build on the support, training and sales infrastructure already put in place by Design Software Solutions. Vectorworks hopes the move will grow its user base and enable it to better serve users in the UK and Ireland. In addition to its headquarters in the US and its new office in the UK, Vectorworks has a network of 35 distributors around the world.
Rainwater and eaves systems manufacturer Marley Alutec has recently announced that all its BIM objects are now certified by the NBS National BIM Library. Marley Alutec's BIM object portfolio is free to download from Bimstore or the NBS National BIM Library. The company says it regularly updates its BIM portfolio as and when new products are released. Technical director Tony Wereszczynski says the company has "invested significantly" in its BIM portfolio, to ensure that its content is "as readily available as possible."
Bentley Institute Press, the publishing arm of software specialist Bentley Systems, has published a book called Plain Language BIM. Available as a print edition and ebook, the publication aims to provide a plain language guide to the complexities of BIM and help readers formulate an effective BIM strategy for projects. It also explores the three elements required for effective implementation of BIM, people, process and technology, and the role these elements play in delivering better whole-life outcomes for built environment assets.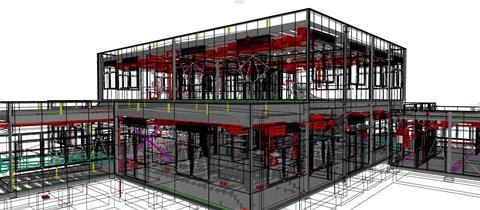 Award-winning BIM use
McAvoy Group was recently presented with the award for Best Virtual Reality BIM at the RICS BIM4SME Awards for this scheme to build a two-storey primary school building for special education students at West Hill School, Surrey. The school, which was designed and delivered using off-site construction methods as well as BIM technology, includes classrooms, teacher training areas, a food technology room, a library and a staff room. Innovation manager at McAvoy David Clark says: "There is a strong synergy between BIM and off-site construction." The company says this synergy helps to amplify the efficiency benefits of off-site construction and reduce time on site.
McAvoy
BIM objects for roofing
Natural slate manufacturer Welsh Slate has launched its first BIM objects. The company, part of the Lagan Group, has introduced over 20 BIM objects for roofing, cladding, flooring, walling and paving applications. The objects are available to download in Autodesk Revit, and according to the company are compatible with most commonly used BIM software. Technical sales manager John Owens commented that: "these BIM objects contain all the relevant product information and performance values and provide a new-generation method of sharing product data within the building supply chain."
Welsh Slate
Laminate components
Formica Group, manufacturer of high-pressure laminate, has launched a suite of BIM objects. The new BIM components will enable specifiers to create 3D models incorporating product specifications and manufacturer information. Product information such as fire ratings, sustainability, light reflectance values, sheet sizes, textures and EN348 data will be readily available through the new software. Formica Group's new BIM components are available from the Formica website and numerous BIM libraries. The company says that they can be used for various projects including commercial, housing, education and retail.
Formica
Augmented reality boiler app
Ideal Commercial Boilers has recently launched its augmented reality BIM app. The software has been designed to support heating engineers and specifiers in choosing products and digitally mapping projects into building plans. Ideal Commercial Eye is free to download and allows users to view their boiler range in 3D before installation. The company says the app will make it easier for specifiers and heating engineers to collaborate with building managers or consultant teams in construction projects. BIM objects can also be downloaded from the Ideal Commercial website.
Ideal Commercial Boilers
www.idealcommercialboilers.com
Sequence visualisation platform
Bryden Wood and 3D Repo have launched a new platform for visualising how construction projects change over time. Using virtual reality technology and 3D Repo's database-driven digital construction platform, and accessed using virtual reality headsets, the software aims to improve collaboration and communication through the duration of a construction project. The companies say the new 4D sequence visualisation tool gives users a new perspective on design. The platform will allow teams to analyse events on a time-line and visualise the next steps required.
Bryden Wood
3D Repo
Steel modelling software
Tekla Structures' 3D construction modelling software was developed as a steel detailing package, making it, the company says, ideal for offshore projects. Pinnacle Consulting Engineers has used the software on two offshore projects in Holland and the North Sea, on which it was appointed as the structural engineering consultant. Representatives from Pinnacle say that Tekla Structures' software enabled them to overcome the challenges of engineering at sea. By using Tekla's system the company says it was able to account for any restrictions from the initial design stage.
Tekla Structures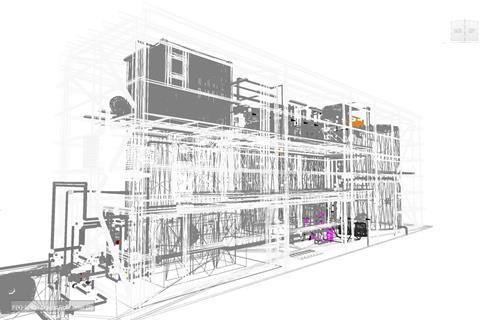 Power station M&E
Waldeck Consulting has implemented MagiCAD software on a number of high-profile projects. The company recently designed the M&E for the Hinkley Point C Nuclear Power Station using BIM. The power station, when completed, is set to create 25,000 job opportunities in Somerset. Waldeck adopted MagiCAD software in mid-2016 as a way of assigning asset codes to pipes and fittings and now uses the calculation tool on most, if not all, of its projects. Mechanical design engineer Luke Mitchell says of the software: "It's far more accurate to use MagiCAD, having the calculations executed with UK aligned specifications, to avoid double handling of the data."