A quadruple-glazed rooflight for a Passivhaus, underfloor heating in a converted dairy, and technical mortars suited to balcony repair are among the featured products and schemes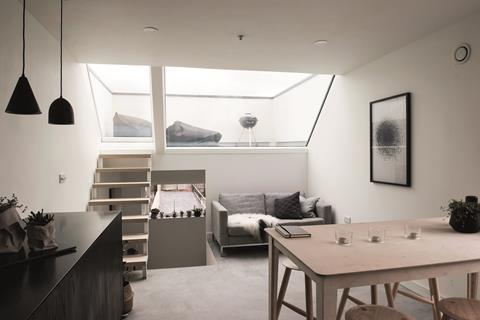 Bespoke rooflight
Sunsquare has designed, manufactured and installed a bespoke rooflight for a Passsivhaus in east London. The house featured on Channel 4's Grand Designs programme and can be heated using only eight light bulbs. The rooflight, which is made of aluminium and engineered timber, is quadruple-glazed and covers the entire width of the house. It floods the interior with natural light and, thanks to an electronic opening facility, also creates a roof terrace above the two-bedroom home.
Sunsquare
Movers and Makers
Grohe has unveiled its new brochure collection. The bathroom and kitchen collection brochures showcase the entire range of Grohe's product offerings. There is also a range of dedicated product brochures, including information on the Grohe Sense and Sense Guard water security system, which helps protect the home from water damage, and the revamped Lineare bathroom brassware range.
The UK trade body dedicated to invasive species specialists, INNSA (Invasive Non-Native Specialists Association), has launched a new code of practice for managing Japanese knotweed. This replaces the third edition of the Environment Agency document Managing Japanese Knotweed on Development Sites, which was withdrawn in 2016 and passed to INNSA for ongoing updates. The invasive, resilient nature of Japanese knotweed means it is capable of causing extensive damage to buildings and infrastructure.
Fernox has opened its new chemical water treatment manufacturing facility in Wantage, Oxfordshire. The facility manufactures the complete Fernox chemical water treatment range, including the Protector F1 as well as the inhibitor and active dispersant package, Filter Fluid+ Protector. The company says the opening of the facility has improved production efficiency and enhanced stock control procedures, resulting in shorter ordering times.
Washroom equipment specialist Closomat has produced a document entitled Design Guidance and Considerations for a Domestic Accessible Toilet. This provides advice to ensure that the key aspects affecting the functionality and practicality of a bathroom, wetroom or toilet are considered as the needs of the occupier change. It also addresses the details for both new-build and retrospective adaptation, in terms of legislation and best practice. The document can be downloaded from Closomat's website.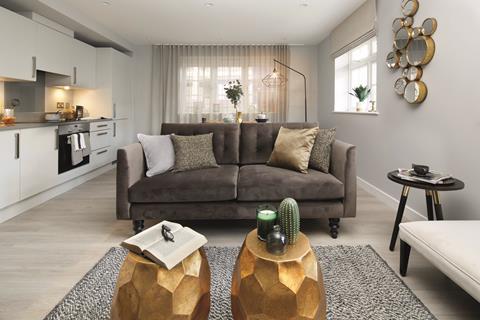 Underfloor heating
Nu-Heat has designed and supplied a bespoke underfloor heating system for the conversion of Cornwall Works, a former dairy complex in Finchley. The system had to be low-profile in order to maintain the existing architecture and ceiling height of the building, while also providing a reduction in airborne and impact noise between apartments. Nu-Heat specified and supplied AcoustiPanelTM14 for all the upper-floor apartments and penthouses, covering a floor area of 318m2 in total.
Nu-Heat
Partition system
Drywall products manufacturer Siniat has launched Resilient Acoustic Stud (RAS) 90, a thin partition system that is the latest addition to Siniat's specialist stud range. RAS 90 is capable of exceeding Part E of Building Regulations for acoustic performance in residential buildings at a partition width of only 150mm – up to 50mm thinner than traditional partitions. It is the first product in the RAS range to be designed specifically for use in the residential sector, as well as hotels, student accommodation and change-of-use projects. The company says that due to the stud's simple design, frame installation can be up to 50% quicker than with standard systems.
Siniat
Roofing accessories
Cembrit has expanded its growing portfolio of roofing accessories with the Cembrit Slate Mono Ridge Ventilation, a practical fibre-cement product that provides ridge capping for pitched roofs. Cembrit Slate Mono Ridge Ventilation is specifically designed to provide a high level of ridgeline ventilation. Colour matched for use with Cembrit fibre-cement slates, the ridge is suitable for monopitch roofs ranging from 20° to 40°. The range includes start and end caps for a neat finish. Weighing 4kg, the product is lightweight, making it easy to transport and carry up to roof level. At 530mm in length, it is possible to carry two linear metres of ridge at a time.
Cembrit
Tile adhesive
BAL has launched a S1 tile adhesive, Rapid-Flex One. The company says that as Rapid-Flex One is formulated with fibre strand technology, it offers a super-smooth consistency and provides easier and faster spreading, with greater flexibility. As well as a high-performance formulation, BAL Rapid-Flex One comes with BAL's 25-year written guarantee. Every adhesive, grout, preparation product and sealant made under the BAL name is guaranteed for a quarter of a century, subject to the usual correct-use conditions.
BAL
Aluminium rooflight
Aluminium systems specialist Jack Aluminium has added its first aluminium glazing product to suit both commercial and home improvement markets – the TRL90 rooflight. It is a flat, aluminium-framed rooflight that can be used for retrofitting skylights in commercial buildings or for bringing extra light into modern home extensions. The company says the TRL90 rooflight offers excellent U-values and brings light into spaces without adding extra height to buildings.
Jack Aluminium
Access control system
Videx has launched an offline, standalone proximity access control system. The MiAccess has been designed for a wide range of buildings that have single or multiple entrances. This includes residential homes and small guest houses, as well as offices, fitness centres, caravan parks and small hotels. MiAccess can be part of a multiple-entrance system (to a maximum of 80 entrances) without the need to cable between devices. The system can be completely managed from the user-friendly PC programme, reducing the installation cost and complications associated with routing cables around a building. Multiple sites can be managed from the same PC programme.
Videx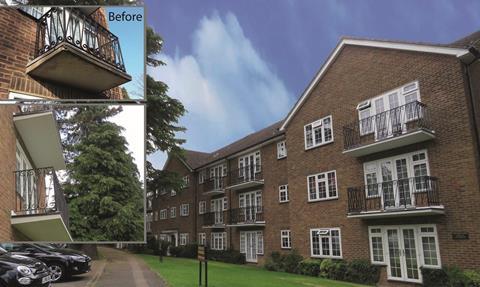 Balcony mortar repairs
Technical mortars from by Saint-Gobain Weber have been specified for the repair of concrete balconies with metal railings to apartment buildings in Northwood in the London borough of Hillingdon. Metal railings around attractive balconies on the first and second storeys had rusted at the base over time, and this in turn led to spalling of the surrounding concrete. With technical advice from Weber's specialist Barry Ephgrave, the team from Alfred Bagnall cut away the spalled concrete and repaired the metal barrier before reinstating the concrete. Saint-Gobain Weber's Webercem concrete repair system was specified, a multi-component system compliant with BS EN 1504 for concrete patch repairs.
Saint-Gobain Weber