A lightweight steel roofing and cladding system, tile-look slates, aluminium balcony soffits and a plug-and-play electronic rooflight system are among this week's featured products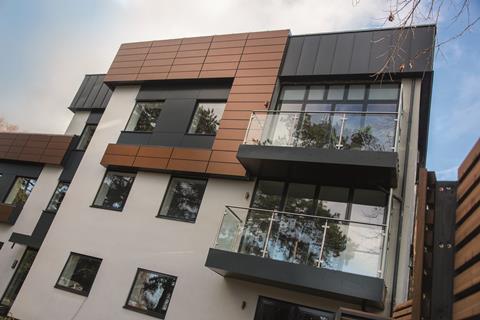 Steel roofing and cladding system
Catnic's SSR2 roofing and cladding system has been specified for the Copper Trees apartment building in Hereford. The product was chosen because the client wanted the exterior of the building to have a clean and contemporary aesthetic. Seven times lighter than traditional roof tiles, SSR² is manufactured from Tata Steel's Colorcoat HPS200 Ultra pre-finished steel and is available in a range of colours. It is designed to be easy to fit. The product meets legislation such as load bearing for wind speed in accordance with EN 1991-4 and weathertightness in accordance with BS 5534 Parts 1 and 2. SSR2 is also BRE Green Guide Rated 'A' and the panels are 100% recyclable.
Catnic
Movers and Makers
The National Federation of Roofing Contractors has released technical guidance for the construction and design of blue roofs, put together by its joint flat roofing technical committee. The notes aim to support the design of technically correct blue roof construction and to provide comprehensive information and guidance for specifiers, designers and installers of blue roofs. The guidance includes sections on drainage, roof deck construction, falls, waterproofing, outlets, overflows, components and finishes.
SIG Design & Technology has launched a new CPD seminar called Roof Refurbishment: Choosing the Best Solution. The new seminar helps participants to choose the best product for their refurbishment projects, what should be included in the roof survey, how the condition of the roof will influence the design, and when to specify which type of roofing system.
The Norfolk Association of Architects (a branch of the RIBA) has awarded a Design & Craftsmanship Award to a green roof bus shelter at the University of East Anglia, designed by LSI Architects and made possible by Bauder's green roof systems. Based on a cantilevered steel structure arranged around a central spine, the shelter was constructed with low-carbon and sustainable materials. Bauder's green roof sedum blanket was specified for the roof of the shelter to promote biodiversity.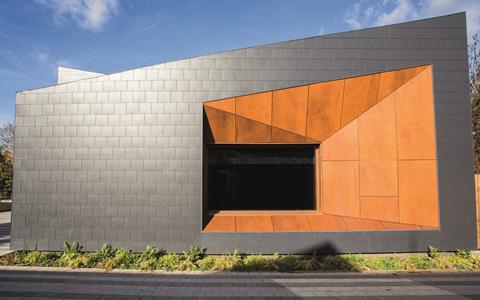 Roofing / facade solution
The Point, a new community hub in Tadley, Hampshire, required a roofing solution that could also be used on the building's facade. Thrutone fibre cement slates from Marley Eternit were specified for the project, with architect Ayre Chamberlain Gaunt choosing slates in a smooth, dark grey colour. Thrutone fibre cement slates can be used on a minimum pitch down to 15°, and achieve BES 6001 "very good" rating for responsible sourcing, enabling the product to gain credits under BREEAM and CFSH. The slate is a 100% recyclable building material.
Marley Eternit
Conservatory roof system
Eurocell has launched SlateSkin, an addition to its Equinox tiled conservatory roof system. Multi-course tiles are built into each sheet, and the product is affixed with sealants and fixings instead of nails, which the company says makes for speedier installation. The roof pitch can be set to anywhere from 5° to 35°. The SlateSkin sheet-tiling system is guaranteed for 25 years, and when combined with the Equinox system, it meets the requirements of BS 476 Part 3: 2004 for the external fire performance of roofs, the classification for fire penetration.
Eurocell
Textured slates
Aggregate Industries has added Bradstone Azul slates to its range of roofing products. The natural slates, which are sourced from Spain, have been specifically chosen for their attractively textured look and their minimal grading requirements. The hand-finished slates can be used for both residential and commercial buildings. Each slate measures 500mm x 250mm, weighs 1.1kg and offers a nominal thickness of 5-6mm. The slate is suitable for roofs down to a minimum pitch of 25° for moderate exposure and 30° for severe exposure.
Aggregate Industries
Tile-look slates
Westminster Slate, a clay slate roof tile from Redland, was chosen for a new-build four-bedroomed house in Wisbech, Cambridgeshire. The product was specified because the client wanted the slates to have the appearance of traditional clay tiles. The slates are available in three colours and have the overall dimensions of 480mm x 326mm, with a cover width of 280mm and headlap range between 110mm and 140mm. The tiles also meet all the requirements of the BS 5534: 2014 code of practice for slating and tiling, if installed in accordance with Redland fixing recommendations.
Redland
DIY skylight system
Sunsquare has launched a Plug and Play skylight system to allow customers to fit electric skylights without the help of a qualified electrician. The system is available as standard on all the company's electronic products and at no extra cost. To have a fully functioning skylight, all that is required is a working plug socket. The wiring system has also been tested for a year by the BSI and is CE marked.
Sunsquare
Sedum green roof
Sedum Supply has installed 295m2 of sedum green roof on two levels of a new-build home in the Welsh hills. The products specified were fully grown sedum roof packs including a 20mm roof drainage system, 40mm pre-blended engineered growing medium and fully grown sedum carpet roll. The project included supply, delivery and installation of the sedum green roof. Sedum Supply's sedum typically contains a blend of 6-10 different varieties.
Sedum Supply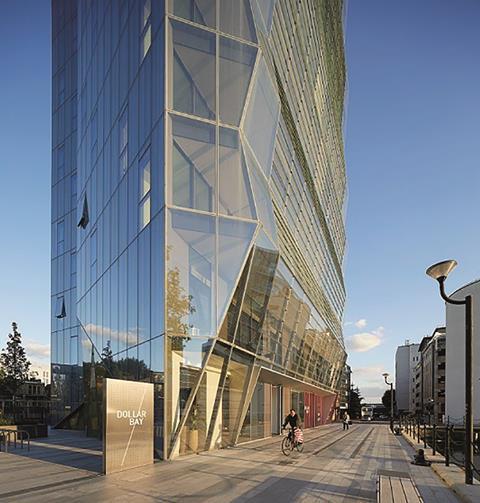 Aluminium balcony soffits
Guttercrest's aluminium balcony soffits were specified for the underside of Canary Wharf-based apartment block Dollar Bay's winter garden roof and balconies. The product was chosen due to its weather-resistant properties. Arrowhead soffits were mounted to Guttercrest's adjustable galvanised steel sub-frame and polyester powder-coated to RAL 9010M. All panels were supplied in 2m lengths to allow access by lift with restricted headroom.
Guttercrest