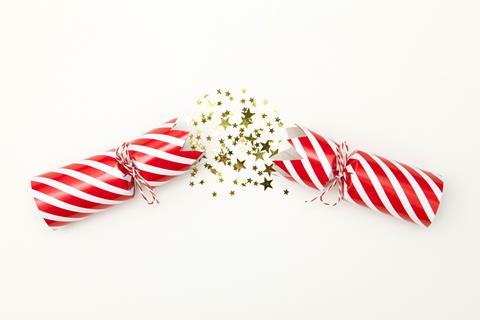 If last year's inaugural Building Christmas quiz was characterised by "banter", this year's edition brought out the true competitive nature of the industry. The quiz, held in aid of construction charity Crash, was hosted at Fieldfisher's London headquarters – jokingly described by quizmaster Iain Parker, a partner in Alinea, as "these rather shabby lawyers' offices" – whereas in truth the building has the kind of slick fit-out you would expect from a prime City office, with stunning views of the Thames and London Bridge to boot.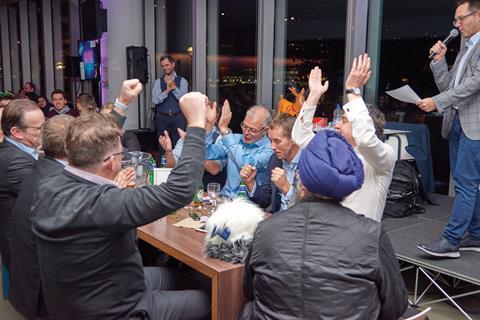 Parker was once again joined on stage by his partner in crime Erland Rendall, director of Atorus Consult. Last year the pair donned Christmas hats to get into the festive spirit; this year the sartorial sense on show was a tad less festive but still unignorably stylish. Thanking his co-host for his hard work in compiling the questions, Erland said: "Ant has his Dec, Morecambe has his Wise, and I have Iain." Although, judging by their fetching blazers, they looked, according to one wag, rather more like Tweedle Dee and Tweedle Dum.
Sixteen teams filled the room, including the top two teams from last year in runner-up BDP and champions Lendlease. Plied with pizzas and a seemingly endless supply of beer, the room was ready to roll.
The contenders
| | |
| --- | --- |
| Alinea | Fieldfisher |
| Artemis | Gardiner & Theobald |
| BDP | Ing |
| Building 1 | Lendlease |
| Building 2 | Murphy |
| Core Five | Opera |
| Farrells | SES |
| Fenwick Elliott | Wates |
Round and round we go
The Building quiz resisted any early confusion by beginning with round one – a film and TV theme. The rounds that followed tested participants' knowledge of geography, food, sport and music. And then there was the Christmas category, followed by the less traditional "famous Alans" round.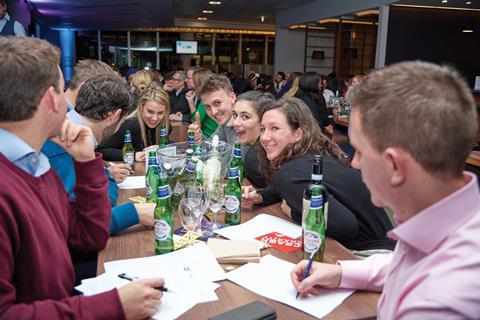 It did not take long for the teams to begin questioning the judging panel, made up of four of Building's team who had drawn the short straw and removed themselves from the competition. Ing Media scored seven out of 10 in round one but were convinced that they had scored more – a glance back at their answer sheet, however, suggested that this was wishful thinking. In fact, the markers were rather generous with their scoring given the questionable spelling of one of the actors who starred in Rocky IV…
MC Parker took a photograph of their answers to project onto the big screens for everyone to see. It probably didn't help that the answers were written on the wrong sheet of paper
Still, it could have been worse – one team, which shall remain nameless, believed that the actor who played a part in the 1985 boxing classic was the real-life boxer Tony Bellew. That would have been a bit difficult as Bellew was born in 1982. He was probably still being potty-trained.
And, despite finishing as champions, another team guessed that Marilyn Manson's real name was Shirley (Shirley you can't be serious…?). The pacesetters were the 2018 runners-up BDP, with eight out of 10. Some teams struggled – Gardiner & Theobald, who had to endure some gentle ribbing from their contemporaries (Parker's Alinea), scored just two.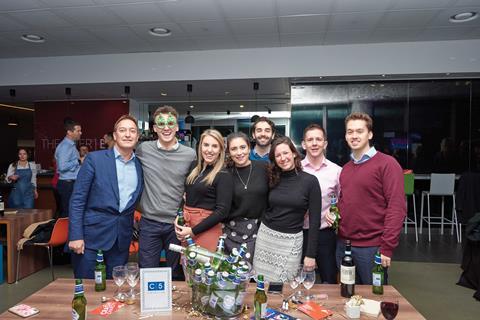 But the prize for the worst opening score went to the team from Farrells, who were unable to notch up a single correct answer. Perhaps the film round wasn't for them. But then again, it did not get much better for them in the picture round.
Building's Christmas charity appeal
Building is proud to support Crash, the construction charity that works with homelessness and hospice charities.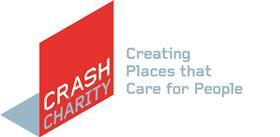 Crash charity helps these charities with life-changing building projects, creating places that care for people when they are most in need.
Crash does this by sourcing pro bono professional expertise and building materials, and awarding cash grants, generously donated by the construction and property industry.
With your support, last year Crash managed to help 50 hospices and homelessness charities, taking care of people who had nowhere to live or who needed end-of-life care.
As part of Building's Christmas charity appeal, please join us and support your industry charity Crash this Christmas by donating to the 2019 Christmas appeal. Your support will enable Crash to continue helping homelessness charities and hospices with more life-changing building projects in 2020:
Teams were given 40 picture clues from which they could hazard a guess at a construction firm. For example, photos of Tina Turner and Pete Townshend leads to the correct answer Turner & Townsend. We're not saying Farrells struggled with this round, but MC Parker took a photograph of their answers to project onto the big screens for everyone to see. It probably didn't help that the answers were written on the wrong sheet of paper.
Not that Farrells was the only team to struggle with this round. Cryptic teasers can catch people out, sure – but Fletcher Priest – a picture of Ronnie Barker in Porridge and a member of the clergy – was incorrectly guessed by one as "Ron Pope", while, confronted with a photo of a gin and tonic – correct answer G&T (Gardiner & Theobald) – one team wondered if the firm was Bombay Sapphire (which might have been what they had moved on to). Opera was the answer to question 12, not "The Three Tenors". The famous contractor which built skyscrapers for £30? Ahem.
Iain did check that the format was clear though, asking the Gardiner & Theobald outfit to hold up four fingers before giving out the questions.
Moving swiftly to round two – "grub and booze"… This round saw teams searching for the origins of food and drinks. Several were caught out by Emmental cheese – Swiss not Dutch – and most of the teams plumped for Turkey, rather than Greece, as the origin of pitta bread. However, more than half the teams impressed with their knowledge of the Hungarian word for "pepper" – "paprika".
Unfortunately, there were no overtly hilarious answers to this round, so the scores ticked along more sensibly – though several teams doubled their points by playing their joker here. It was a three-way tie between SES, Murphy and Ing as we moved to round three, in which all correct answers were four letters long and ended in the letter O. Was it the presence of a QS in the room or a sign of the weakness of the beer on offer that no one in the room had trouble sticking to four-letter words (of the right kind). Iain did check that the format was clear though, asking the Gardiner & Theobald outfit to hold up four fingers before giving out the questions. No one, it seemed, was seeing eight.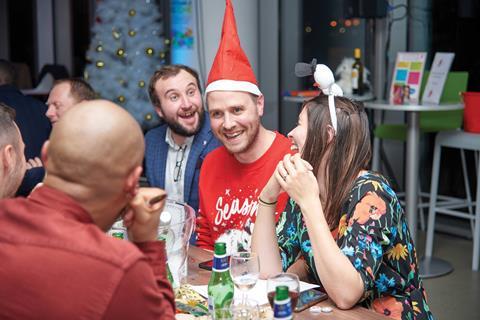 The sport round generally brings out the stats buffs among quiz teams. Iain and Erland aimed to give everyone a fighting chance by including an eclectic mix of sporting trivia, ranging from boxing and Formula 1 to the Olympics and ice hockey. One particularly tricky question, asking for the nickname of the Belgian national soccer team (yes, they have one), left most teams guessing. The guesses were largely incorrect, but they did make you wish that the Belgians called their footballing heroes the Truffles or the Waffles. A special mention to Ing, who redeemed themselves from round one grumps by getting the answer correct in both English and French. As this question is included in our teaser overleaf, you won't be getting any clues…
Boisterous bluster
The first half was cool, calm and collected, with most teams getting their eye in. The second half, however, really came alive as the volume was raised several decibels – the nearby Northern line underground tunnel was like a library in comparison. It all kicked off quite late when SES were desperately calling back their sheet from the markers in order to change an answer before their time ran out, while the two Building teams' rivalry intensified as they sought to out-do each other.
The excuses came in pretty early on from the Building team that finished second in this intra-company rivalry – but claims that their joker had gone mysteriously missing and was not played on the correct round were found to be without substance… by the end they came in four points behind the winning Building team, who scored double points on the underground round by playing their joker correctly.
"Where the rabbits like to hide" was Warren Street, though a bonus point should have been awarded to the team that suggested Borough.
This round took the form of a cryptic crossword, in which each answer was a London Underground station. For example, "almost circular, but not quite", gives the answer Oval. Erland's soft, Scottish lilt did cause issues for the hard of hearing – luckily Iain was on hand to translate.
No fewer than three answers proved to be contentious here, as "A place of worship" could certainly be assumed to be St Paul's station. The quizmasters, who were looking for the answer Temple, turned to VAR to check the validity of this one. Another clue, "Sounds like a member of the aristocracy was nabbed here", was down as Earl's Court on the official answer sheets, but after a lively debate across the room, Barons Court was also accepted.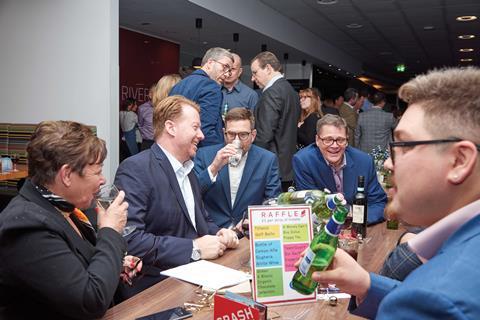 "Where the rabbits like to hide" was Warren Street, though a bonus point should have been awarded to the team that suggested Borough.
Name calling
The remaining rounds included one on famous Alans – one team prepped for this by jotting down all the Alans they could think of. Partridge didn't get so much as a mention, sad to say, but Messrs Shearer, Sugar, Carr, Titchmarsh, Turing and Alda were among the accepted answers.
One member from the Gardiner & Theobald team, possibly inebriated by this stage, claimed with glee that he had figured out the right answer: "I know his first name!"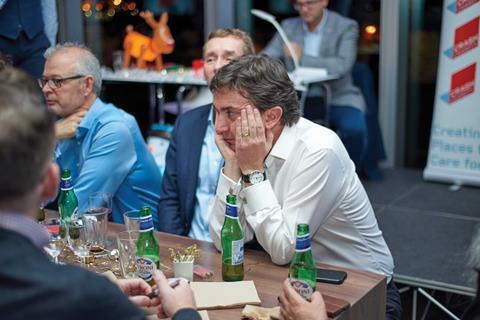 The final round consisted of a festive feature, as several questions led to teams imitating Chris Rea in his hit song Driving Home for Christmas, as well as the dulcet tones heard in the early verses of the original Band Aid classic.
While the final scores were being totted up, the teams dug deep to raise £500 for charity Crash in the raffle.
Teams were on tenterhooks as they awaited the results. There had earlier been claims of a fix when Alinea were found to be leading in the early rounds, (flatly denied by quizmaster Iain from Alinea) but as the team sank in the second half, those claims were found to be baseless. Opera were fashionably late, arriving midway through the first round. This didn't deter them however – they were there until the fat lady sang and finished up in second place.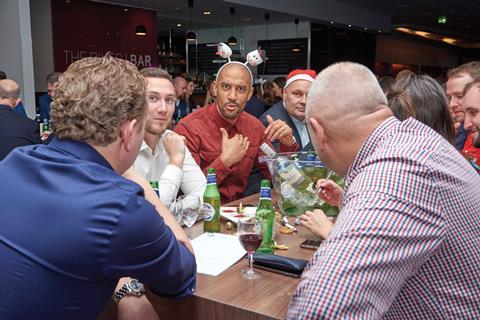 Ultimately it was victory for Wates, who won a table at next year's Building Awards – but more importantly, won the admiration of the rest of the industry as the master quizzers, taking the mantle from 2018 champions Lendlease. Can they be beaten next year? Just 365 days before it all happens again.
Many thanks to quiz sponsors Alinea and Atorus and to hosts Fieldfisher, without whom this festive fun would not have been possible.
Get quizzy! Click here to test yourself with some of the questions from the Building Christmas quiz. No cheating, peeking or phone researching allowed.