Despite being the main target of the fund and the ones that need it most, SME housebuilders are struggling to access the cash. Steve Menary reports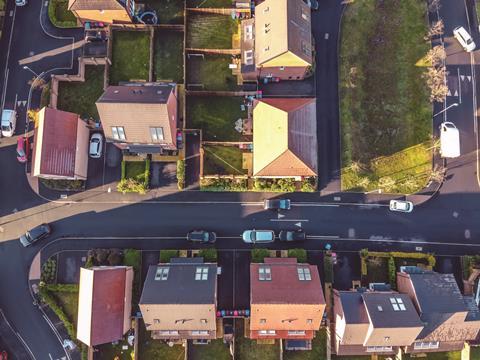 The signs are clear: the residential construction market is slowing down. With all the recent political and economic uncertainty perhaps it is no surprise, but recent data points to an undeniable trend, with housing starts in 2019 significantly down on the previous year and figures for planning permissions showing the first fall since the end of the financial crisis.
Over a longer period, the contribution to new housing from small to medium-sized housebuilders is dwindling. In 1988 more than 12,000 SMEs built 40% of all new homes, but by 2017 SME housebuilders had dwindled in number to around 2,500 and accounted for only 12% of new stock, according to a study by the Home Builders Federation (HBF).
Combined with the slowdown in overall housebuilding activity, this makes hitting the government target of building a million homes over the next parliament especially challenging. In a bid to tackle the problem, it set up in late 2016 a fund called the Home Building Fund to provide loans for to private housebuilders of all sizes – but especially smaller companies – to enable them to build more new homes (see "How the fund works", far right).
To find out how successfully the government is stimulating SME housebuilding, we submitted a freedom of information request to Homes England, which administers the fund. The figures that came back on the number of loans agreed raise some fundamental concerns about its accessibility to SMEs and the barriers they face just at a time they need more support in a weakening market.
How the fund works
The Home Building Fund was set up in 2016 as a number of existing funding streams, chiefly the Builders Finance Fund, were consolidated into this new initiative. The new fund is accessible to any private sector business that builds new homes or prepares sites for housing developments but is aimed in particular at small builders, community builders, custom builders and regeneration specialists.
Finance is offered for development or infrastructure to prepare sites for development with loans from £250,000 to £250m, and a minimum investment of £250,000 is expected from applicants.
The initial fund of £3bn over five-and-a-half years was increased to £4.5bn in the 2017 budget. Finance for infrastructure development is available until March 2021, while development finance is available until March 2023.
Interest rates are offered at what Homes England describes as "pre-agreed, variable rates" repayable over five years for development and 20 years for infrastructure. An arrangement fee is also levied on applicants.
In the first three years, funding of just under £1.5bn was agreed, which means that two-thirds of the £4.5bn funding in place remains undistributed, as at October 2019. This suggests that the Home Building Fund has not been an improvement on its predecessors.
The Builders Finance Fund was set up to restart and speed up viable housing developments of between five and 250 units that had slowed or stalled in the wake of the financial crash.
Between that fund opening at the end of April 2014 and the launch of the new Home Building Fund in October 2016, 105 projects to provide 7,090 homes received allocations of £238.2m. So less than half of the £525m committed was used before the scheme was rolled into the new fund.
In the first year of the Home Building Fund, running to September 2017, 43 loans totalling £357m were agreed to deliver 16,226 units. IT problems had delayed some applications but these were resolved and in the year to September 2018 some 99 loans were agreed worth £714.8m – before the amount of loans fell again to 56 last year.
Challenges for SME housebuilders
A key purpose of the fund was to tackle one of the biggest challenges for SME housebuilders, which is accessing finance. Last year, the Federation of Master Builders (FMB) found that 39% of its members cited finance as the main barrier to building more homes. But the feedback from companies we spoke to suggests the fund is not helping address this issue. SMEs, which were reluctant to be named for fear of jeopardising future Home Building Fund applications, described the process as too bureaucratic and time-consuming.
According to HBF director of communications Steve Turner, SMEs do not have the time needed to make the applications. He says: "Facilitating SME involvement presents a different challenge to that of the larger builder as the bureaucratic requirements are the same whilst the capacity to deal with them within the individual companies is not as great."
Richard Jones, associate at Arcadis, agrees, saying: "A lot of SMEs are on the tools and don't have the time. When push comes to shove, it's too complicated. If you want to help the SME market, you need to understand the SME market and they simply don't have time to fill out these forms.
"It's fine if you are Barratt, but they don't need it. I think there needs to be a fundamental rethink."
The experience of one SME director, who did not want to be named, chimes with these views: "HBF money is not easy to get or people would be taking it up. You have to give too much of your profits away so you are better off doing something smaller."
There is clear evidence for a drop in interest in Homes England's own figures, which show the value of loans agreed through the Home Building Fund crashed 44% last year compared with the previous year, to £398.5m.
In total 56 loans were agreed in the 12 months to September 2019, with £270.5m allocated in 52 agreements for housing development to deliver 4,418 homes. The other four loans for £128m were for infrastructure on sites that should produce 19,501 units.
By contrast, in the previous 12 months a total of 99 loans worth £714.8m were agreed through the fund.
In its response accompanying the figures, Homes England said that no loans had been "formally rejected" in the past year but "79 projects withdrew during the due diligence process as they were ineligible for funding and a further 159 projects were withdrawn as the prospective borrower ceased communication with us".
Home Building Fund - applications agreed and approval times
| Home Building Fund - applications agreed | | | | | |
| --- | --- | --- | --- | --- | --- |
| October 2018 to September 2019 | | | | | |
| Region | Loans | Units (homes) | Units (infrastructure) | Total | Annual % change |
| East Midlands | 5 | 72 | 980 | 1,052 | -91 |
| East of England | 4 | 162 | 2,800 | 2,962 | 34 |
| London | 5 | 2,360 | 0 | 2,360 | -65 |
| North-east | 4 | 148 | 0 | 148 | -56 |
| North-west | 7 | 303 | 0 | 303 | -82 |
| South-east | 3 | 122 | 0 | 122 | -98 |
| South-west | 4 | 104 | 0 | 104 | -63 |
| West Midlands | 3 | 105 | 0 | 105 | -46 |
| Yorkshire & Humberside | 19 | 342 | 1,800 | 2,142 | -59 |
| National | 2 | 700 | 13,921 | 14,621 | 20 |
| Total | 56 | 4,418 | 19,501 | 23,919 | -50 |
| Source: Freedom of information response | | | | | |
| Home Builders Fund - approval time | |
| --- | --- |
| Region | Working days |
| East Midlands | 54 |
| East of England | 184 |
| London | 176 |
| North-east | 244 |
| North-west | 57 |
| South-east | 100 |
| South-west | 97 |
| West Midlands | 206 |
| Yorkshire & Humberside | 78 |
| National* | 225 |
| Average | 108 |
| Figures are for home loans only | |
| *Note: National typically refers to loans made to schemes covering more than one region | |
What needs to change?
Reacting to the latest figures, Arcadis' Jones says: "This was difficult for Homes England to take on and last year was so uncertain that people didn't have the time to fill in loads of forms just to try and get some money out of the government.
"My understanding was that this fund was to unlock the SME market and it simply hasn't worked. I don't really think it deals with the issues of how to support the SMEs in the housing market. It's fundamentally flawed."
One particular concern is that micro-housebuilders are losing out, with the figures for 2018/19 showing that only 15 of the 52 loans towards housing developments were for schemes of single figures and just three were for five units, the smallest development size eligible for funding.
The FMB's director of communications, Jessica Lev, says: "It is critical that the fund does not lose sight of its original intention, which was to help the smallest builders.
"There are many micro-housebuilders who build fewer than five units a year who are currently unable to access the fund. If these builders were able to access the funding, this could give them the necessary boost to grow and go on and build larger sites. The government should therefore remove the five-unit limit."
The HBF's Turner thinks wider reform is needed: "If we are to stimulate more SME building we need to see continued evolution of the scheme alongside the development of other separate initiatives.
"Accessing finance from mainstream lenders on reasonable terms that allow businesses to grow continues to present difficulties.
"Even as the industry as a whole has delivered record increases in housing supply in recent years, SME activity remains stubbornly low in a system that requires scale and balance sheet capability to succeed. Support in accessing development finance, perhaps through a guarantee scheme and a fundamental de-risking of the planning process, could help reverse decades of decline in SME numbers."
In its strategic review running from 2018 to 2023, Homes England pledged to "create a more resilient and competitive market by supporting smaller builders and new entrants". And despite last year's slump in loans, Homes England defended the Home Building Fund. A spokesperson said: "We are committed to supporting small and medium-sized developers to diversify the housing market. The Home Building Fund is just one of the ways we do this, by providing SMEs with development finance that cannot be accessed through banks."
Last autumn, Stephen Kinsella, the chief land and development officer at Homes England, hinted at more intervention in the coming months. Speaking at the Housing Market Intelligence conference in London, he said: "Unless we do something about housing supply and intervening in the market, it's going to get worse." Many SME housebuilders would no doubt agree.