Scheme at historic site drawn up by Camden architect
Plans for a major redevelopment of Hertford College at Oxford University have been given the green light by local planners.
The proposals, designed by Camden-based Mica Architects, have been approved by the city council and will see the construction of a basement library and a two-storey block housing seminar and lecture theatres, office space and storage space.
The new block, which will require the demolition of a 1960s extension, will also feature a roof terrace overlooking the adjacent Bodleian Library.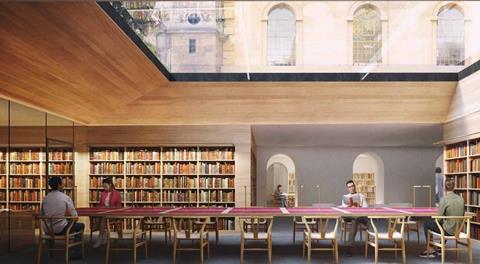 The library will be housed in a new vault excavated beneath the college's exiting Old Chapel. At its centre will be a reading room lit by a large glass ceiling, leading off into smaller reading spaces, office space and rooms used for archive storage.
The college, which traces its history back to the late 13th century, is home to around 600 students and is best known for the world-famous Bridge of Sighs which links two of the college's buildings.
The scheme will also see the repair and restoration of the listed college buildings' exterior stonework, while the original double-height plasterwork panelling and cornicing in the Old Chapel will be uncovered and the original circulation route between the chapel and the quad reinstated.
Mica secured the job following a RIBA design competition. The project team includes property consultant Carter Jonas, project manager CPC, heritage consultant Donald Insall Associates and archaeology consultant Oxford Archaeology.
Meanwhile, a decision on a £150m humanities block for the university is due to be made by the city council by the middle of next month.
Called the Stephen A. Schwarzman Centre for the Humanities, the scheme has been designed by Hopkins and will be built by Laing O'Rourke.
It has already won the backing of Historic England while the Oxford Preservation Trust has given the scheme its blessing too.