Chancellor says government will honour existing PFI and PF2 deals but will not sign any new details
PFI and PF2 have been condemned to the scrap heap, with chancellor Philip Hammond confirming the government would not be signing any more of the controversial deals.
Addressing the House of Commons today, Hammond said: "I'm committed to PPP where it delivers value to the taxpayer and shifts risk to private sector. There is compelling evidence that PFI does neither."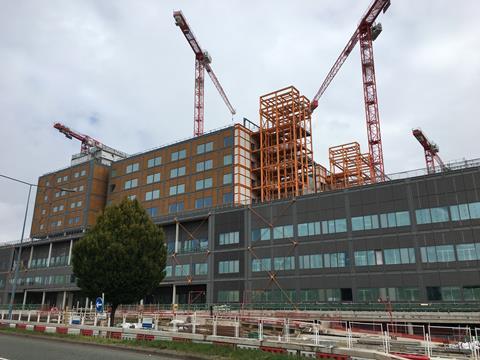 He said the government would honour existing contracts but "will be no pushover" in their management.
He also revealed there will be a new centre of excellence created to monitor the remaining deals.
PFI and PF2 deals have been in the headlines since the collapse of Carillion in January with the company's two PFI hospital jobs, the Midland Metropolitan Hospital (pictured) and Royal Liverpool Hospital, highlighted as a big part of the reason the contractor was forced into liquidation. Both deals have now been dissolved.
Responding to the announcement, Liz Jenkins, partner at law firm Clyde & Co, said: "The current PFI/PF2 model has its critics both in and outside of the construction industry. The proposed abolition may come as a surprise but in reality it's likely that a new model will replace it.
"We await the details but one would expect a new model that continues to allow the private sector the opportunity to fund public infrastructure – we simply cannot build the infrastructure this country needs without it.
"If a new model can provide a clear pipeline of projects for construction companies and investors to plan against then this abolition will be welcome throughout the industry."
Matthew Weiner, chief executive of developer U+I, said Hammond was "quite right" to promote the greater use of Public Private Partnerships, despite scrapping PFI.
He added: "In recent years, the term PPP has been tarnished, often confused with the Private Finance Initiative which the government is quite rightly stepping away from.
"PPP must offer a fair deal for all parties if it is to survive and thrive and deliver for everyone - the public sector, for the local communities that have a stake in it and for development partners."