Quarter to August shows further decline in repair and maintenance, and all new work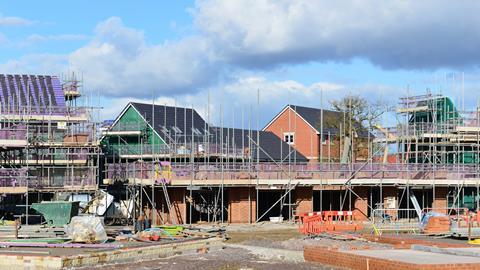 Construction output in the three months to August slipped by 0.8% compared with the previous quarter, driven by declines in new work and repair as well as maintenance activity.
The declines in the three months to August appear to continue where the three months to July period left off, according to data issued by the Office for National Statistics (ONS). However it said that despite the fall, output remained "at relatively high levels".
Repair and maintenance work fell 0.6% and all new work was down 0.9%.
But looking at month-on-month construction output in August, it grew 0.6%, boosted by a 1.7% rise in all new work, mainly new private housing, up 2.3%, and infrastructure, which rose 3.6%.
The ONS said that since reaching a peak in August 2014, repair and maintenance had remained relatively stable, while all new work had continued to increase steadily during the period, boosted by an increase in new housing work.
All new work accounts for around two-thirds of all work, the ONS said, while repair and maintenance accounts for roughly a third.
Speaking about the latest figures Blane Perrotton, managing director of property consultancy and surveyors Naismiths, said the construction industry had traditionally been a barometer for the economy and was starting to show the strain.
"While the overall decline in output is modest, it's the polarisation in the industry that is most striking. Demand for commercial property construction has taken a substantial hit as larger companies activate Brexit contingency plans and smaller firms hold off on plans to scale up their premises.
"Yet it's a different story for housebuilders, who are grappling with a surge in demand. On the frontline we're seeing a spike in the number of developers seeking to convert office buildings into residential units under the extended and popular Permitted Development Rights."
And Mark Farmer, chief executive of Cast and author of a government-commissioned review into the construction industry, said the contraction in output across the sector should not come as a surprise.
"The mild growth in August came from private housebuilding, but we are still not anywhere near the output required across the overall housing market. We are likely to be entering turbulent times and there is now a great opportunity for government to play a role in 'smoothing' industry demand so it remains more stable across both infrastructure and building construction.
"That stability will be important if we are to accelerate our modernisation journey as longer term investment confidence is needed. We do not want more cycles of 'boom or bust', rather healthy and stable overall demand should be the aim with growth coming through productivity gains."
But not everyone was downbeat. Mark Robinson, Scape's chief executive, said it was "comforting to see construction figures beat expectations.
"It is particularly promising to see infrastructure work on the up, rising almost 5% on the year and 4% on the month. Infrastructure investment is the primary tool in the Chancellor's toolbox for supporting the sector in the medium to long term."
And Robinson threw down the gauntlet to Philip Hammond, who delivers his Budget next month. "The government must give more road and rail projects the green light in the Autumn Budget. This is no time for modest gestures," he said.