The government has been urged to set a national target for housebuilding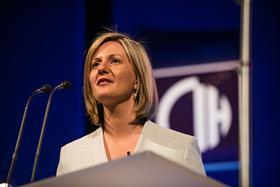 Delivering the opening keynote speech at her organisation's annual conference in Manchester, Grainia Long, Chartered Institute of Housing chief executive, called on ministers to intervene more strongly in the homes market.
The coalition government effectively dropped its national housebuilding target after scrapping the network of regional planning strategies in place before the 2010 general election.
But Long said that the government should bolster its efforts to encourage housing supply by setting a national target for new homes.
She said: "A public target brings a discipline to the system. It provides a focus for all arms and levers of government.
"This does not mean the end of localism and local communities having a say about the homes that are built in their area. But we make no apologies for focusing on the numbers, because if we don't we risk the supply crisis getting worse."
As part of a more hands-on strategy, Long urged the government to adopt a far more assertive approach to land assembly.
She argued that housing should be prioritised as a form national infrastructure for land assembly purposes, placing it on the same footing as transport and energy.
Long also called on ministers to step up their efforts to encourage new players to enter the residential development market, while offering incentives to encourage private developers of all sizes.
And the CIH chief said subsidies should be diverted from housing benefit to bricks and mortar subsidies- an idea being considered by Labour as part of its policy review.
"By providing capital investment for social and affordable housing, we guarantee an asset which can be enjoyed by today and tomorrow's generations."
But she said recent planning reforms should be allowed time to bed down.
"It's not perfect, but, no system that mediates between competing groups in the public interest is likely to gain universal acclaim."