Already it has been dubbed the 'Brexit election', so will this single issue overshadow all others, including how to tackle the housing crisis? Here we consider what we know about the main parties' housing priorities and how different the next administration's approach might be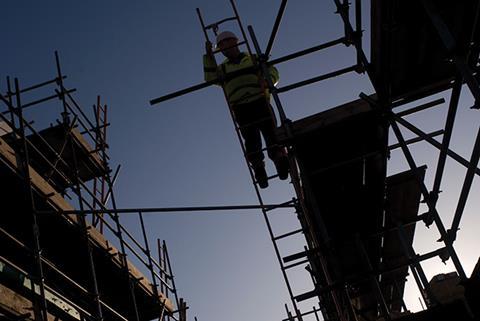 Just hours after prime minister Theresa May surprised the nation with her announcement of a snap general election, Chartered Institute of Housing (CIH) chief executive Terrie Alafat declared the forthcoming poll "an ideal opportunity to look pragmatically at the housing crisis".
For many, however, this interpretation is optimistic in the extreme. All the UK's political parties are scrambling to pull together manifestos from thin air over just a few weeks. Richard Jones, head of residential at consultant
Arcadis, says: "The campaign is going to be dominated by Brexit. I can't see any real development of housing policy above or beyond what's already happened."
Likewise, Mark Farmer, chief executive of consultant Cast, says: "Housing has been way up the political agenda recently but inevitably it will fall right back down. There's definitely a danger it'll be a casualty of an election all about Brexit."
So, will policies about housing supply be a victim of the election? And what is the likelihood a future government will see things differently to the current administration?
Policy development delayed
It is a racing certainty that development of the existing policy agenda will be set back by the election. The delay will be more significant at this time than it would usually be because of the weight of ongoing work following publication of the housing white paper in February. This posed 38 detailed consultation questions, and proposed no fewer than 29 regulatory changes, five further consultations and three legislative changes.
It would be very difficult for them to deviate from the white paper without looking like they got it wrong

Mark Farmer, Cast
Eschewing eye-catching, voter-friendly measures, it reversed out of the previous government's sole focus on home ownership, containing a raft of technical changes to the planning system and measures to encourage developers to build out homes quickly. Cast's Farmer says: "There's lots of work that needs doing and some of that will now go into suspended animation. It's not helpful from a time perspective."
The close proximity to the publication of the white paper also means there is little chance of much new policy emerging from the Conservative Party - the clear favourite to form the next government. "I can't see any big-bang proposals or blue-sky thinking," says Farmer. "It would be very difficult for them to deviate from the white paper without looking like they got it wrong."
Further mitigating against radical ideas appearing is the sheer time pressure all the parties are under. David Cameron's former housing adviser Alex Morton, now director at Field Consulting, estimates the parties will want to turn around within two to three weeks a process that took Cameron more than six months.
Morton says: "There'll be a limited number of 'retail-friendly' policies in there, but generally [the manifesto] will be limited to broad sweeps."
Opposition ideas
Labour, which has talked of building 100,000 affordable homes a year since Jeremy Corbyn's election as leader, this week pledged to build a million new homes over five years, if its wins the general election. It is also expected to propose the lifting of council borrowing limits to allow a new generation of housebuilding, and tougher regulation of private landlords - potentially including rent controls. Former Labour Party housing adviser Luke Murphy, now senior research fellow at think tank Institute for Public Policy Research, says there is still a chance for new ideas to flow through. "There's not a lack of ideas out there, but clearly they won't have been road-tested to the extent that policies were in 2015," he says.
Meanwhile the Liberal Democrats' existing housing policy is the most ambitious of all the main parties, aiming for construction of 300,000 homes a year, along with the creation of 10 new Garden Cities and the setting up of a Housing Investment Bank.
Old pledges, new pledges
For the Conservatives, however, the focus may be as much what isn't in the manifesto as what is. Since Theresa May appointed Gavin Barwell as housing minister, the government has appeared to distance itself from flagship Cameron-era manifesto pledges, such as the introduction of Starter Homes, and the extension of Right to Buy to housing associations - while nevertheless keeping them officially as policy.
Steve Douglas, partner at social housing consultant Altair, says: "I think what we might get is a definitive dropping of some of the Cameron government's more ideological policies around home ownership. This could be the opportunity to start with a clean slate."
I think what we might get is a definitive dropping of some of the Cameron government's more ideological policies around home ownership

Steve Douglas, Altair
There are areas of potential innovation, however. Given Barwell's rejection of Cameron's home ownership-only approach, there is speculation the Conservatives will be looking to support long-term renters. Gavin Smart, deputy chief executive of the CIH, says: "There are signs the government is asking the question of what is needed to make renting a real option for people as a long-term tenure, rather than something short term for geographically mobile young people."
Likewise, Field Consulting's Morton says: "There may be something about renting, to give some permanent stability to people in the rented sector. The question is how far they choose to go with this."
What will be of most direct relevance to housebuilders, of course, is the extent to which the manifestos contain policies likely to boost housing supply. Morton says for the Conservative Party this is likely to depend upon how bullish it is feeling about its election prospects. "They could put a requirement in the manifesto for councils to meet housing need," he says, "which then could bind the party's hand later in the parliament when they encounter resistance – they will be able to argue that the commitment is in the manifesto."
This is only likely, Morton argues, if May assumes she will get a majority large enough to steamroller any backbench opposition. However, there is little sense that a party freed from the constraints of the current small parliamentary majority would reconsider green-belt policy or otherwise embark in a significantly different direction. "It would give them the mandate to accelerate what they're already doing," says Altair's Douglas.
Who will be housing minister?
The most unanswerable question, of course, is what the landscape will look like the morning after polling day. Since his appointment, Barwell has been able to generate industry support for an approach that assumes expansion of all parts of the housebuilding industry - housebuilders, developers, housing associations, councils and institutional investors.
But general elections always result in ministerial reshuffles, and Barwell's wafer-thin majority of just 165 in his Croydon Central constituency means even his re-election as an MP can't be guaranteed, let alone his continued role as housing minister. "In Barwell we have a minister able to generate a high degree of consensus," says Douglas. "The risk is we could have yet another housing minister in a completely new administration."
The lesson from history is that prime ministers like May who have attempted to call "single issue" elections (such as Ted Heath in 1974 who, when threatened with a miners' strike, said, "let the voters decide who governs the country") have been confounded by an electorate that wants to talk about lots of different concerns. Those in the housing sector may well hope that this time around Brexit is not the only issue that gets an airing.