Final investment decision to go ahead with £16bn nuclear plant depends on deal receiving state aid clearance, which could take a year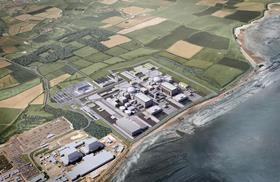 EDF will not give the go ahead for contractors to build its £16bn Hinkley nuclear power plant until the deal it has struck with the government has received state aid clearance from Brussels, which could several months or even a year.
EDF announced this week that it had finally reached an agreement with the government for a guaranteed price for its electricity from the plant, with the deal widely seen as opening the door to a new generation of nuclear power plants.
But following the announcement on Monday (21 October), Henri Proglio, chair and chief executive of EDF Group, said the French utility would not take a decision on whether to build the plant until "after the Brussels decision" on whether the deal was in line with European Union state aid rules.
EDF said it would make its final investment decision by July 2014, but reports last week suggested that state aid approval from the European Commission could take up to 12 months to complete, which would push the investment decision back even further.
However, Rebecca Rees, partner at law firm Trowers and Hamlins, said state aid approval typically took up to six months. "It could take a year but optimistically you would be looking at it happening quicker than that," she said.
Energy secretary Ed Davey said he had already had "initial discussions with the Commission" and they had been "going well".
He added: "We are formally notifying [the Commission] this week and so they will open up a team to focus on it properly.
"I'm confident we can manage to argue our case because we have had that case in the back of our mind all along."
EDF is also still seeking a further 15% investment in the project, after two Chinese state-owned firms agreed to take a 40% stake and Areva took a 10% stake, with the firm stating it is in talks with a range of potential investors.
Despite the hurdles that still facing the project, which also include separate legal challenges from Greenpeace and An Taisce, Ireland's equivalent of the National Trust, experts said the deal would open the door to further nuclear new build projects.
Alan Raymant, chief operating officer of Horizon Nuclear Power, which is planning a new nuclear plant at Wylfa, said the deal was "important in sustaining momentum behind the UK nuclear programme".
Lord Hutton, chair of the Nuclear Industry Association said the deal would "confirm to investors and the UK nuclear supply chain that new nuclear build is a reality".
But Alasdair Reisner, director of external affairs for the Civil Engineering Contractors Association, said for other projects to be realised "delivery of Hinkley Point C must prove much less troubled than the process of getting it to site".
He said: "The project must become an exemplar of the best of UK construction, building on the success of London 2012, showing the rest of the world that we can build on time and to budget."
EDF will not give the go ahead for contractors to build its new Hinkley nuclear power plant until it has received state aid clearance from Brussels, which could take up to a year.
Meanwhile, the government today said it expect around 57% of the £16bn value of the project to be spent with British firms.
But Proglio said that although the government and EDF had announced up to 57% of the work would go to British companies that this formed no part of its contract with the government.
He said: "It's very difficult to [put in a] contract. While most of the companies [on the project] are British companies they have a presence abroad or they are in joint ventures with foreign companies, so it's very difficult to say what is the British part compared to the foreign part. It's an estimation."
When energy secretary Ed Davey was asked how he devised the figure of 57% he sidestepped the question, saying only that it had been "a very important part of our negotiation".
Although a number of the major contracts for the project have been let they have not yet been signed.
Vincent De Rivaz, chief executive of EDF Energy, said that the process of finalising them would start this week.
He also said EDF would complete the first of the two reactors at the plant in 2023, two years later than the most recent scheduled completion date - although when EDF started planning the plant several years ago it said it expected it to be up and running in 2017.