Judge rejects application for judicial review of government's decision to grant the scheme planning permission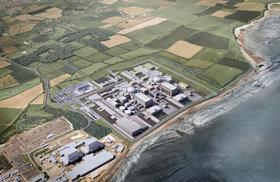 A legal challenge against the £16bn Hinkley Point C nuclear power plant project brought by Ireland's equivalent of the National Trust has been rejected by a High Court judge.
An Taisce had challenged energy secretary Ed Davey's April 2012 decision to grant planning permission to the plant.
The Irish group argued the decision had been taken without consulting the Irish public, who could be affected by any disaster and any subsequent leakage of radiation because the plant is situated just 150 miles from the Irish coast.
It said this was in breach of the European Environmental Impact Assessment Directive and the UK's own regulations on environmental impacts that stretch across national borders.
But Mrs Justice Patterson found that Davey's decision had been made properly and refused to give An Taisce permission for a judicial review.
She said: "At the time of the secretary of state's consideration of whether to grant development consent there was no evidence to suggest that the risk of an accident was more than a bare and remote possibility."
She added that Davey had also taken into account any possible cross border effects by considering the submissions of the European Commission to the consultation.
James Nix, the policy director for An Taisce, said he and his "legal team" were "studying the judgment and considering our options".