Construction prices are rising in Canada, Australia, New Zealand and Qatar, slowing in China and India, and grinding to a standstill across Europe. Paul Moore of EC Harris reports
01/ SUMMARY
Further cuts in UK construction prices have seen the UK slip a couple of rungs down the "league table" of international costs - it is now in 15th place overall, when compared with 52 other countries covered in the EC Harris survey. Within Europe, the UK is seventh overall, one place higher than last year, but this readjustment is due to falling prices in Italy that have seen the country drop below the UK.
If there is any pattern to this year's table, it is that the final position reflects the general economic wellbeing of the countries. Greece, Portugal, Spain and Italy have all slipped while Canada, Australia and New Zealand have moved up, and Qatar, which will see a huge boom in building and infrastructure investment for the 2022 football World Cup, has now overtaken the UK.
In the UK, the outlook for the construction sector remains tough over the next couple of years and the problems with the UK economy are compounded by the ongoing problems of the euro. With the UK economy now officially in a double-dip recession, construction workload is not expected to rise until 2014.
In London, the office market has a good deal of potential and the pipeline is strong; for those clients with money to spend, there are ample opportunities to benefit from the current low level of prices. However, confidence - or lack of it - and funding problems are two of the main stumbling blocks that are slowing down investment, while away from London the commercial office market is stagnating. Overall there is little sign of an increase in private investment in construction projects, which is needed to help make up for the substantial cuts in public sector investment.
Any international cost comparison is of course complicated by changes in currency exchange rates and the recent chaos in the eurozone has seen the value of the euro fall by around 10% over the past year. Price increases within the eurozone countries have therefore been mitigated by the falling value of the euro; when measured in local currency, price movements in those countries may be more pronounced.
Switzerland once again tops the league table of construction costs with prices some 62% higher than in the UK. This differential has fallen from the 70% premium in 2011, but part of this is due to the 10% fall in the value of the Swiss franc which is now linked to the movement of the euro currency.
At the other end of the scale, a number of countries in Asia (India, Indonesia and Taiwan) all have construction costs that are around one-third of those in the UK. Although a number of construction materials are often purchased at world market prices, labour rates of less than US$5 a day are a main contributory factor to the low costs in these countries.
02/ COMMODITY PRICES
Commodity prices for most materials are expected to fall or show only modest increases over the next seven years. This is in contrast to the price movement over the past couple of years where some dramatic increases were recorded for certain commodities. The slowdown in the global economy is the main reason for the expected slowdown in prices. Some key trends include:
Copper prices ramped up between 2009 and 2011 but a long slow decline is expected to bring prices down to below their 2007/08 price levels
Iron ore prices soared by a factor of six from 2007 to 2011, primarily because of an end to long-term negotiation of prices and reliance on spot prices. A long decline in prices is expected through to 2017, as a result of an expected fall in demand and the settling down of the spot price system.
Oil prices are expected to show a slow decline over the next seven years.
The price of Australian coal - a key material in steel production - was hit by bad weather in early 2011 which led to a 70% price hike between 2009 and 2011. The price of coal fell in 2012 and is expected to continue to fall over the forecast period.

03/ EUROPE
Western Europe's recovery came to a standstill at the end of 2011 according to the UN World Economic Situation and Prospects (WESP). In 2012, the aggregate GDP of western European countries is expected to contract by 0.3%, after growing by 1.5% in 2011, and only a modest rebound of 0.9% is expected for 2013. The debt crisis, increasingly stringent fiscal austerity programmes in the crisis-stricken countries, and the weakening lending capacity of banks are the key factors that are impacting severely on consumer and industrial confidence across the region.
The economic recovery of the new EU member states in central and eastern Europe (CEE) is expected to slow noticeably in 2012, affected by fiscal austerity policies. Aggregate GDP in the CEE region is expected to slow from 3% in 2011 to just 1.7% in 2012, before strengthening to 2.8% in 2013. The transition economies of south-eastern Europe are expected to stagnate in 2012, growing a mere 0.6% in 2013.
The knock-on effect of the continuing crisis, coupled with the increasing perception that Greece will default and exit the eurozone has led construction forecast group Euroconstruct to revise downward its previous predictions of recovery in construction output. The new forecast indicates that output will fall by 2.1% in 2012 and then increase by 0.4% in 2013 and 1.7% in 2014. The civil engineering sector is predicted to be the worst performing over the next three years, with an annual average rate of decline of 1.4%, mainly due to austerity measures taking a toll on public spending. Non-residential construction is expected to see an annual decline of 0.4% while the residential sector is forecast to grow by 0.9% per year to 2014. Both non-residential and residential renovation work are expected to increase, driven by the green agenda emphasis on reduced energy consumption.
Looking at the markets in more detail, the collapse of the Spanish, French and Italian markets has had a great influence on the aggregate figures. On a country level, a north-south divide is becoming increasingly evident with Germany, Switzerland and Poland set to substantially outperform their southern counterparts in 2012-2014.
In terms of overall construction performance predictions for the 2012 to 2014 period, the Euroconstruct network countries fall broadly into the following four categories:
A small group of two - Denmark and Norway - are projected to reach construction growth in excess of 2% a year on average.
A much larger group of nine - Austria, France, Germany, Hungary, Poland, Slovakia, Sweden, Switzerland and the UK - are expected to see modest growth of between 0.1% and 2% a year.
Five - Belgium, the Czech Republic, Finland, Italy and the Netherlands - are likely to see zero growth or moderate declines of between 0% and 3%.
Three - Portugal, Greece and Spain - will see construction activity remain in deep recession with downturns in output of up to 21.1% expected between now and 2014.
The economic crisis has also left the Europe real estate industry in a state of limbo, with investors focusing on core cities, such as Munich, Warsaw, Berlin, Stockholm, London and Paris, attracted by a combination of "safe haven" status, high liquidity levels, income security and diversification benefits. Similar to the construction sector, polarisation of the European markets is increasingly in evidence, with very limited transactions across southern Europe. The appetite for secondary products in all markets is expected to remain weak.
While prices in Europe still more or less follow the pattern of central and eastern countries being low cost, and western nations being more expensive, some of those certainties are now breaking down. Switzerland remains the most expensive country with Denmark in second position and Sweden third, while at the other end of the scale prices in the Former Yugoslav Republic of Macedonia, Romania and Bulgaria are all around 50% of UK costs. However, Portugal is now the fourth cheapest country in Europe with prices below those of Bosnia, the Czech Republic, Serbia and Hungary. The largest economies in Europe, France and Germany, have similar pricing levels, some 8-12% above the UK.
04/ MIDDLE EAST
UAE
The UAE government continues to drive the economy forward through a strategy of diversification and investment. Having "right sized" over the past two years, the UAE construction sector appears set to return to near full capacity following government announcements linked to a number of major projects, with a particular focus on social infrastructure.
High construction demand from neighbouring countries, such as Saudi Arabia and Qatar, will place further pressure on capacity which may result in unbalanced price escalation.
At the start of 2012, the Abu Dhabi Executive Council announced its major spending programme. The programme reaffirmed government commitments to the 2030 Vision and focuses on large-scale infrastructure projects and the improvement of education, healthcare facilities and social housing.
In Abu Dhabi, large numbers of projects that began in 2009/2010 are coming to completion at a time of restricted demand. As a result the rental levels for commercial office and residential units are decreasing whereas the retail market remains under supplied and the associated rental levels remain steady. New projects coming on line reflect this current supply profile.
After the market lows of 2009, Dubai is showing signs of recovery; the local economy grew by 3% in 2011 with growth of around 4.5% expected in 2012. Some projects previously placed on hold are being reviewed and restarted as the emirate looks to restructure to attract investment. Investor focus in Dubai is linked to well located, high quality, income-producing assets.
Qatar
In order to deliver both the World Cup and the National Vision, Qatar is expected to invest heavily in capital projects and infrastructure over the next decade. Estimates of the investment vary in the press from $60bn up to $220bn (although the reality is probably somewhere in the middle).
The Qatari government has reportedly allocated 40% of its budget between now and 2016 to infrastructure projects alone, and many significant programmes are already in the planning or construction stages.
Despite a policy focused on developing non-associated natural gas reserves and increasing private and foreign investment in non-energy sectors, oil and gas still account for more than 50% of GDP, roughly 85% of export earnings, and 70% of government revenues.
Due to the strong focus on large infrastructure projects in Qatar, much of the capital investment forecast for the next decade is funded by governmental (or quasi-governmental) entities. Although there continues to be a significant number of commercial/residential projects under development with private investors, a significant proportion of the non-hydrocarbon investment is being funded by a small number of key stakeholders, including Qatar Foundation, Qatari Diar, Barwa,KAHRAMAA, Qatar Rail Company and Ashghal.
Saudi Arabia
Sustained growth continues in the largest economy in the Gulf Cooperation Council, stimulated by high oil prices and continued investment in infrastructure such as airports, highways and the six economic cities.
This has led to increased interest in the kingdom's booming construction industry from manufacturers, material suppliers and construction professionals from all over the world.
The construction industry is estimated to grow from the $80.2bn of contract awards in 2011 to $86.1bn by 2013 with most of the investment expected to come from the government.
Other sectors seeing continued growth are housing, fuelled by demand from the expanding young population, and tourism, mainly near the shrines of Mecca and Medina. There is also an increase in the hotel sector in Jeddah and Riyadh.
Recently construction of the world's next tallest building commenced in Jeddah overlooking the Red Sea and Obhur Creek. The Kingdom Tower will be the centrepiece and the first construction phase of Kingdom City Jeddah, a new urban development of more than 5.3 million m2 of land.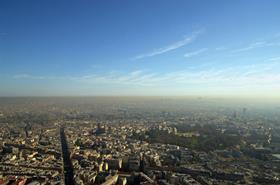 Details of the survey
The indicative figures on the graphs have been calculated from a survey of construction costs in 53 countries, which was conducted across EC Harris' offices worldwide. Data was collected in cost per m2 format for a wide spectrum of building types covering industrial, offices, retail, residential hotels, and so on.
All buildings are deemed to be "international", and constructed to western European specification standards, but there will always be differences in specification for the same building constructed in different countries.
Procurement and contractual arrangements can also have a substantial effect on costs, Site labour costs remains one of the key drivers, while the sourcing of materials, including the use of imported M&E engineering plant, can have a profound effect on prices.
The full EC Harris publication gives cost per m2 figures for 44 different building types, across all sectors.
05/ NORTH AMERICA
United States
Construction prices in the US showed only a marginal rise when priced in dollars, but a combination of those rises and a fall in UK prices meant they are very similar to those of the UK. However, the US is a huge country and prices can vary greatly between the north-east seaboard and the poorer states of the deep south.
US economic growth is expected to be a fairly moderate 2.3% during 2012 and, at 8.2%, the unemployment rate has still not shown any meaningful improvement. The Federal Reserve remains prepared to take action as needed to protect the US economy in the event of an escalation in financial stresses. Volatile energy prices, European debt concerns and a "wait and see" approach to the November presidential elections are creating a sense of uncertainty. Corporate profits are healthy and the factory sector shows upward momentum with outputs up 5.7% from a year ago.
The housing construction market shows signs of improvements at a gradual pace and the number of new single homes being built has increased marginally, but housing woes have not vanished. Commercial building is beginning to edge up while institutional buildings and public works are still in retreat. Federal budget cuts for major programmes are likely to continue and state and local government spending is weak. Material costs increased by around 3% in 2011 and a modest 2% increase is forecast in 2012.
The multi-family residential sector is edging up, comprising both apartments and condominiums in the major US cities. Commercial building is up by 11%, driven primarily by major renovations. Freight rail engineering and construction are set to grow to support the strength of mining, and oil and gas has shown 4% growth in first quarter 2012. Expansion of the Panama Canal is spurring a 6% growth in port development on the east and west coasts to prepare for the larger ships that the expanded canal will support.
Transportation funding is uncertain as funds dry up and Congress takes a pre-election short-term approach. Most state and local governments cannot advance transportation programmes without federal certainty. Only a handful of PPP projects are forecast to reach financial close in 2012 in California, Texas and North Carolina. Educational, healthcare and public buildings new starts are in decline due to uncertainty over federal funding and healthcare policy, as well as declining private endowments.
Canada
Construction costs in Canada are about 16% above prices in the UK and substantially higher than the US. Construction activity is strong and employment is forecast to remain at an all-time high for the next decade, as natural resource projects peak. Canada will need an estimated 320,000 new construction workers between 2012 and 2020 to keep up with current construction demands.
There is national competition for skilled workers that focuses on specialised labour markets created by resource projects such as mining, oil and gas, pipelines, electrical generation and transmission. Many of these projects are in remote northern locations, and the scale of the work generates significant demand across many provinces.
Regionally, Prince Edward Island, Ontario, Manitoba, Alberta and British Columbia follow the overall national pattern of recovery and expansion. Employment in some regions is growing as much as 20%. Saskatchewan and Newfoundland and Labrador report very strong employment growth and, at peak times, major resource projects
exhaust the available workforce for skilled trades and occupations.
06/ ASIA PACIFIC
The economies of China and India continue to dominate the region but both are now showing signs of faltering. China's latest GDP growth figure, indicating a rise of "just" 7.6% in the second quarter of 2012, was the lowest figure since the financial crisis.
Construction prices across the region show huge variations. Prices in Singapore are about 10% up on the UK while Hong Kong is around 4% higher. Japan remains the most expensive country in the region with prices 31% above the UK. While price increases in local currencies have, in most cases, been relatively modest, the position compared to the UK has been boosted by falls in UK prices and currency fluctuations.
At the other end of the scale, India has the lowest construction costs in the survey with prices some 75% below the UK. Prices in India are well below other countries but nevertheless the region provides five of the lowest seven countries. Prices in Taiwan and Indonesia are about 35-40% of UK prices while construction prices in Malaysia, China and Vietnam are running at just under half the cost of UK prices.
China
The government has been determined to slow down growth, after the extremes of 2009 when it pumped nearly 14 trillion yuan (£1.4 trillion) of stimulus money and bank loans into the economy to safeguard it from the financial crisis.
That injection of cash caused inflation to rise from less than 3% in July 2010 to a high of 6.5% in July 2011, but the rate has since fallen back to 2.2% in June 2012, its lowest point in
29 months. Some economists have warned that deflation is looming and the producer price index, has shown negative growth for the past four months.
India
The other regional giant, India, has seen its growth rate fall to 5.3%, the lowest in eight years following the double-digit pace of growth that the country enjoyed in 2004-08. Should the economy show major signs of slowing, the social costs could be considerable, with job creation being one of the main aims of government for one of the biggest demographic bulges the world has seen.
One of the problems is a budget deficit of nearly a 10th of GDP. The country needs to cut wasteful fuel subsidies, reform tax and foreign-investment rules and needs to speed up big industrial and infrastructure projects.
The construction sector in India is expected to show strong growth in 2012 on the back of increased spending on such schemes. Infrastructure spending in particular is expected to rise by over 20%.
Singapore
Against the current global uncertainty, the economy managed to maintain a reasonable GDP growth of 4.9% throughout 2011, although this figure is expected to fall in 2012 to 1-3%, most of which is tipped to come from within the services sector.
In the first half of 2011, construction demand rose significantly, although this was followed by a sharp contraction in the second half of the year. Overall, construction accounted for 4.2% of GDP in 2011; public sector construction accounted for 53% of the spend, with public money going on infrastructure and public housing programmes.
Since the turn of the millennium the number of foreign workers in Singapore has grown by over 70% and the government has since taken clear steps to reduce the reliance on them. However, a substantial reduction in foreign construction workers could force up prices in the year ahead.
Japan
The Japanese economy has been sluggish for much of the past 20 years and the expectation for growth is around 2% in 2012. The country is still recovering form the devastating tsunami which struck in March 2011 and the construction industry is expected to see growth of around 2.5% in 2012, assisted by the reconstruction programme for roads, housing, ports and energy.
Downloads
PDF, Size 0 kb

PDF, Size 0 kb

PDF, Size 0 kb