Shadow chancellor sketches out party's investment plans at Brighton conference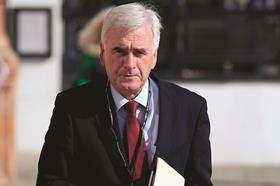 A new Labour government would scrap the Private Finance Initiative and invest what would amount to billions of pounds of public money in new and existing rail schemes, according to shadow chancellor of the exchequer John McDonnell.
Speaking on the opening day of Labour's annual conference in Brighton, McDonnell (pictured) said Labour would build a Crossrail for the North of the country, "connecting our great northern cities from west coast to east".
McDonnell also told delegates that a Jeremy Corbyn-led administration would extend the controversial HS2 line into Scotland.
The Conservative government has been the subject of brickbats over Crossrail for what critics have argued was an overt focus on London and the south east.
As well as new Crossrail and HS2 schemes, McDonnell said Labour would "deliver the funding for Midlands Connect, overhauling transport across the Midlands. And we'll overturn decades of neglect and lack of investment in the South-West."
He added: "We'll electrify railway lines from Cornwall right through to London."
And key industries, such as rail water, energy and the Royal Mail, would be re-nationalised if Corbyn was handed the keys to Number 10 by the UK electorate next time round, McDonnell promised.
"Building an economy for the many also means bringing ownership and control of the utilities and key services into the hands of people who use and work in them. Rail, water, energy, Royal Mail, we're taking them back," he said.
On the issue of PFIs, introduced by the John Major-led government in the early 1990s and continued under successive Labour and Conservative administrations, McDonnell told the conference that they were a "rip-off".
Some companies had made "huge profits" through such schemes at the expense of public services, he said.
"Jeremy Corbyn has made it clear that, under his leadership, never again will this waste of taxpayer money be used to subsidise the profits of shareholders, often based in offshore tax havens.
"We'll put an end to this scandal and reduce the cost to the taxpayers. How? We have already pledged that there will be no new PFI deals signed by us. But we will go further. I can tell you today, it's what you've been calling for. We'll bring existing PFI contracts back in-house," he added.
Observers have suggested that the capital value of schemes McDonnell is suggesting be brought back in-house is up to £200bn. The shadow chancellor did not detail how a Labour government would pay for the work currently undertaken by PFI deals, nor whether it would write off the cost of existing schemes.
Business leaders reacted with scepticism to McDonnel's speech. Carolyn Fairbairn, director-general of the CBI, said the shadow chancellor's "vision of massive state intervention is the wrong plan at the wrong time.
"Forced nationalisation of large parts of British industry will send investors running for the hills, and puts misplaced nostalgia ahead of progressive vision," she added.