The Architecture PLB director on vintage Macs, his favourite tweeters and the perils of distraction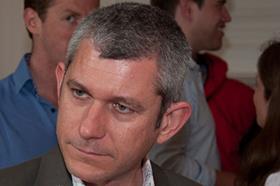 What is your favourite website?
There are so many I like. My gut feeling was that I'd choose something graphic and pretty but - by looking back through recent sites I've bookmarked and have enjoyed - I'm going to say Pidgeon Digital. What a resource!
Dezeen is probably my most visited though.
What is your worst digital habit?
Distraction – Information is beautiful has a good diagram. I now turn everything else off when I need to get things done.
iPhone/Blackberry/Android. Which side are you on?
iPhone.
Are you into social networking? (linkedin, twitter, facebook etc)
Yes, Facebook, Twitter and LinkedIn.
Who do you follow on Twitter?
Ecology – Dusty Gedge @greenroofsuk‬‬‬
Financial crisis @Peston
New social order, feminism and general top tweeter @PennyRed
Planning/ NPPF/Localism @Satchers & @AndrewLainton
Writer, Editor NLQ, Tweets from NLA conferences @Davidntaylor
And @andymatthews – always good value on Twitter, takes a nice photo too!
What is your favourite app?
BloonsTD4HD wins "most time wasted on it" prize. I also think artCircles is a nice idea, but has too little content. I tend to have a quite stripped down set-up so not many apps are loaded.
Good pub guide is very useful. The most recent download has been Decibel Meter.
What is your preferred means of communication? (eg. Email, phone, face to face, text etc)
Offline. It used to be called face to face.
What did you last buy online?
From Amazon, all in the same purchase: Capital by John Lanchester, RHS Nature's Gardener: How to Garden in a Changing Climate in Association with the Royal Horticultural Society by Matthew Wilson and What are Universities For? Stefan Collini.
PC or Mac?
Macs all the way! My favourites over the years have been: the original Macintosh; I have the later fake Mac Classic – still great though, currently used as a bookend; Wallstreet Laptop – black subtle two finishes on the plastic; and the Ti – great but dated quickly.
My new 15" MacBook with flash drive and retina display is awaiting shipping. The iPad is awesome.
Guilty pleasures: Most played tunes from iTunes/Spotify?
The Age Of The Understatement – The Last Shadow Puppets. I've played it 28 times, which doesn't sound like a lot but having re-built the iTunes library about 3 years ago, I lost play times and ratings. That was a sad time. It's never been quite the same since.
Rupert Cook is a director at Architecture PLB