Head of development firm refuses to rule out costs doubling to £1.5bn as project problems mount
The boss of the company in charge of development work on Battersea Power Station has revealed the enormous scale of the project's construction problems and cost overruns.
In an exclusive interview with Building, Rob Tincknell, chief executive of Battersea Power Station Development Company, refused to rule out that costs could end up doubling to £1.5bn.
The budget for Phase 2 of the power station's redevelopment, designed by architect Wilkinson Eyre and with a new energy centre beneath, was originally put at £750m. But Tincknell (pictured inset) told Building: "It [was] reported it went to £1.15bn – and it's now north of that figure. Those [increases] have been huge, huge, huge numbers."
Asked whether the work could end up doubling in cost, Tincknell said: "I'm not going to say. Hopefully not."
This part of the work has been blighted by a number of problems, which have seen the cost to rebuild the grade II*-listed structure's chimneys go from £28m to £48m.
The cost of the energy centre quadrupled to £62m, while the bill to get rid of asbestos, initially estimated at just £190,000, ended up rising to £44m. Tincknell said the developer had "pretty much … had to scrub the entire building with a toothbrush".
The cost hikes have meant the Malaysian backers of the scheme have had to pump equity into the development.
Tincknell declined to comment how much Sime Darby and SP Setia have stumped up but he admitted: "It's cost them. They are having to pay for this extra cost through large increases in the equity contribution they are making to the project."
However, Tincknell said they remained "utterly committed" to the project and "utterly determined" to make the power station "an unbelievable centrepiece for this wider development."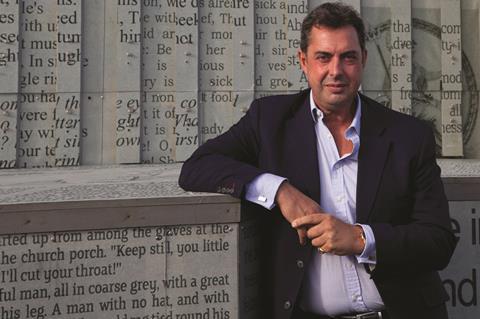 Tincknell also revealed that Skanska, which this week said it was taking a £33m provision on a number of unnamed contracts in the UK, is carrying out the work on Phase 2 without a final contract in place, meaning the price is still unknown.
Meanwhile, Carillion has built more than 850 homes under a fixed-price lump sum contract.
Carillion, which last week said it would take an £845m hit on undisclosed contracts in the UK and overseas, declined to say whether Battersea was one cause of its problems.
But speaking before the £5bn-turnover contractor made its writedowns public, Tincknell said it had done a "brilliant job" adding: "I'm certain they will be taking a further role in later phases."
Tincknell said the decision to bring in Sir Robert McAlpine to carry out Phase 3 – consisting of 1,300 apartments by high-profile architects Lord Foster and Frank Gehry – on a construction management contract showed his firm had learned lessons from the problems on earlier phases. It had initially selected French contractor Bouygues to construct the third phase under a design-and-build contract.
He said it "made sense" to go down the construction management route and added: "Contractors are just trying to avoid risk at the moment."
Tincknell defended cutting the amount of affordable housing by 40% to just 386 homes – critics of which included London mayor Sadiq Khan, who said the developer had "hoodwinked" the local council. Tincknell said that once "we can see a good return of profit […] we can start to look at reintroducing more affordable housing".
The 4,239-home scheme, only 9% of which will be affordable, is due to be completed by 2025.
The power station project
The development has been split into six phases with work already under way on the first three.
Phase 1 consists of 865 flats across two blocks designed by Ian Simpson's firm SimpsonHaugh and dRMM, the practice co-founded by Sadie Morgan.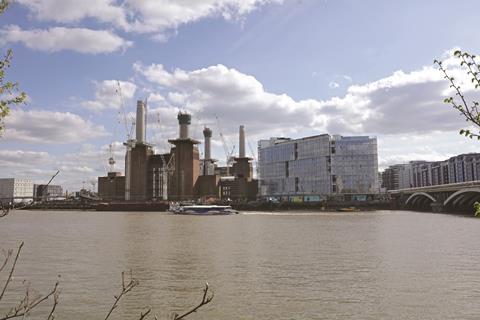 Phase 2 has been designed by Stirling prize-winning architect Wilkinson Eyre. It will include 2 million ft2 of retail, leisure, offices and new homes. Among the plans are a series of "sky villas", 60m above the ground and a chimney lift taking users 100m up one of the station's four chimneys for views across London. This phase will also include the UK headquarters of Apple.
Phase 3 has been designed by Foster + Partners and Frank Gehry.
It will include 1,305 apartments in six blocks. This part of the scheme will be connected to the power station itself by a public square, which has been designed by US-Danish firm Bjarke Ingels Group.