Consultant and engineer are part of Stanhope-led project team along with architect AHMM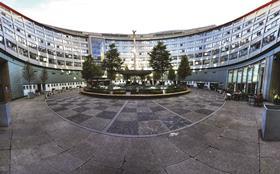 Consultant EC Harris and engineer Arup are part of the Stanhope-led project team that has won the race to overhaul the iconic BBC Television Centre in west London, writes Iain Withers.
EC Harris and Arup are set to work with architecture practice Allford Hall Monaghan Morris to convert the doughnut-shaped complex into a creative hub for office, residential and hotel use.
Stanhope's team overcame competition from five other shortlisted bids and 240 initial expressions of interest for the site.
Stanhope - which has received financial backing from Japanese property investor Mitsui Fudosan and Canadian pension fund Alberta Investment Management Corporation - completed its purchase of the site for £200m last Friday.
Arup associate director Jeremy Edwards said the firm, which will provide engineering services on the project, was "delighted" to be part of a "fantastic team".
EC Harris' role has not been confirmed.
The sale is part of the broadcaster's long-term plans to reduce the size of its portfolio by 30%. The proceeds from the sale - together with the end of running costs for the site - will contribute towards the BBC's target of achieving annual savings in property expenditure of £47m a year by 2016-17.
The BBC and Stanhope will work together on the initial planning and development, and the BBC will retain a continued presence at Television Centre.
The BBC's commercial arms, BBC Studios and Post Production and BBC Worldwide, will lease refurbished office and entertainment space in the completed scheme from 2014-15.
BBC Studios and Post Production will operate television studios. BBC Worldwide will move from its current base in the nearby W12 Media Village to become the anchor tenant on the site. BBC Worldwide is in the process of appointing its architects.
Stanhope and EC Harris declined to comment.