Scheme one of 40 included in government's building programme
Aecom has been appointed to work on the redevelopment of Hillingdon Hospital, one of 40 hospitals included in the government's health infrastructure plan.
The consultant's role will include providing structural, mechanical, electrical and public health design for the new facility, which will be rebuilt on its existing site in north west London.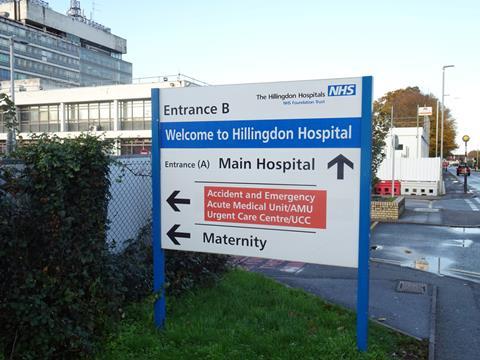 Canadian architecture, planning and engineering firm IBI Group will also be working on the scheme and will provide design and healthcare planning services for a full business case, which is scheduled to be submitted in May 2022.
Following approval of the full business case, expected in July 2022, construction of the hospital is expected to start on site in the same month with completion slated for September 2025.
The Hillingdon Hospitals NHS Foundation Trust is yet to publish an estimated total value for the project or the value of Aecom and IBI Group's contracts but the cost of building a new mid-sized hospital is around £500m according to trade body NHS Providers.
According to the Trust, the existing hospital suffers from numerous long-term issues because of its "age and inefficiency", which has resulted in "poor patient and staff experience". The current hospital was opened in the 1960s.
It added that not redeveloping the site would "ultimately lead to the closure of the hospital".
It is one of 40 hospitals in the government's health infrastructure plan to have been given £3.7bn in funding last month as part of what health secretary Matt Hancock described as the "biggest hospital building programme in a generation".
But the funding has come under fire for falling far short of the estimated £20bn needed.
NHS Providers deputy chief executive Saffron Cordery said in October: "We will need an appropriately funded, long term, NHS capital strategy, hopefully at the comprehensive spending review in November."
The chancellor is due to publish his one-year spending review later today (Wednesday).