BIG and Thomas Heatherwick expected to take over work
AHMM director Simon Allford has confirmed the practice is no longer working on the £650 million scheme to design Google's new UK headquarters at King's Cross in London.
The news effectively rules out the firm working alongside its replacements on the job, who are widely expected to be announced as Danish practice BIG and Thomas Heatherwick – the pair who are designing a new global headquarters for the tech giant at its home at Mountain View in California.
"We are not going to do [the job]," Allford told BD. "We have a tremendous relationship with Google London and we are doing a £100 million project for them on a BNP Paribas building."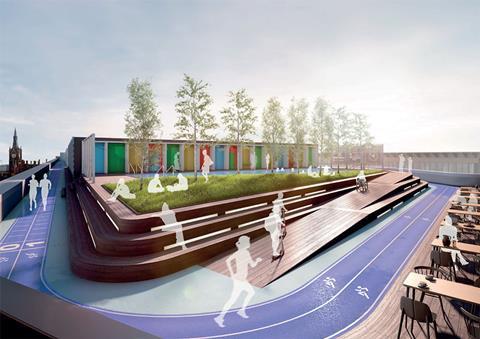 Last year's Stirling Prize winner was appointed to the King's Cross project four years ago but the scheme has been mired in a series of delays as Google decided to redraw its plans.
Back in 2013, Google asked AHMM to overhaul the 330m long groundscraper, which under AHMM's plans covered 85,000sq m across 11 storeys, just weeks after it was given the green light by Camden planners. At the time, the decision was expected to add another 12 months to the completion date meaning the firm's 4,500 staff would be moving in next year.
AHMM continues to work with Google on other projects. It is turning 6 Pancras Square in King's Cross into new office space for the firm. The Wilmotte & Associes-designed building was originally to be split between the investments arm of the French bank and Google but the US firm's original 45% stake has been extended to include all of the 34,000sq m available after BNP decided not to move in. Google has also taken a Mossessian-designed building on the other side of the King's Cross site.
AHMM is also working on a scheme for Google in Berlin and is looking at a new project for Google DeepMind – a British artificial intelligence company that was bought by Google two years ago – also at King's Cross.