London QS says optimism returning but contractors still need to plug gaps in order books
London QS Alinea is expecting prices to remain flat this year ahead of edging back up from 2022, the firm's latest market report has said.
But it said some contractors were still unsure about the strength of workloads for next year and repeated previous warnings that a number were trying to win work with aggressive bids, especially Tier 2 firms looking to fill shrinking order books ravaged by the pandemic.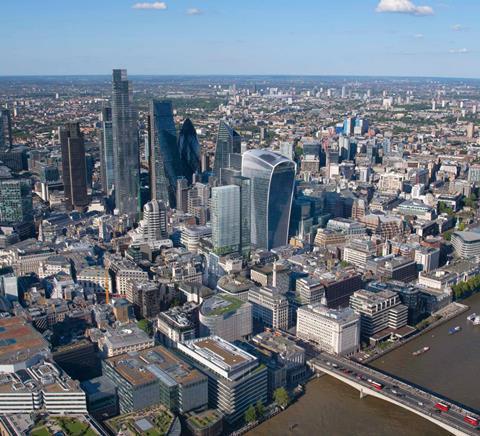 Alinea, which is working on two recently approved tower schemes at Gracechurch Street in the City of London for Hong Kong developer Tenacity, said construction inflation will stay at zero for the remainder of 2021 before returning to a 2.75% rise from the first quarter of next year.
It added that reasons for optimism about construction's recovery included the success of the UK's vaccination programme, the way the industry has responded to the pandemic and the benchmarks laid down by the government's Construction Playbook.
It said spending on schools and hospitals would kickstart a recovery in the public sector while other areas, such as life sciences, had remained buoyant during the pandemic.
It expected office working to resume once lockdowns are finished but employers will look to alter their requirements ahead of a return to desks. "There is consensus that a return to the office will be good for business and good for people's health and careers. Work-life balances may alter and office design will reflect that."
The report added: "All of this means demand will return – but it will bring tensions too. The supply chain may struggle as the market warms up because of labour constraints, the financial aftershocks of covid-19, and pressures on materials supplies and distribution."
But it again sounded a note of caution over a return to aggressive bidding with contractors still unsure about their order books for next year and beyond.
"There is increasing uncertainty about 2022 and the extent to which the pipeline [of work] materialises," the report added. "There are reports of a high level of tender activity but fewer projects proceeding into firm orders. Sentiment is therefore trying to remain positive about a potential pipeline but there is a need to fill voids in order books from 2022. We are seeing some aggressive tendering, in order to catch the eyes of the project team, though it is not always fully technically compliant."
Alinea, which has teamed up with Mace to map the supply chain's attitudes to risk management, quality assurance and carbon, said it would be able to give a definitive 2022 price forecast later this summer.