London QS eyes £18m turnover this year
Alinea is targeting a 15% hike in revenue this year as the firm said it has promoted four staff to become members of the LLP taking the number of equity partners at the London QS to 10.
The firm said it is expecting income for the year to April 2023 to be £18m, a rise on the £15.6m it has recently posted for the same period in 2022. This was just a 2.5% pandemic-affected rise on the £15.2m it posted in 2020.
Co-founder Iain Parker said the firm, which is best-known for its roles on some of London's tallest buildings including 22 Bishopsgate, had seen a doubling of work in the booming life sciences sector with the firm working on several schemes including RSHP's British Library extension, which includes a life science provision, the AHMM-designed Belgrove House building near King's Cross station and the Oxford Science Park.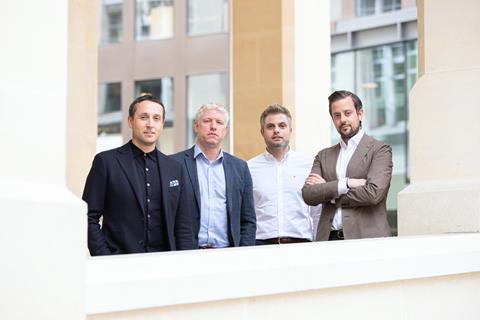 The latter is being developed by Magdalen College Oxford, owner of the park, and Singapore's sovereign wealth fund GIC. Parker said: "There are big plans there and they can't build quick enough such is the demand for space."
He said the firm had more than 90% of its income secured for the current financial year and is looking to increase staff numbers from 110 to 125 during the period.
"We managed our way through the pandemic with no people losses or financial suffering," Parker added.
The firm has also promoted four staff members to the LLP with Parker saying the move is with one eye on succession planning. Gordon Graham, Richard Jackson, Alex Hyams and Carl Giles became members at the beginning of the month.
Parker also said the issue of reducing the carbon footprint of buildings had now become key for developers.
"Carbon is one of the golden project drivers for clients," he added. "We are developing our cost management approach to put real emphasis on embodied carbon measurement."
Alinea is working on a slew of high-profile commercial buildings, including two towers at Gracechurch Street for Hong Kong developer Tenacity and Stanhope, which last month bought 70 Gracechurch Street off the former, and schemes at 120 Fleet Street as well as the deal turn to turn Debenhams' former London flagship on Oxford Street into a mixed-use scheme.
"Commercial is still really strong but we are looking at more mixed-use and public sector work and international too," Parker said. Countries where Alinea is working include Ireland, Germany, Switzerland and Australia.