Firm could plunge into pre-pack administration if investors reject rescue deal today
Interserve's subcontractors are bracing themselves for the firm collapsing into administration ahead of this morning's crucial shareholder vote on its planned rescue deal.
Debbie White, chief executive of the £2.9bn-turnover firm, has said accounting firm EY will handle an imminent pre-pack administration – unless shareholders vote through her rescue deal at the meeting at 155 Bishopsgate in in the City of London (pictured).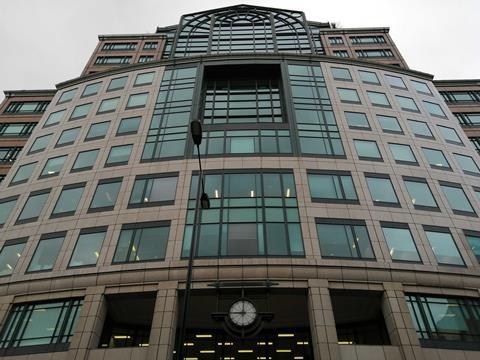 One firm owed money by the ailing contractor told Building: "If it goes under, where does that leave subcontractors like me who are owed money from previous jobs and are still doing jobs for Interserve?"
The owner of another said: "I'm in pretty deep with Interserve. I got caught out with Carillion and now I am seriously worried it could happen all again."
Last night sources close to Coltrane reiterated the asset manager, which holds 27% of Interserve's shares, intended to vote against the rescue deal in conjunction with Dutch investor Farringdon, owner of 6%.
Together the companies could scupper Interserve's deal if other shareholders join a rebellion, or if turnout for the vote is low.
Tony Williams, founder of advisory firm Building Value, said: "If [administration] does happen there will be pain: some people that don't get paid, some people that get paid less than they are owed, and some people that will be okay.
"But there will a very high proportion of people who don't get paid. If you're lucky enough to be working in an element of the business which can continue to operate, then you might just have to take a cut."
Labour MP Debbie Abrahams, who has introduced a bill calling for payments on public authority contracts to be made through a project bank account system, told Building: "We witnessed the catastrophic effect of the collapse of Carillion, with £2bn of unpaid invoices to their smaller suppliers.
"And now the precarious position of other major Government contractors, like Interserve, means urgent action is required and using project bank accounts for major public procurement contracts would, at a stroke, prevent small suppliers going bust through no fault of their own, when a contractor goes under."
Rudi Klein, chief executive of the Specialist Engineering Contractor's Group, said if subcontractors are not being paid they should issue a seven day notice to suspend work rather than racking up further losses.
He added: "They should also check any warranties they have with clients, to see whether clients have step-in rights and if so whether these require clients to make direct payments on taking over sub-contracts."
But he acknowledged unless a project bank account was being used to ringfence supplier pay then "outstanding monies are at risk which, yet again, highlights the fragility of cash flow through the supply chain."
In November, Klein revealed that he warned businesses not to work for Interserve, but said if they did they should get contractual assurances they will get paid in case of its collapse.
Philip Millward, a UK partner at Information Services Group, a US-based advisory firm, said Interserve had partly run into trouble because of the amount of PFI deals it has on its books, which include a number of energy-from-waste deals a loss-making scheme for the Ministry of Justice to provide probation and rehabilitation services.
He said: "What happens in these [PFI] deals is that suppliers are squeezed so much on cost that they effectively end up 'buying' large government procurement contracts. The government is consistently poor at benchmarking when it comes to evaluating the true cost of a programme over its lifespan, and the supplier knows that if it put in a price that reflects the true cost of delivery, then it won't win the contract. Instead, it relies on progressive contract change and resetting budgets.
"This results in the whole contract ending up much more expensive than if the budget had been realistically set in the first place. And it means there is always an associated risk for the supplier."
This morning's shareholder meeting is due to begin at 11am.