Rail watchdog finds £953m of work pushed back as Network Rail struggles with spending plan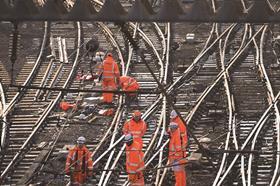 Almost £1bn worth of Network Rail jobs have been delayed in the past 12 months as an increasing backlog of work and soaring renewal costs put more financial pressure on its next spending programme.
A report from the Office of Rail and Road (ORR) found that work to the value of £953m was delayed from 2015-16 to a later date including £579m on renewals work, £340m on enhancements work and £34m on compensation payments for track possessions.
The report also revealed Network Rail has spent £353m more than expected on renewing the rail network in 2015-16.
The ORR said the soaring costs and delays had put the rail organisation in a "worse position financially" than it expected for the start of the next spending programme in 2019, increasing the financial pressure on it.
The ORR added that the problems were caused by supply chain issues, delays in programmes, contractor performance and more work than expected to keep Network Rail's assets in an appropriate condition.
The report's findings were part of the ORR's annual efficiency and finance assessment of Network Rail, and compares the rail operator's performance against the ORR's 2013 periodic review, which outlined what Network Rail must achieve in its Control Period 5 (CP5) spending plan between 2014 and 2019.
In response to the report, a Network Rail spokesperson said the funding agreement for CP5 was "extremely challenging from the outset, requiring Network Rail to deliver more for less on an increasingly congested network."
The spokesperson added: "A corporate transformation plan is in place which will enable us to make improvements across our business.
"But the backdrop is that demand for services on the network are growing significantly and the result has been an ever greater squeeze on the amount of time we have available to carry out scheduled maintenance, renewals and enhancements.
"This means we have not met our efficiency targets, but it has enabled us to cater for a record 1.7 billion passenger journeys over the course of the year.
"We continually strive to maximise our efficiency and deliver genuine value to taxpayers as we upgrade the rail network.
"At the same time, we recognise that we need to improve further in managing the cost of our major schemes and drive further efficiency in our work to maintain and renew the network."