Latest Markit/CIPS survey also reveals sector grew for eighth straight month in December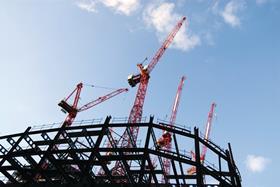 Over half of UK construction firms (57%) expect the sector to grow in 2014, well above those that expect a decline (10%), according to the latest Markit/CIPS Index.
The survey also revealed the sector enjoyed its eighth straight month of expansion in December, with the index hitting 62.1 during the month.
The figure was down only fractionally on November's 75-month peak of 62.6 and was well above the neutral 50 value that separates contraction from expansion.
Firms also reported the fastest increase in construction work since August 2007 last month.
Tim Moore, senior economist at Markit, said: "The latest survey highlights that construction companies enter 2014 with the wind in their sails.
"Over half of all survey respondents anticipate increased output levels during the course of 2014, which is up sharply from one-in-three construction firms that expected growth at the same time one year ago.
"Stronger growth expectations and fuller order books are continuing to fuel job creation in the construction sector. Higher employment numbers have now been reported for seven successive months, and these efforts to meet a sudden turnaround in UK construction demand should help keep staffing levels moving strongly upwards into 2014."
David Noble, chief executive at the Chartered Institute of Purchasing & Supply, said: "Continued strong expansion marked an outstanding end to 2013 for UK construction, positioning the sector on a solid recovery path for 2014.
"The positive business outlook and soaring confidence reported in December suggests this upswing will be maintained well into the New Year."
Simon Rawlinson, head of strategic research & insight at EC Harris, said the data provided "further evidence of the sustained pace of recovery that is extending well beyond the residential sector - pointing to a very positive 2014".
He added: "With Markit reporting continuing growth in employment and input costs, these survey results strengthen our view that price inflation will begin to enter the general construction market during 2014."