Firm will project manage £910m expansion of the country's largest airport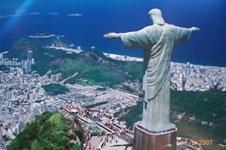 Arcadis has landed a deal to project manage the £910m expansion of Brazil's largest airport, the Guaruhlohs Airport in São Paulo.
The project team will include staff from Arcadis' UK-owned subsidiary EC Harris.
The project – part of Brazil's infrastructure investment program ahead of the 2014 World Cup and the 2016 Olympic Games – will increase the airport's total capacity from 30 million to 60 million passengers a year.
The first phase will be completed by 2014 and comprises building a new terminal and improving parking lots, runways, yards and access roads.
Manoel Antonio Avelino da Silva, chief executive of Arcadis' Brazillian subsidiary Arcadis Logos, said: "This contract is a new milestone in the prosperous and continuous development of Arcadis presence in Brazil, creating the opportunity for Arcadis Logos to introduce the concept of Built Asset Consultancy in Brazil that EC Harris successfully applied at Heathrow Airport in London.
"Regardless of the upcoming 2014 World Cup and the 2016 Olympic Games, airports are crucial infrastructure investments in Brazil and Arcadis Logos is proud to have once again an opportunity to play a major role in realizing such investments."