RIBA survey finds recent trend of declining optimism is accelerating as wider economy continues to weaken
A trend of declining confidence among architects accelerated sharply last month with the biggest monthly fall since the early days of the pandemic as the wider economy continues to weaken.
According to the RIBA Future Trends survey, expectation of future workloads fell by an index figure of 14 in April. While 23% of practices still expect workloads to increase over the next three months, 18% expect them to decrease and 59% expect them to remain the same.
Three out of four sectors covered by the survey saw a dip in confidence, with the public sector plunging into a negative index of -3 for the first time since August 2021.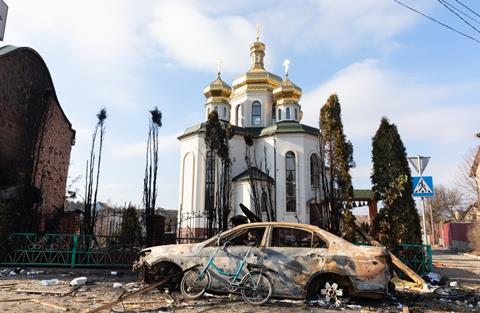 Private housing, consistently the best performing sector, plunged 10 points last month to a figure of +7, while the commercial sector slumped by one point to +3.
Most regions also saw confidence in future workload expectations fall, with the south of England dropping by a precipitous 25 points to -10 and Wales and the West falling by 24 points to an index figure of zero.
Gloom is also spreading in London, which continued to slide by 14 points last month. The capital has seen confidence drop by 32 points since February.
RIBA head of economic research and analysis Adrian Malleson said architects were working in the context of a "complex and weakening economic backdrop".
He added: "Architects are having to grapple with challenges including rapidly rising inflation, significantly increased energy costs, continuing supply chain issues, cost of living increases and ongoing difficulties implementing the agreed trading arrangements with the EU."
He added that practices had reported ongoing delays in the planning process and concerns over the rising cost of projects due to labour, material and energy costs.
"Unpredictable and rapid, these rises are proving to hinder both project pricing and cash flow management," he said.
Last month, UK Inflation jumped to 9% in the 12 months to April, up from 7% in March. Driven partly by the war in Ukraine, it is the fastest rate of price rises for 40 years.
But while Malleson said the strong levels of optimism seen in the immediate aftermath of the last easing of pandemic restrictions were petering out, architects were still reporting full order books and new inquiries, signifying that demand for work remains.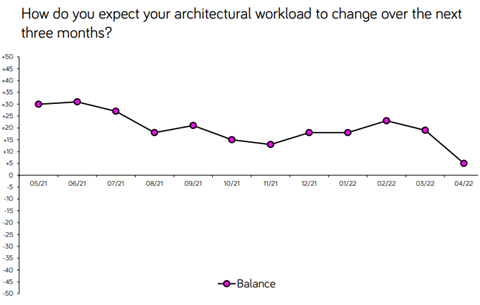 The Midlands and East Anglia saw a one-point increase in confidence last month to a balance of +6, the only region where optimism rose. The North of England also held relatively steady, falling by just one point to +17.
But practices of all sizes saw their confidence dented, with the index figure for small practices falling by 13 points to +3, and the figure for large and medium practices - those with 11 or more staff - dropping by 17 points to +19.
Meanwhile, the index for permanent staffing expectations fell by four points to +5, with just 12% of practices expecting to employ more permanent staff over the next three months.
Anticipated demand for staff is highest in London and the south of England, both at +8, and in Wales and the West, at +9, and lowest in the Midlands and East Anglia where the figure is -8.