Pernilla Ohrstedt, BIG, Caruso St John and Sergison Bates beaten to Smithfield job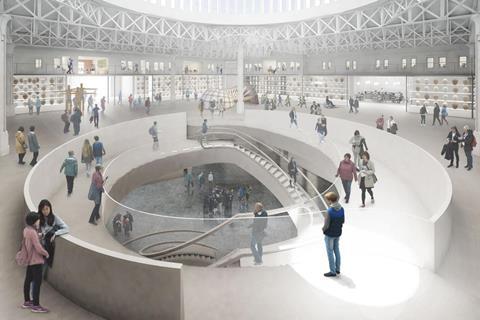 Stanton Williams and Asif Khan have won the competition to design a new home for the Museum of London at Smithfield.
The pair beat BIG, Caruso St John and Sergison Bates to land the prestige job.
The museum is due to move from its Powell & Moya roundabout site - which would be demolished - in the City if a deal can be done with the owners of Smithfield.
The winning proposal would lift the dome on the general market to provide a landmark directly over spiral escalators which will twist visitors down into subterranean exhibitions spaces.
The scheme, which is still at concept stage, could also link underground spaces with a tunnel under the Thameslink tracks running under the site. It also proposes a sunken garden and a well reaching down to the River Fleet, which flows beneath Farringdon.
Museum director Sharon Ament said she wanted the museum to spill into the streets.
A railway siding, once used to transport meat from the docks to the market, might become home to a train telling the story of the important role railways played in London's development.
Paul Williams, co-founder of Stirling Prize-winners Stanton Williams, said the scheme was influenced by the "idea of going down into the sedimentary layers of the past".
It was intended to protect the collection from light damage and "free up" the site above ground to become "an amazing platform for the museum", he told the Standard.
More than 80 entries were received for the competition which is being run by Malcolm Reading Consultants.
Supported with a £200,000 grant from the mayor of London, the project is being procured in two stages. A planning application is expected to be submitted in 2018 with the museum set to open slightly later than previously predicted, in 2022.
Khan, who was shortlisted for the Helsinki Guggenheim, has also won the competition to design the UK pavilion for the 2017 international expo in Astana, Kazakhstan.
The shortlist
BIG - Bjarke Ingels Group with Hawkins Brown, Donald Insall and Gehl Architects
Caruso St John Architects with Alan Baxter Associates
Diener & Diener Architekten with Sergison Bates Architects, East Architecture and Graphic Thought Facility
Lacaton & Vassal Architectes with Pernilla Ohrstedt Studio
Stanton Williams with Asif Khan, Julian Harrap, J&L Gibbons and Plan A
Studio Milou architecture with RL & Associés, Axis Architects and Alan Baxter Associates