Test was used as basis for UK rating, allowing ACM to be used on buildings above 18m
A former Arconic technical manager "arranged" for tests of the type of ACM cladding used on Grenfell tower to pass, the inquiry has heard.
Tuesday's hearing was shown an internal email from Claude Wehrle in 2016 in which he talked about tests for a version of Arconic's Reynobond PE panels, which had been given a Euroclass 'B' rating in 2005.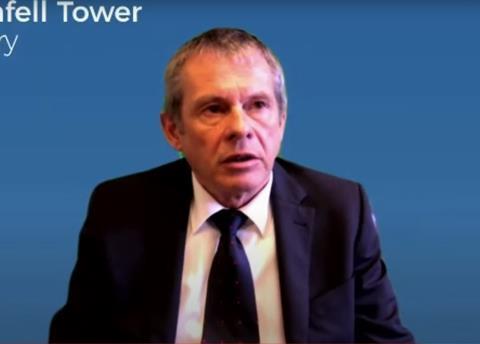 That rating was used in 2008 by the British Board of Agrement (BBA) as the basis for giving the product a Class 0 fire rating, which categorised it as safe to use on buildings above 18m in height.
In the email, which was sent to Arconic sales representative Julie Kasyanik, Wehrle appeared to have been having a conversation about a competitor. He said: "We also had a class 'B' rating, but by 'arranging' the system to pass."
Arconic president Claude Schmidt, who was giving evidence to yesterday's hearing through a translator, told lead inquiry counsel Richard Millett QC that he "did not have an answer" as to how the system had been arranged to pass.
Millett asked Schmidt if he had known by June 2016 that Wehrle had arranged the PE system to pass, Schmidt replied "no" adding that he had never seen the email before.
Asked by Millett if the email suggested that Arconic had arranged a test so that it would achieve a class B result, Schmidt replied: "Yes.
Millett then asked if Schmidt agreed that it looked from the email like Wehrle "knew or suspected" that the rating "was not honestly achieved," to which Schmidt replied "yes" adding that he could not explain how that had happened.
Wehrle is one of three Arconic witnesses who have refused to appear at the inquiry because of legal advice he has received, although he told the BBC that he has provided the inquiry with "many" email exchanges.
The inquiry has already been shown internal emails from March 2010 in which Wehrle, referring to the cassette version of the Reynobond PE product, said to colleagues "Reynobond PE in cassette form doesn't obtain level 'B' either! Having said that, this shortfall in relation to this standard is something that we have to keep as VERY CONFIDENTIAL!!!!!"
Tuesday's hearing was told how the cassette version of the product – the type used on Grenfell tower – had dramatically failed a fire test in 2004 in which it had burned faster and released around seven times as much heat and three times the rate of smoke as another variant, which was in riveted form.
The cassette version had performed "spectacularly worse" than the riveted version in the 2004 test, the inquiry heard – but despite this, the test data was not shared with certification bodies or customers and the cassette panels were sold using the same fire certificates as the riveted version.
Arconic also failed to tell the BBA about the failed test, so the product's class 0 certificate remained in use up until the decision to use it on the refurbishment of Grenfell Tower.
Wehrle said in a statement shown to the inquiry that Arconic staff had been "puzzled" by the result as "competitors were not exhibiting any problems and no one in the industry seemed to have similar results insofar as I could tell".
Wehrle admitted that "no one really understood it." He added that it was believed that the failed cassette test had been a "rogue result," as the firm had a "general view" that the cassette version would perform better in fire than the rivet type because it had fewer exposed edges.
Because of this assumption, Wehrle said that the marketing, technical and management teams "decided at the time that a classification in category B was satisfactory" and had not considered carrying out further tests.
Inquiry chairman Martin Moore-Bick asked Schmidt if he accepted that it was "irrational and irresponsible" not to carry out further tests to establish whether the cassette system performed as badly as the first test suggested.
Schmidt replied: "Yes, as I said, I think that extra tests should have been carried out."
Asked by Millett if he accepted that if the Grenfell Tower fire had never happened, "nobody would ever have known about the failed test" Schmidt replied: "Yes."
But asked by Millett if he agreed that the failed test was Arconic's "deadly secret," Schmidt replied "no" adding that the product "is not dangerous in itself. It did have some risks, but which were dealt with differently according… in different countries and according to legislation."
Asked what European country would allow the product in cassette variant which had produced those test results to be used on buildings above 18m in height, Schmidt replied: "The countries whose legislation which is still operational accepts that product, by controlling risks in a different way."
Arconic continued to sell Reynobond PE for architectural use in the UK until 2017, eventually halting supply on 26 June 2017, 12 days after the Grenfell Tower fire in west London.
Despite the firm being aware that PE would burn in the event of a fire, Schmidt said in his witness statement that the decision to stop supplying PE was not made because the firm "believed Reynobond PE to be inherently dangerous, nor because there was any prohibition on its sale for use on buildings above a certain height".
Schmidt added in his witness statement: "The company's assessment, made very quickly after the Grenfell Tower fire, was that its product had been used incorrectly."
Phase one of the inquiry into the 2017 disaster that killed 72 people found that the cladding installed on Grenfell Tower was the "primary cause" of the spread of the fire.
Schmidt will be giving evidence to the inquiry for the rest of the week.