Sir John Armitt has welcomed the setting up of a new infrastructure commission led by Lord Adonis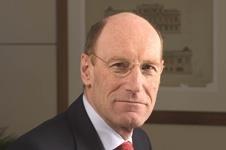 Sir John Armitt has said he is "thrilled" to see cross-party support for the creation of a national infrastructure commission and welcomed the appointment of Lord Adonis as its chair.
The idea of an infrastructure commission was championed by Armitt three years ago after being commissioned to review the country's infrastructure policy by the Labour party. The policy was a key part of Labour's election manifesto.
The launch of the Adonis-led statutory body was announced by George Osborne at the Conservative party conference on Monday. Once set up it will provide independent advice to governments on infrastructure projects.
In a blog on the Institute of Civil Engineers (ICE) website Armitt added that "energy is without doubt our most vital network, due to the role it plays in ensuring all the other networks – transport, water, waste and ICT – function effectively and can meet future demand."
The country's energy issues needed to be addressed before "ambitious plans" across other sectors can be delivered, he continued, adding that it was "absolutely right" that infrastructure is viewed as a whole interconnected system rather than a set of isolated networks.
He also said that better integrated connectivity between the northern cities is "imperative" otherwise the vision for the north of the country cannot happen.
However, for Armitt the commission must provide "unbiased analysis" on the UK's infrastructure and act as a "catalyst for reaching consensus," as well as giving a basis for strategic thinking, which he considers has been "largely absent".
Sir John Armitt becomes ICE president on 4 November 2015. Currently senior vice president of ICE he is also chairman of the National Express Group and City & Guilds, and deputy chairman of the Berkeley Group.
Armitt's full blog can be read here.