CECA survey shows significant declines reported work on roads, rail, water and sewerage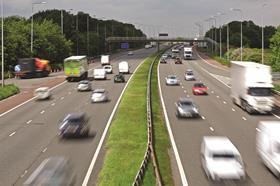 Civils firms have raised concerns following a slowdown in growth in the infrastructure sector.
A survey of the companies who build and maintain the UK's transport and power networks, conducted by the Civil Enginnering Contractors Association (CECA), found that 7% of firms on balance reported workloads had increased in the third quarter of this year, the lowest percentage since the second quarter of 2013.
The news comes amid growing fears about the stability of the UK construction sector recovery, as the Office for National Statistics this week reported its first quarterly fall in output for more than two years. Building reveals today the Construction Products Association is also to downgrade its output forecast for the construction industry this year.
The CECA survey found that declines in workloads were reported, on balance, in local roads by 24%, motorways and trunk roads by 12%, water and sewerage by 22%, and railways by 18%.
Commenting on the survey's findings, CECA chief executive Alasdair Reisner said: "These results raise concerns for the government's growth agenda.
"We have seen this week that a sluggish construction sector is acting as a drag on Britain's GDP. This is despite the Government's stated aim of investing in infrastructure to drive growth in the economy.
"By now we would expect to see strong growth, particularly in relation to planned investment in road and rail to meet future capacity demand.
"The fact that workloads are now falling in both these bellwether sectors show that the industry is not yet firing on all cylinders."