French consultant announces plans to expand a year after taking over Appleyards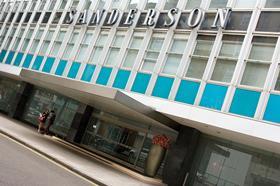 French consultant Artelia is searching for a second UK acquisition, a year after taking over UK consultant Appleyards.
Phil Brumby, Artelia's UK managing director, told Building the firm – which has a turnover of £300m in 40 countries – aims to choose an acquisition target by the end of this year and to complete a deal next year.
Artelia UK is aiming to acquire a firm with a turnover of around £6m, to help it reach its target of becoming a £20m turnover business in the UK by 2016.
Brumby said the firm was considering acquisitions in several sectors where its French parent company already has a "depth of expertise", including infrastructure, health, sustainability, banking and towers, as well as in the higher education sector, but wouldn't rule out any area at this stage.
Colin Morrell, Artelia UK director with responsibility for Appleyards, said: "We'll take a look at any [acquisition] opportunity. We want to get cracking."
We'll take a look at any acquisition opportunity. We want to get cracking

Colin Morrell, Appleyards
The UK is one of 10 countries Artelia is targeting. Brumby said the French senior management believed growing in Anglo Saxon countries would help it access other international markets and grow more quickly. Elsewhere, Artelia is in talks with acquisition targets in Brazil, China, Italy and Vietnam. Any further UK acquisition is likely to be funded from the Artelia group's cash reserves.
Artelia's £6m-turnover UK division bought £8m-turnover Appleyards in March 2012, in a deal that was also funded by the Artelia group.
The Appleyards takeover led Artelia UK to its most profitable year, for the financial year ending 31 December 2012, with pre-tax profit up 10% to £1.1m from £95,00 the previous year, while revenue grew 15% to £15m from £13m.
Brumby and Morrell have restructured Artelia UK to focus on market sectors.
The firm is targeting growth in multi-site work - where their biggest client is Shell, for whom they manage their development programme in Western Europe - commercial fit-out, education and hospitality.
Brumby said the UK division is also aiming to leverage expertise from its parent company, particularly in project management and high-rise buildings. Artelia UK's most high-profile project in the hospitality sector is the refurbishment of central London's five-star Sanderson Hotel (pictured).
The firm will drop its Appleyards brand and trade solely as Artelia UK from 1 July.