Engineering consultant Arup unveils progress in 3D printing for construction materials.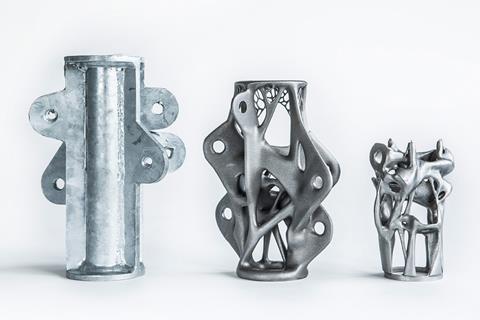 Arup engineers have revealed the potential of 3D printing for the construction and manufacturing industries.
Working with software company Altair, Arup has come up with a process that could significantly reduce the material and cost used in future construction materials.
An image of three structural elements has been released, with the smallest designed using the latest methods. All have been designed to have the same function and carry the same structural loads and forces.
Salomé Galjaard, team leader at Arup, said that "in the case of this particular piece, the height is approximately half that of one designed for traditional production methods, while the direct weight reduction per node is 75%."
"On a construction project that means we could be looking at an overall weight reduction of the total structure of more than 40%. But the really exciting part is that this technique can potentially be applied to any industry that uses complex, high quality, metal products," she added.
This new approach means highly complex, individually designed pieces can be printed directly in metal therefore reducing cost and cutting down on waste compared to traditional methods.