Construction to start next year on new factory at MoD site in Glamorgan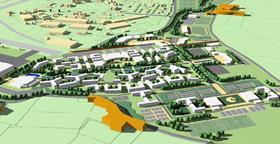 Luxury carmaker Aston Martin has chosen a Ministry of Defence site in Glamorgan as the location for its new manufacturing facility.
Three existing 'super hangars' at the St Athan site in Wales will be transformed into manufacturing facilities for its new DBX vehicle, after the company received an extra £200m in funding.
Construction is expected to start next year and be completed by 2020.
First minister of Wales, Carwyn Jones, said: "I am delighted to officially welcome Aston Martin to Wales.
"We have been working closely with the company for almost two years in the face of fierce competition from other potential sites across the world."
Aston Martin said it anticipates that up to 1,000 new jobs will be created between now and 2020 at its new St Athan site, and its headquarters in Gaydon where it will change and expand its car portfolio in the next five years.
It added that across the supply chain and local businesses, a further 3,000 jobs could be created as a direct result from the investment in both sites.