Consultant's CEO describes plan to shift majority of work away from UK market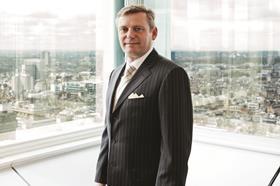 Atkins is planning to increase international turnover to make up 75% of its business "in the mid-term", according to chief executive Uwe Krueger.
Interviewed by Building this week, Krueger said he wanted the company's overseas growth to outpace the level of its UK expansion. He added that he wants the UK to account for around 25% of Atkins' turnover - it currently accounts for around 45%.
Krueger, who succeeded Keith Clarke as chief executive of the consultant last August, said Atkins would focus on increasing resources in India, the US and Scandinavia, and that the Middle East was also "an important growth engine".
Atkins made the largest acquisition in its recent history in the US with its purchase of PBSJ Corporation in 2010, now known as Atkins North America. Krueger said that he would look to "accelerate the integration of the company", committing more specialist resources from the UK in areas such as geotechnical engineering, "to enable Atkins North America to bid for larger and more complex projects".
Clarke is working for Atkins in the Middle East, focusing on client relationships. Krueger said that his role was "focused on Qatar", and that Clarke was "helping with client networking and the sales side" of the business.