RICS analysis finds average cost of repairing three-bedroom hit by flood damage is £30,000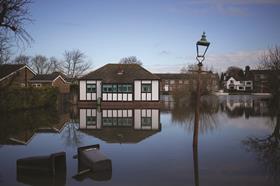 The average cost of repairing and flood proofing a three-bedroom home damaged in the recent floods could be as much as £45,000, analysis by the RICS has found.
The RICS said the average cost of restoring a flood-hit three bedroom house to its former condition could be on average £30,000, with flood proofing costing an additional £15,000.
Gary Strong, RICS director, said: "Now the flooding is over those who have been affected will, naturally, be going back to their homes, assessing the damage and lodging insurance claims to get their lives back on track.
"In many cases, costs will be covered by the homeowner's insurer but there are many out there who do not have comprehensive cover and could end up footing a very large repair bill.
"In either case, we recommend that those affected consider extra flood defences.
"It can take months to get a home back to its original state and the disruption caused can be catastrophic to many people's lives.
"Money now could turn out to be a very shrewd investment further down the line."
The RICS said affected homeowners who are having their properties repaired should also consider additional flood defence measures.
The RICS said the average £30,000 cost of repairing a typical three bedroom semi-detached property included works such as repairs to timber floors, plasterboard, kitchen units and cavity wall insulation.
Flood prevention measures - including adding non-return valves to drains, raising power points and laying tiled floors - comes it at around £15,000, the RICs said.
The RICS said: "While clearly a substantial extra cost, those who have fallen victim to the recent floods should seriously consider flood proofing as a means of both protecting their home and ensuring that they don't have their lives turned upside down to the same extent in the future."