Becomes the latest in a steady stream of directors to leave the company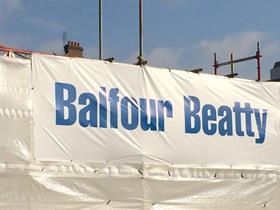 Balfour Beatty divisional director Colin McArdle has become the latest director to leave the company.
McArdle, who was responsible for a £100m delivery unit within Balfour Beatty, mainly covering refurbishment projects, left the company last month.
A Balfour Beatty spokesperson said: "Colin McArdle decided to leave the business to pursue other opportunities".
News of McArdle's exit comes after Building revealed last week the departures of Balfour Beatty directors Ron Muir and Colin Eke, who were director of design and bid director respectively.
Both Muir and Eke are joining Osborne, Moir as head of design and innovation and Eke as pre-construction director.
They are the latest in a steady stream of directors to part ways with troubled construction giant Balfour Beatty, which has issued six profit warnings in the last three years.
Recent senior departures from Balfour Beatty include the firm's strategic projects delivery director, Vince Lydon, who is believed to have joined Sir Robert McAlpine, and UK construction services chief executive Nick Pollard, who departs the firm next month.
Last year saw Balfour Beatty's chief executive Andrew McNaughton, finance director Duncan McGrath and chairman Steve Marshall all step down. McNaughton had only been in post for 13 months.