Graham Ball is parting ways with the contractor after barely eight months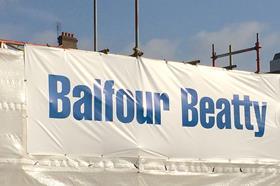 Balfour Beatty's procurement director Grahame Ball is to depart the contractor after less than eight months.
Ball joined Balfour Beatty towards the end of January this year as international procurement director from technology firm Colt, after the departure of Martin Chown, Balfour Beatty's former UK procurement director.
A spokesperson for Balfour Beatty said: "Grahame is leaving after a short handover period having done a good job to place our Group procurement capabilities onto a firm footing."
Procurement will now be added to the responsibilities of Chris Johnson, group chief information officer at Balfour Beatty, as he takes on a broader leadership role within the firm.
The spokesperson added: "As we move into the next phase in the evolution of our procurement capabilities our objective is to align procurement more closely with the business units, especially in the areas of direct materials supply, whilst ensuring we capture the benefit of Balfour Beatty's buying power."
Chown was appointed to lead procurement in the UK in 2013, after spending three years in the government procurement service and over ten years at pharmaceuticals firm GSK. His decision to leave followed a raft of senior departures last year, including UK construction chief executive Nick Pollard, group chairman Steve Marshall and finance director Duncan Magrath, as well as a host of senior managers in the UK construction business.