Troubled contractor names former boss of defence technology firm as new group CEO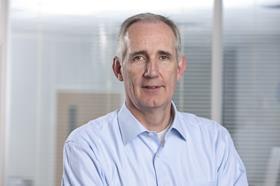 Troubled contractor Balfour Beatty has appointed the boss of listed defence technology contractor Qinetiq, Leo Quinn, as its new chief executive.
The firm said trained engineer Quinn (pictured), group chief executive of Qinetiq since 2008, will take up his post from January 1 next year. Prior to working at Qinetiq, Quinn was chief executive of banknote publisher De La Rue from 2004-2008, and has spent time in senior roles at technology firms Honeywell and Invensys.
The appointment is seen as key for Balfour Beatty which has gone through a turbulent few years, which have seen it issue multiple profit warnings, the departure of two chief executives and the impending departure of executive chairman Steve Marshall.
Educated at Imperial College, London and Portsmouth University, Quinn holds an MSc in Management Science and a BSc in Civil Engineering. He began his career at Balfour Beatty in 1979 as a civil engineer in the UK construction services business.
The news comes just three days after Balfour Beatty warned it could breach banking covenants if its proposed £820m sale of consulting arm Parsons Brinckerhoff did not receive shareholder approval. It also comes just two weeks after issuing a £75m profit warning, its fifth since the departure of long time CEO Ian Tyler in 2013.
Steve Marshall said he was "delighted" to welcome Quinn to Balfour Beatty, and that he had the "depth and breadth of experience" to turn the company around. "Leo is an outstanding individual with an excellent track record in improving the performance of major international businesses. I am confident that Balfour Beatty will thrive under Leo's leadership," he said.
Leo Quinn said he was "proud" to be re-joining the firm where he started his career. "Balfour Beatty is a world-leading brand with world-leading talent. I am resolute in my ambition to realise its enormous potential for customers, employees and investors. The building blocks are there to give Balfour Beatty's people the success they deserve and I am keen to work with them to create something significant and lasting."
Balfour Beatty said in a statement Quinn will receive a basic annual salary of £800,000, with pension and benefits in line with the company's remuneration policy, as well as bonuses. He will also participate in the long term incentive plan. Balfour Beatty will also repay Quinn for the value of incentives he gives up by leaving Qinetiq, which it did not put a value upon.
Analysts welcomed the news, and shares in Balfour Beatty rallied up to 12% in early trading. Stephen Rawlinson, analyst at Whitman Howard, said Quinn had achieved a turnaround at Qinetiq over the last five years which had parallels with what Balfour Beatty is trying to achieve. Shares in Qinetiq also fell sharply on the news. "The appointment both on paper given Leo Quinn's background and on what we have seen and heard from him over the years is as good as BBY could have got, in our view. And he starts soon on 1st January which is needed, we believe, given the huge size of the tasks ahead and the urgency needed to address some problems," said Rawlinson.
More to follow…